Papermaking in Victoria to 1900
---

Barwon Paper Mills, Fyansford, Geelong
On 13 September 1853 an advertisement appeared in the Melbourne press stating "A thorough practical Papermaker is desirous of meeting with a capitalist to join him in establishing a paper manufactory near Melbourne; apply to Jones and Co., 36A Elizabeth street." Though the actual name of the advertiser is not stated it was probably inserted by David Stevenson who appeared a few months later as the driving force behind the "Victorian Paper Company". A prospectus for this company appeared in the "The Argus"" of 8 December 1853. This called for investors to subscribe to an issue of 3,000 shares at £ 10 each. A sub-committee was set up to investigate the feasibility of establishing a paper mill in Victoria. They sought the opinions of a number of people who professed to have knowledge of the requirements of paper manufacturing but the resulting report which was published on 6 February 1854 showed such conflicting estimates as to the costs and possible income of a local mill that it was decided not to proceed with the matter.
At about the same time an attempt was made in Geelong to establish a paper mill. The prime mover for this was James Harrison. A committee was set up consisting of Thomas Powell, James Cooper, William Turner and Thomas Johnson. A prospectus was issued for a company with a nominal capital of £ 20,000 consisting of 1,000 shares at £ 20 each. A shareholders meeting was held on 24 March 1854 in Geelong at which James Harrison, Thomas Powell, Isaac Cooper, Noble Keaman and William Turner were elected as directors. The company secretary, George King, reported that 440 shares had been issued on deposits of £ 1 per share. To finance the purchase of land at the Breakwater a call of £ 2 was made on each share. This was apparently enough to cause their investors to have second thoughts as the project was abandoned without any mill being built.
In 1860 a prize winning essay gave an outline on the uses of paper in Victoria and the future prospects of the industry. This included the eventual local manufacture and use of bitumenised paper pipes.
An early attempt to establish a paper mill in Victoria, Australia was made by Alexander Martelli , an Italian architect and surveyor with an office at 32 Collins Street, Melbourne. In October 1862 he prepared plans and applied to the Victorian Board of Land and Works for a grant of 3 acres of land on the south bank of the River Yarra close to the Queen Street Bridge. He spent over six months negotiating with the government and the Emerald Hill Council, mainly in relation to conditions for the input and output of water for the mill. The conditions imposed were apparently unacceptable to Martelli as he did not proceed with the matter.
A further attempt to establish a paper mill was made by Thomas Kenny, the brother-in-law and business partner of John Sands in the printing and stationery firm of Sands & Kenny. Kenny retired from this firm in December 1861 and directed his efforts towards the establishment of a paper mill. He firstly visited Europe to acquaint himself with the business of papermaking and on his return started the construction of a mill at Dight's Falls on the River Yarra, some distance upstream from Melbourne. It is uncertain if he had been connected with Martelli's efforts but he would certainly have known about them and they are likely to have influenced his decision on the location of his mill. In 1865 Kenny imported a seventy-two inch papermaking machine from Messrs. James Bertram and Sons of Edinburgh, Scotland. He employed Mr. Rawlinson, C.E., to construct the mill and races; and recruited Alexander Steel from Scotland to set up the machinery and an experienced papermaker from Ireland named Nathaniel Kerr. Unfortunately Thomas Kenny died in July 1866 after a brief illness and the construction of his mill came to a stop.
Eventually a local flour miller named Samuel Ramsden became interested in the project and in September 1867 commenced the construction of a paper mill on the River Yarra opposite Flinders Street Railway Station, Melbourne. He purchased the papermaking machine that Kenny had imported and employed Alexander Steele and Nathaniel Kerr to set up and run the mill. In May 1868 Samuel Ramsden succeeded in producing Victoria's first paper at his newly completed mill. On 4 May 1868 "The Evening Star" newspaper published an edition of 100 copies on the first hundred sheets of newsprint produced at Ramsden's mill.
Within a few years a second paper mill was built on the River Yarra. Samuel Fieldhouse built a paper mill in the early 1870's on land adjoining Ramsden's paper mill. Fieldhouse first arrived in Victoria in 1863 but made a return visit to Europe following the death of his first wife in 1870. While in Europe he remarried and is also thought to have made preparations for his paper mill. He is believed to have purchased a sixty inch papermaking machine from the firm of Redfern, Smith and Law of Bury, Lancashire, England and recruited staff. Fieldhouse arrived back in Melbourne in March 1872 and by the end of the year his mill was approaching completion. In 1873 William Ross Noble, William McGowan and Robert Watt arrived in Melbourne, presumably to act as his papermakers. However by 1874 Fieldhouse was insolvent and his mill was up for auction. A merchant from New Zealand named Edward McGlashan, having heard of Fieldhouse's difficulties, arrived in Melbourne in December 1873 hoping to acquire his papermaking machine to take back to New Zealand. McGlashen was seriously injured in an accident soon after arriving and the papermaking machine, together with the mill buildings were acquired by Samuel Ramsden.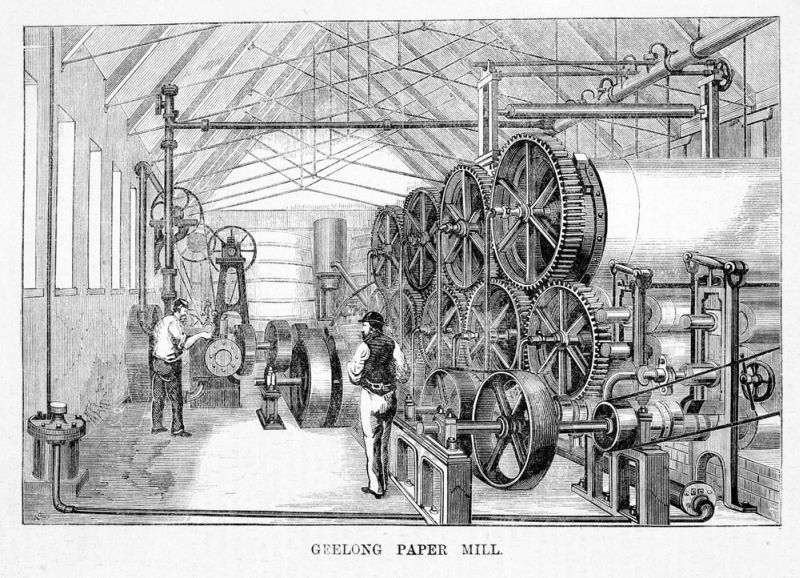 Papermaking Machine, Barwon Paper Mills, Fyansford, Geelong
A third paper mill commenced production in August 1878 at Fyansford, Geelong. This was the Barwon Paper Mill whose promoters included Captain James Volum, Andrew Volum, Silas Harding and William Francis Ducker. Andrew Millar was the engineer who oversaw the construction and equipping of the mill. The seventy-four inch papermaking machine (said to be capable of being increased to eighty-four inches) was made by Messrs. James Bertram and Sons of Edinburgh, Scotland. In 1888 this mill was acquired by the Victorian Paper Manufacturing Co. Ltd. whose shareholders included Henry Thomas Littlewood.
A fourth paper mill was built at Broadford, Victoria and commenced production in October 1890. This mill was founded by James Macdougall of the printing and stationery firm of Sands & McDougall. This mill used straw as its main raw material and was originally known as the only strawboard mill in the British Empire. The papermaking machine for this mill was imported from the United States of America.
A further paper mill was built at Geelong in 1890 by William Daniel Hughes, a former manager of the Barwon Paper Mills. Hughes, an experienced papermaker from Lancashire in England, constructed the Austral Paper Mill at Marnockvale and imported his own machine from England. Though the mill was completed and the papermaking machine arrived at Geelong he became insolvent before he could commence production. The mill was eventually sold and the papermaking machine shipped to Sydney in 1896 where it is believed to have been used in the Waterloo Paper Mills of George Adams.
When Samuel Ramsden died in February 1877 his adjoining mills in Melbourne passed to his son, George Ramsden who ran them until 1882 when they were sold to William Brookes and Archibald Currie. In 1895 Brookes and Currie, through their agent Robert George McCutcheon, acquired the Barwon Paper Mills. They then joined with James Macdougall of the Broadford Mill to form "The Australian Paper Mills Co. Ltd.", combining the mills at Melbourne, Geelong and Broadford into the one firm.
Sources:
Amcor Archives (University of Melbourne Archives, Baillieu Library, Melbourne)
Angus, John H. Papermaking Pioneers (New Zealand Paper Mills, Ltd., Mataura, N.Z., 1976)
A.P.M. Market Research A Brief History of Paper Making in Australia (A.P.M., 1975)
Brownhill, W. Randolph History of Geelong and Corio Bay (Melbourne, Vic., 1955)
Clapperton, R. H. The Papermaking Machine (Pergammon Press)
Gillespie, F. Elise Early History of Geelong Paper Mill (A.P.M., 1950)
Graham, Sally (ed.)The Ramsdens (Seaview Press, Henley Beach, S.A., 1999)
Hughes, Ian Alexander Hughes, A Family of Papermakers (privately published, Melbourne, Vic., 1979)
Milner, Peter (Dr.) The Engineering of the Barwon Paper Mill at Fyansford (Appita Vol. 39, No. 2, Melbourne, 1986)
Pitkethly, Anne Paper Manufacturing in Victoria, from European Settlement to Federation (privately published, Melbourne, Vic., 2017)
Rule, Andrew Through the Mill, A History of the Broadford Mill (Floradale Productions Pty. Ltd., Kilmore, Vic., 1990)
Sinclair, E. Keith The Spreading Tree, A History of APM and Amcor 1844-1989 (Allen & Unwin, North Sydney, N.S.W., 1991)
---
Biographies of Papermakers, etc.
---
Site Acknowledgements:
Amcor Archives (Trevor Moore); Appita (Ralph Coghill); University of Melbourne Archives (Trevor Hart); Baillieu Library; Shaw Research Library, National Gallery of Victoria (Michael Watson); Mitchell Library, State Library of New South Wales; State Library of Victoria; Public Record Office of Victoria; State Records, New South Wales; Borchardt Library, La Trobe University; Vicnet; Meg Bate; Harry Dagnall; Geoffrey Graham Tong Hughes; Norma Joyce Hughes; Emma Kerr; Carol Liston; Jocelyn Lloyd; Ron Madden; John Morriss; Peter & Meagan O'Sullivan; Kevin Patterson; Anne Pitkethly; Betty Shelley; John Trewk; Ian J. Wilson.
Images: State Library of Victoria
---
© 2005-2017 Alexander Romanov-Hughes