Papermaking in New South Wales to 1900
---
Papermaking in Australia had its origins among the convicts who were transported to Sydney, New South Wales. A number of these convicts gave their former occupation as papermaker but it was John Hutchinson who had been a wool-stapler in England who made the first steps to establish a paper mill. In 1813 Governor Macquarie, having received many testimonials as to his abilities, gave him a conditional pardon and promised him land upon which to construct a woollen and paper manufactory. In March 1814 Hutchinson reported to Macquarie that he had conducted various experiments to remove inks and dyes from rags so as to make them suitable for the making of paper and had also identified a number of plants he believed to be suitable for use in the manufacture of paper. However, a short lived partnership with Simeon Lord in 1813 resulted in Lord retaining possession of most of Hutchinson's equipment and records.
In 1818 the first mill known to have produced paper in Australia was established near Sydney, N.S.W. This was apparently run by three partners (Frederick George James Fisher, George Duncan and John Walker) who had raised capital by selling shares to about fifteen traders and officials (including Simeon Lord).
The "Sydney Gazette" of 18 April 1818 carried an advertisement stating that Messrs. Warren and Duncan had erected a paper mill a short distance east of the New Road to Botany Bay. This mill was powered by a water-wheel. In order to obtain the raw materials for making their paper the advertisement stated they were desirous of purchasing linen and cotton rags from the public for which a satisfactory price would be paid. The next edition of the newspaper would name the places where the rags would be received and paid for. When the next copy of the "Sydney Gazette" appeared on 25 April 1818 it carried an advertisement naming the house of Mr. Vickers, No. 29 Clarence Street, and Oliver's, No. 22 Philip Street as the places where rags would be purchased for making paper. However this and subsequent advertisements named the mill proprietors as Messrs. Fisher and Duncan. It appears therefore that the name Warren may have been a printing error or even an alias for the driving force behind the business, Frederick George James Fisher.
This venture was troubled from the start as there was at the time a running battle between John Hutchinson and Frederick Fisher over possession of the mill building. In fact Hutchinson and Fisher seem to have had joint occupancy of this mill, thought to have been known as Hutchinson's Mill. Fisher and Duncan are then thought to have obtained a grant of land for an adjoining block and established the Bank Mill thereon. However in March 1819 George Duncan entered into an agreement with Thomas Clarkson to build a third mill on Clarkson's grant of land on the opposite side of John Hutchinson's block. This was to be known as the Macquarie Paper Mill. All three blocks of land were situated on a creek at the head of the Lachlan Swamp near Botany.
A supplement to the "Sydney Gazette" in July 1820 was said to have been printed on paper from one of these mills. Little else is known about the mills and they may have all been closed down by the time Frederick Fisher moved to Campbelltown, New South Wales about 1823.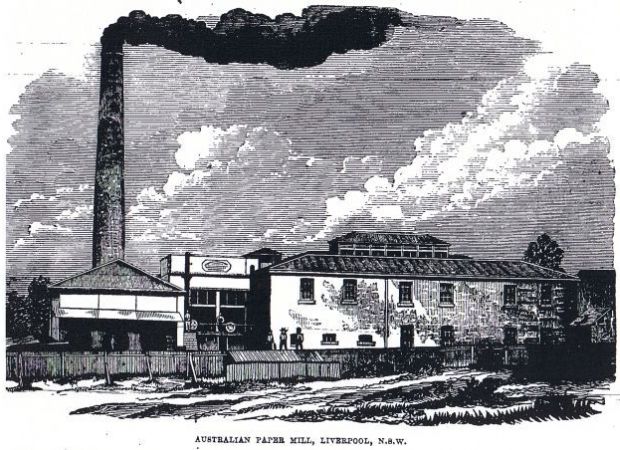 James Henry Atkinson purchased the Collingwood Estate at Liverpool, New South Wales in 1853 and is said to have built a paper mill there soon after a rail line was established in 1856. He later subdivided the estate and in 1864 sold 20 acres of land to the Australian Paper Company Limited who then built a large paper mill. About 1868 their Collingwood Paper Mill commenced production. It was located on the banks of the Georges River, above the dam and a short distance from the Railway Station. This mill was renamed the Liverpool Paper Mill after a change of ownership to Messrs. Daniel Williams and George Murray in 1875. This mill continued until about 1905 with the buildings later being used as a woollen mill.
A paper mill was established on the Hunter River in the late 1860's. James Henry Bryant had invented a process for converting waste products such as maize and millet stalks into paper and paper mache and took out a patent for this in 1867. The Dunmore Paper Mill at West Maitland was commenced to test the value of this process and in 1870 a company was being formed with Bryant as their manager. Half-stuff was produced there for export to England and brown paper for local use. This project does not appear to have survived the insolvency of Bryant in 1873.
Another paper mill was started about 1876 on the Georges River in the Holdsworthy/Moorebank area, New South Wales. Joseph Wearne built a single vat machine. The machinery was believed to have been crudely fashioned and was probably handmade. This mill is believed to have been completely destroyed by fire in the early 1880's while being run by Messrs. Wearne and Hack.
About 1896 George Adams started the Waterloo Paper Mill, New South Wales. He is thought to have acquired the papermaking machine from the Austral Paper Mill at Geelong, Victoria. This mill, said to have used water from an old brick pit adjacent to the mill, closed down about 1899 due to a shortage of water.
Bibliography:
Amcor Archives (University of Melbourne Archives, Baillieu Library, Melbourne)
A.P.M. Market Research A Brief History of Paper Making in Australia (A.P.M., 1975)
Collingwood Estate (Heritage New South Wales website)
Hainsworth, D. R. The Sydney Traders (Melbourne University Press, 1981)
Historical Records of Australia (Series 1; Volumes VII & VIII)
Sands Directories of Sydney & New South Wales (various years)
Saunders, John A. Some notes on paper mills of N.S.W. (Amcor Archives)
Sinclair, E. Keith The Spreading Tree, A History of APM and Amcor 1844-1989 (Allen & Unwin, North Sydney, N.S.W., 1991)
Woodhead, Christine; Willcocks, Marlene and Aitken, Margaret Thomas Clarkson - "If Only"(privately published, Carlingford, N.S.W., c1988)
Newspapers:
New South Wales: "Sydney Gazette"; "Sydney Morning Herald"; "Maitland Mercury"; "Town & Country Journal"
Victoria: "The Argus"
---
---
Site Acknowledgements:
Amcor Archives (Trevor Moore); Appita (Ralph Coghill); University of Melbourne Archives (Trevor Hart); Baillieu Library; Shaw Research Library, National Gallery of Victoria (Michael Watson); Mitchell Library, State Library of New South Wales; State Library of Victoria; Public Record Office of Victoria; State Records, New South Wales; Borchardt Library, La Trobe University; Vicnet; Meg Bate; Harry Dagnall; Geoffrey Graham Tong Hughes; Norma Joyce Hughes; Emma Kerr; Carol Liston; Jocelyn Lloyd; Ron Madden; John Morriss; Peter & Meagan O'Sullivan; Kevin Patterson; Anne Pitkethly; Betty Shelley; John Trewk; Ian J. Wilson.
---
© 2005-2017 Alexander Romanov-Hughes