First Paper Mills
---
Papermaking in Australia had its origins among the convicts who were transported to Sydney, New South Wales. A number of these convicts gave their former occupation as papermaker but it was John Hutchinson who had been a wool-stapler in England who made the first steps to establish a paper mill. In 1813 Governor Macquarie, having received many testimonials as to his abilities, gave him a conditional pardon and promised him land upon which to construct a woollen and paper manufactory. In March 1814 Hutchinson reported to Macquarie that he had conducted various experiments to remove inks and dyes from rags so as to make them suitable for the making of paper and had also identified a number of plants he believed to be suitable for use in the manufacture of paper. However, a short lived partnership with Simeon Lord in 1813 resulted in Lord retaining possession of most of Hutchinson's equipment and records. Hutchinson also fell out of favour with Governor Macquarie who was concerned about his numerous requests for men and equipment while his experiments were not producing the sought after results.
In 1818 the first mill known to have produced paper in Australia was established near Sydney, N.S.W. This was apparently run by three partners (Frederick George James Fisher, George Duncan and John Walker) who had raised capital by selling shares to about fifteen traders and officials (including Simeon Lord).
| | |
| --- | --- |
| | |
| "Sydney Gazette" - Saturday, 18 April 1818 | "Sydney Gazette" - Saturday, 25 April 1818 |
The "Sydney Gazette" of 18 April 1818 carried an advertisement stating that Messrs. Warren and Duncan had erected a paper mill a short distance east of the New Road to Botany Bay. This mill was powered by a water-wheel. In order to obtain the raw materials for making their paper the advertisement stated they were desirous of purchasing linen and cotton rags from the public for which a satisfactory price would be paid. The next edition of the newspaper would name the places where the rags would be received and paid for. When the next copy of the "Sydney Gazette" appeared on 25 April 1818 it carried an advertisement naming the house of Mr. Vickers, No. 29 Clarence Street, and Oliver's, No. 22 Philip Street as the places where rags would be purchased for making paper. However this and subsequent advertisements named the mill proprietors as Messrs. Fisher and Duncan. It appears therefore that the name Warren may have been a printing error or even an alias for the driving force behind the business, Frederick George James Fisher.
This venture was troubled from the start as there was at the time a running battle between John Hutchinson and Frederick Fisher over possession of the mill building. In fact Hutchinson and Fisher seem to have had joint occupancy of this mill, thought to have been known as Hutchinson's Mill. This was probably due to the ongoing dispute between Hutchinson and Simeon Lord over their previous partnership and Lord allowing Fisher to use his rights over the mill.
In the second half of 1818 Fisher and Duncan are thought to have obtained their own grant of an adjoining block of land and established the Bank Mill thereon. However in March 1819 George Duncan entered into an agreement with Thomas Clarkson to build a third mill on Clarkson's grant of land on the opposite side of John Hutchinson's block. This was to be known as the Macquarie Paper Mill. All three blocks of land were situated on a creek at the head of the Lachlan Swamp near Botany. Little else is known about the mills and they may have all been closed down by the time Frederick Fisher moved to Campbelltown, New South Wales about 1823. They were certainly closed by 1825 when surveyor and civil engineer John Busby prepared his report on the construction of Sydney's first regular water supply.
The supplement to the "Sydney Gazette" dated 29 July 1820 was printed on paper from one of these mills. A recent examination of a sample of this paper showed it to be an unsophisticated laid paper.
There were a number of reports over the following years about plans to establish new paper mills but none seem to have succeeded in commencing.
"Sydney Gazette" - Saturday, 25 November 1826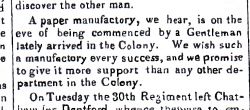 "Sydney Gazette" - Saturday, 22 August 1828

"Sydney Gazette" - Saturday, 27 August 1829
The following report was reprinted in "The Australian", Sydney, N.S.W., on 20 August 1840:
"PAPER - There is one branch of manufactures to which we would direct the attention of some competent person, and which has not been attempted in the colony, with the exception of a very feeble effort made many years ago, which was successful, but abandoned. We are confident such a trade would realise a handsome profit to any one disposed to commence it. We refer to the manufacture of printing and coarse paper. The consumption is now very great in this colony, and all the neighbouring colonies would patronise the manufacture, provided a good article could be made and sold cheaper than in England. The annual consumption of newspaper material amounts, in this colony alone, to about six thousand reams. The other printing paper used may average about three thousand reams. The amount of coarse material for wrapping is very great, and would be much increased were a depot at hand, from which it could be procured at a cheap rate, and of good quality. With this consumption, a papermaker, having the trade to himself, might make a good commencement, and afford to sell it at a cheaper rate than it could be imported, which would secure a monopoly for many years. In addition to the want of labour, it may be said, that a private person or company would find great difficulty in procuring the requisite material. We are not of this opinion; there is a great waste of the paterial of paper in this colony. A rag merchant, on a large scale, might send home a sufficient quantity to secure a profit, for it is well known that a great proportion of the paper made in Britain, is manufactured out of rags collected and imported from the Continent. But we have an excellent soft covering of the colonial maize, which may be manufactured into excellent printing paper; Cobbett's Register was printed upon such paper, for many years. Of that material we have abundance, and value would thus be attached to what is at present of no value in the farmer's stack-yard. At times, the want of printing paper is severely felt, and not many years ago, editors were compelled to paste together two sheets of half-size, to make a common paper. In a time of war, also, we should be at a loss for regular supplies. We, therefore, confidently draw attention to the subject of master papermakers, proposing to emigrate, who, in place of disposing of their materials, might bring them to the colony, and speedily realise a competency, or at least a respectable livelihood. They might come out on the bounty system, and as every man who introduces manufactures is a public benefactor, we believe the government would give every encouragement to such a business; as their departments would be much better supplied on the spot with the material they require , than on the present system, in which the charges are exorbitant on some articles, or if moderate cannot be profitable to the contractor. We speak for ourselves, and we think we might say as much for our fellow-editors, that no impediment would be thrown in the way of such manufacture by us or by importers, but that every facility would be afforded; and, being supplied on reasonable terms, we would have no desire nor interest to add freight and commission to the original cost of our printing paper. - Herald".
Source:
Amcor Archives (University of Melbourne Archives, Baillieu Library, Melbourne)
Historical Records of Australia (Series 1; Volumes VII & VIII)
Wilson, Ian J. (Dr.) Personal communications
Newspapers:
New South Wales: "Sydney Gazette"; "Sydney Morning Herald"; "The Australasian"; "Town & Country Journal"
---
© 2005-2017 Alexander Romanov-Hughes
---
Papermaking in New South Wales to 1900 | Back to Home Page