Austral Paper Mill
---
A further paper mill was built at Geelong in 1890 by William Daniel Hughes, a former manager of the Barwon Paper Mills. Hughes, an experienced papermaker from Lancashire in England, constructed the Austral Paper Mill at Marnockvale and imported his own machine from England.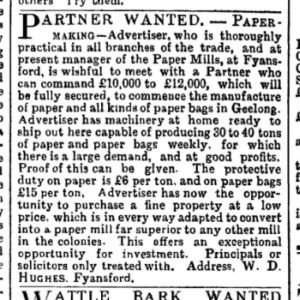 "Geelong Advertiser" 19 October 1889
A article about the New Paper Mill appeared in the "Geelong Times" of 15 March 1890.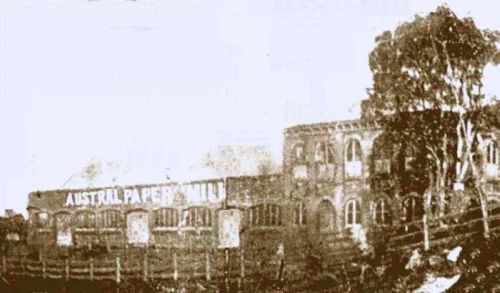 Austral Paper Mill Buildings c1892
Though the mill was completed and the papermaking machine arrived at Geelong he became insolvent before he could commence production. The mill was eventually sold and the papermaking machine shipped to Sydney in 1896 where it is believed to have been used in the Waterloo Paper Mill of George Adams. The mill buildings were purchased by The Australian Paper Mills Company Pty. Ltd. in 1899 and sold in 1905 with the condition that they not be used as a paper mill.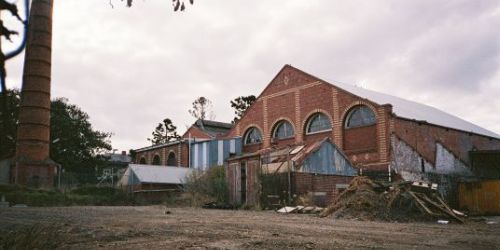 Austral Paper Mill Buildings 2006
Sources:
Amcor Archives (University of Melbourne Archives, Baillieu Library, Melbourne)
Hughes, Geoffrey Graham Tong Personal communications (relative of William Daniel Hughes)
Hughes, Ian Alexander Hughes, A Family of Papermakers (privately published, Melbourne, Vic., 1979)
Hughes, Norma Joyce Personal communications (descendant of William Daniel Hughes)
Sinclair, E. Keith The Spreading Tree, A History of APM and Amcor 1844-1989 (Allen & Unwin, North Sydney, N.S.W., 1991)
Newspapers:
Victoria "Geelong Advertiser", "Geelong Times"
Images: State Library of Victoria; Norma Joyce Hughes; Alexander Romanov-Hughes
---
© 2005-2017 Alexander Romanov-Hughes
---
Papermaking in Victoria to 1900 | Back to Home Page