Thomas Kenny's Paper Mill
---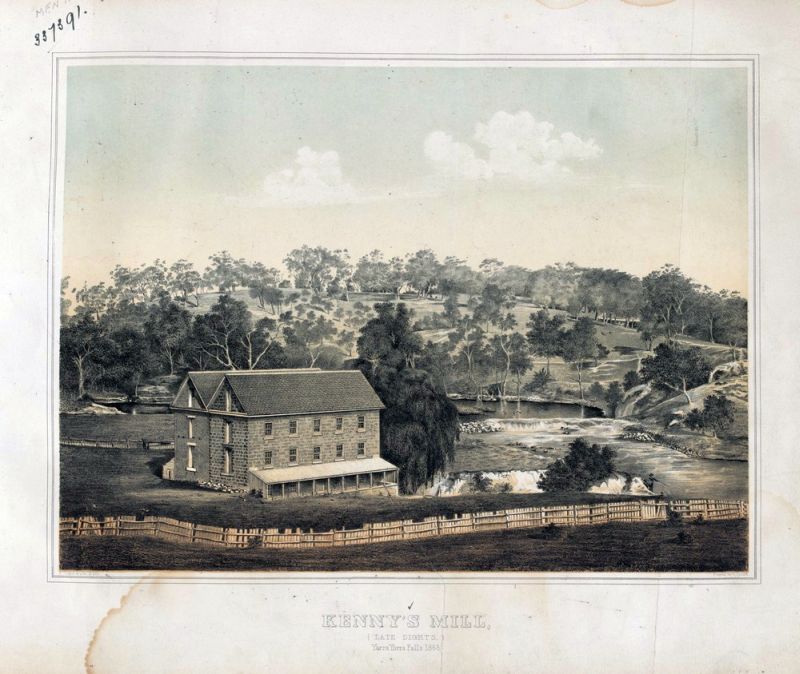 Thomas Kenny's Paper Mill 1863
A further attempt to establish a paper mill was made by Thomas Kenny, the brother-in-law and business partner of John Sands in the printing and stationery firm of Sands & Kenny. Kenny retired from this firm in December 1861 and directed his efforts towards the establishment of a paper mill. He firstly visited Europe to acquaint himself with the business of papermaking and on his return started the construction of a mill at Dight's Falls on the River Yarra, some distance upstream from Melbourne. It is uncertain if he had been connected with Martelli's efforts but he would certainly have known about them and they are likely to have influenced his decision on the location of his mill.
In 1865 Kenny imported a seventy-two inch papermaking machine from Messrs. James Bertram and Sons of Edinburgh, Scotland. He employed Mr. Rawlinson, C.E., to construct the mill and races; and recruited Alexander Steel from Scotland to set up the machinery and an experienced papermaker from Ireland named Nathaniel Kerr.
Unfortunately Thomas Kenny died in July 1866 after a brief illness and the construction of his mill came to a stop.
Sources:
Amcor Archives (University of Melbourne Archives, Baillieu Library, Melbourne)
Newspapers:
Victoria: "The Age" "The Argus"
Image: State Library of Victoria
---
© 2005-2017 Alexander Romanov-Hughes
---
Papermaking in Victoria to 1900 | Back to Home Page