Mataura Paper Mill
---
The second paper mill to commence in New Zealand was the Mataura Paper Mill constructed and operated by James Walker Bain and the Mataura Paper Mill Company.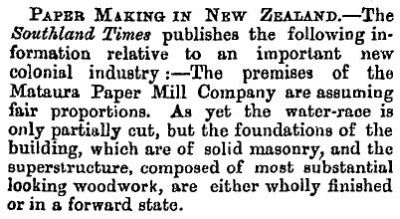 "Timaru Herald" 11 February 1876
Located in the south of the Southern Island, this mill commenced production in late June 1876 with a papermaking machine made for them by Messrs. Moyes and Donald of Newcastle, New South Wales, Australia. James Henry Bryant designed and supervised the construction of this machine. It arrived in New Zealand in January 1876 per the ship "The Witch of the Wave" accompanied by Bryant and his family and Bryant was appointed the first manager of the Mataura Paper Mill.
Sources:
Angus, John H. Papermaking Pioneers (New Zealand Paper Mills, Ltd., Mataura, N.Z., 1976)
Newspapers:
New Zealand "Timaru Herald"
---
© 2005-2017 Alexander Romanov-Hughes
---
Papermaking in New Zealand to 1900 | Back to Home Page