Dunmore Paper Mill
---
| | |
| --- | --- |
| | |
| "Maitland Mercury" - Saturday, 6 April 1867 | "Maitland Mercury" - Saturday, 6 April 1867 |
A paper mill was established on the Hunter River in the late 1860's. James Henry Bryant had invented a process for converting waste products such as maize and millet stalks into paper and paper mache and took out a patent for this in 1867.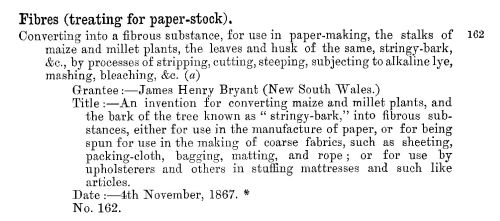 The Dunmore Paper Mill at West Maitland was commenced to test the value of this process and in 1870 a company was being formed with Bryant as their manager. Half-stuff was produced there for export to England and brown paper for local use. This mill was located near the Belmore Bridge in West Maitland in premises rented from Solomon, Vindin and Co.
MANUFACTURING PROCESS - The stalks are chemically soaked for an hour or two in these stabbed pits, then carried aloft, chopped up by hand, and ground like bark in a mill; then run outside the building, and dropped into a large vat, and boiled by exhaust steam from the engine; from thence, they are transferred to the macerating vat, and crushed by a roller, ribbed with iron, cold, clear water pouring continually in, and scum and dirty water pouring continually out by a wash-pipe, to the river. The pulp descends, when wanted, by a valve to a press below, and is poured out in trays, and pressed by open covers, lined with perforated zinc, and a moist dark cake is the result, which after being again pressed in mass, becomes embryo paper, or half stuff, ready for exportation.
MACHINERY - The engine is a table of 12 horse-power, the boiler being equal to 24 horse-power; but, one of the advantages arising from the success of this industry will be, that it employs many boys. A paper engine is shortly to be fitted up, and brown paper to be manufactured on the spot; for, if the half stuff sent by the first shipment turns out well, more capital is expected from London, and the operations will consequently be carried out on a more extended scale.
In August 1871 a report was received by Bryant in New South Wales from his agent in London. This report contained the opinions of two English papermakers on the half-stuff that had been exported from the Dunmore Mill. The agent reported of his conversation with a Mr. Simpson of Ilford and Maidstone "I was more delighted to hear him say that the quality of the "half-stuff" was splendid; that Esparto grass will not make paper at all approaching it; he was evidently greatly pleased with the quality in every way." The agent also gave the opinion of a Mr. Chater, of Grosvenor and Chater, and Co., papermakers, as follows: "The quality of the "half-stuff" is found so good (equal both in fibre and colour to the very finest rags), that there is no doubt every maker of straw paper in England will be glad of certain quantities to make a mixture in the 'beating mill.'"
This project does not appear to have survived the insolvency of Bryant in 1873. This may have been brought on by the sudden death of a major supported of the venture, George Vindin, in November 1872. Following the failure of this mill James Henry Bryant moved to Liverpool, New South Wales.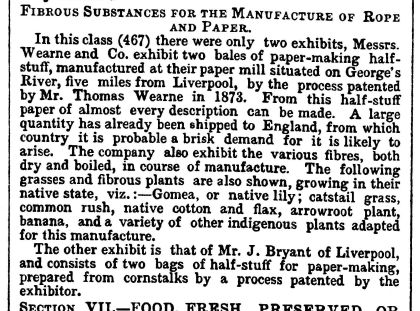 "Sydney Mail", 18 April 1874
Sources:
Booth, Edwin Carton Australia (Virtue & Co., London, England)
Index to New South Wales Letters of Registration of Inventions from 1854 to 31st July, 1887 (Patents Office, Sydney, New South Wales, January, 1890)
Newspapers:
New South Wales: "Maitland Mercury"; "Sydney Morning Herald"; "Town & Country Journal"
---
© 2005-2017 Alexander Romanov-Hughes
---
Papermaking in New South Wales to 1900 | Back to Home Page