Suitably Clad
Suitably Clad shows suits for a great variety of occasions and purposes; for children and adults.
The exhibition is taken from the Museum's  own collection of authentic historic costumes plus a few items on loan.
Glamorous gowns from the 1930's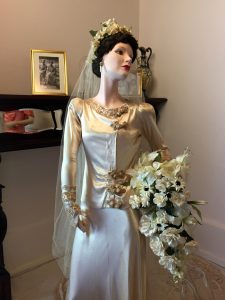 This is a beautiful exhibition displaying glamorous gowns with accessories and furs that were so popular during this period.
These exquisite gowns feature a variety of fabrics – chiffon, georgette, lace, silk, velvet and the new man-made fibre viscose. Most show long clinging bias cut skirts with flowering hem lines and godets. Some bodices have halter necks, are off-the-shoulder, and are almost         backless. Back and front cowl necklines were popular. Trims include fluttering drapery, flounces and hip or shoulder bows and shoulder sprays.
Several gowns were purchased some years ago from a Melbourne dealer including one by the couturier Molyneux, others have been donated.
Shown with these gowns are numerous hats, and a selection of beautiful 1930's jewellery and china.