Welcome
Where are We?
We are located in the Meeting Room at the Moe Library in Kirk Street Moe.
Our Library
Members are on duty every Wednesday between 1pm and 4pm to help with any public inquiries and to assist with family research.
Our Library Holdings
We have an ever growing library of resources which includes DVDs, CDs, Cemetery Transcriptions and Registers, Newsletters, microfiche and much more. We are currently indexing the Shire Rate Books and copying some of our Cemetery Registers to CD. Browse our catalogue and have a look at our publications for sale to see the extent of our library and what is coming up next. Don't forget Dawn Cowley's Unwanted Certificate Service. See her page to see how this service could work for you. To also see the background behind the original concept of this service, read our newsletter #146.
Towns of Mid Gippsland
The Mid Gippsland Family History Society supports family history research in the 5000 square kilometre region around Morwell in the Latrobe Valley of Victoria. This is a region with five or so large towns and many smaller settlements. Many towns and localities have disappeared due to the vagaries of gold mining, forest reservation, dam construction or administrative whim and no longer appear on modern maps. In addition the names of some towns have changed since the 1800's. This listing covers both the modern and the forgotten towns. Find the listing here.
The Moe Library
The Moe Library is one of four libraries in the Latrobe City and has an extensive range of local and family history including the holdings of the ex-Yallourn Library which was donated to the Latrobe City Library.
Images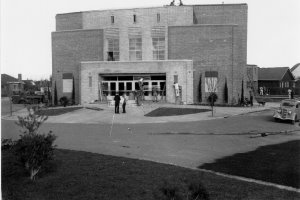 Sometimes when doing our research, it can be rewarding to include some local history into our family history so here is a little peek into the past. To the right is the Yallourn Theatre under construction in 1939 ...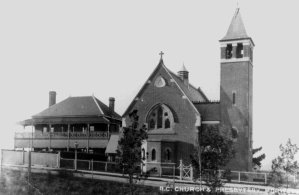 ... and to the left is the Roman Catholic Church in Morwell. This could be approximately 1920.