HISTORY of
JAMIESON PS 814 (1865)
and
SCHOOL RESIDENCE
JAMIESON PRIMARY SCHOOL 814, (built 1878)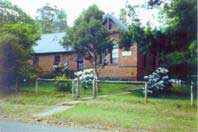 Robert Goy taught the first classes in Jamieson in a slab hut during the early 1860s but his application for recognition and aid as a Common School was refused.
On 28th November 1864 a public meeting was held to apply for aid to establish a Common School in the town.
A School Committee was formed and among the members was Father Courtney, who offered the Catholic Church as temporary accommodation.
This was accepted. Tuition fees of 1/- (10 cents) per week were charged for each child, with a reduction for families. The enrolment was 20-38 pupils.
Unbeknown to other committee members, Father Courtney had also applied for aid and, on 31st May 1865 his claim was recognised. As he had the classroom and the students, Roman Catholic School 788 was officially recognised and, the other application was refused causing bad feeling in the town.
Following a report from School Inspector Geary, who feared violence could erupt over the issue, Father Courtneys grant was rescinded. Common School 814 was officially recognised on 24th September 1865 and government aid awarded.
The first class was held by Andrew Loughrey, with an enrolment of 51 pupils. Mr Loughrey had left the district by April 1867 and the school was then closed until a new teacher arrived in August 1867.
The original school, built on the south-eastern corner of the block, was an 18x30 foot, 1 room, timber building with a shingle roof and brick chimney, completed on 16th September 1867 at a cost of 150 pound ($300).
In 1868 a 20 foot extension, at a cost of 60 pound ($120), was approved and by January 1869 was almost complete when a storm blew down the old part of the building and badly damaged the new extension.
The children were taught in a temporary classroom at the Church of England until contractor, J Anstey, re-erected the building for an additional 41 pound ($82).
By 1873 Mr John Dunkerly, with only his wife Hannah to assist him, was teaching 121 pupils and desperately needed more space.
On 24th October 1876 a price of 112 pound ($224) was accepted from Dodson & Co. of Mansfield for a brick building 50x50x25x20 feet, with a galvanised roof, to accommodate 150 to be completed by 17th May 1877.
Unfortunately for Mr Dodson, the P.W.D. surveyor placed part of the building on the old interdicted cemetery grounds next door, forcing the School to apply for the rest of the cemetery and this land was not gazetted until 28th September 1877. The building was not completed until 9th January 1878, 8 months beyond the deadline. The delays and additional expenses forced the contractor into bankruptcy.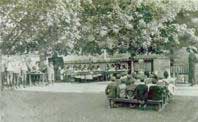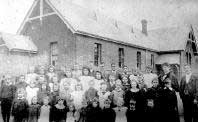 Above left Pupils work outside c1870 right: Pupils c1878 outside new building
Mr Joseph Webb, who was the Head Teacher by now, conducted the opening ceremonies much to the annoyance of the School Council, who felt they should have been permitted to show their appreciation to the Department for building such a noble edifice.
This school has had some keen and energetic teachers over the years among them were Frank Wood, Head Teacher in 1910, who planted a magnificent garden at his own expense, including a range of bulbs, perennials, shrubs and over 200 varieties of roses.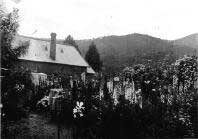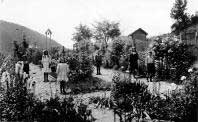 Above: The school gardens in 1916
Mr Bavinton started a plantation of Walnut trees in 1925 but they were unsuccessful. When local resident, Mr Padge Seymour, became Head Teacher he replaced them with 100 pines in 1927. The pines were harvested in the 1960s and the Arboretum stands on the old plantation site today. In the 1930s Mr Lewis had the pupils growing their own vegetables in a garden planted along the river bank; then in 1946 Mr Stocks formed a Young Farmers Club for the students.
A far cry from the boom days, Jamieson PS 814 reflected the decline of the town as attendance dropped off. But things are looking up, once again the enrolments are growing. Pupil roll today (2010) is 20 students with 2 full time teachers, compared to the 12 students enrolled in 2001.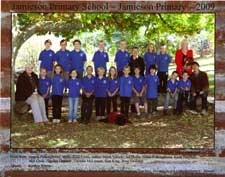 In October 1990 a school reunion was organised, past pupils and teachers from all over the country accepted the invitation to return to their old school.
To many of those who had learnt their three Rs by kerosene lamp (electricity was not connected until 1956) many things were familiar but the curriculum was vastly different, television and video in the classroom, pupils doing so much with computers, excursions to Melbourne or Canberra and other places of interest things not even dreamt of back then.
Jamieson PS 814 has now raced into the 21st Century, no longer disadvantaged by distance or lack of facilities, as was the case in earlier days.
The time capsule placed in the front wall of the school in 1985 as part of the Victoria's 150th Anniversary Celebrations to be opened in 2034-35.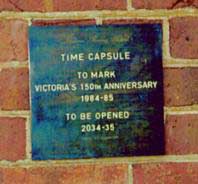 I wonder when the capsule is opened, will Jamieson PS 814 still be in existence and how will future generations view this little school in the bush.
---
SCHOOL RESIDENCE (1891)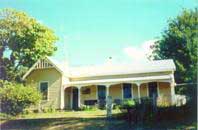 Accommodation for teachers was not a high priority in the 1860s when the first school was built, teachers were expected to find their own, in private homes or hotels.
Joseph Webb made the first request for a school house to be built in 1877. A tender was received for 257 pound($514) but the Department was only prepared to spend 150 pound ($300) so work was postponed.
By 1888 the Head Teacher was Mr. Ullyett. His request for accommodation was met by a Department suggestion that the school be partitioned to provide living quarters.
He refused this unsatisfactory offer and eventually the Department approved the building of a 4 room residence.
Mr. Ullyett then requested an additional 2 rooms as he had a large household which included his wife, 7 children and a housekeeper, the department informed he will have to finance any extra rooms himself. He was forced to accept the 4 room dwelling, when the private house he was renting was sold out from under him.
The school residence was finally completed on 8th April 1891, but Mr. Ullyett applied for, and received, a transfer in 1892. The house remained empty and by 1897 was uninhabitable, it is then rented out privately for 1 pound ($2) a month.
Mr. Haslam arrived in 1900, with a wife and 4 children. His request for a 2 room extension was approved and completed by early 1902.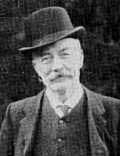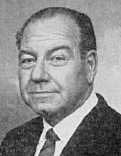 From left: Mr Ullyett, Mr Bavinton, Mr Stocks
In 1909 Mr. Frank Wood took over as teacher. He requested a wash-house and bathroom be provided: the washing was being done in kerosene tins in the kitchen, they were unable to light the copper outside as it was too wet. There was no bath of any kind. Mr. Wood requested the verandah be partitioned off to form a bathroom, his request was denied as funds are only available for urgent works.
In 1944 there was still no bathroom or laundry and the only cooking facility was the open fire. The last water tank had collapsed and Mr Wood was forced to cart water from the river in a cream can for his pregnant wife and 4 children. The Department informs him, they have no funds available for such work.
In 1945, despite the fact that requested work had still not been done, the Department decided the house was to be plastered and the rent increased.
Mr. Stocks, the Head Teacher at this time, refused to pay any extra until he got the basics which after a long battle the Department finally granted.