Copyrightę
J&DHS Inc. 2000
Go To
Bottom of Page
MUSEUM
You are here


OTHER LINKS



Free non-commercial
Family history search engine
and directory



Mansfield Online
Locate local businesses


The Geneological Society of Victoria


Pioneer Portraits
of Australians


Royal Historical Society of Victoria


---
MUSEUM DISPLAY
A visit to our Museum is an ideal way to begin your exploration of this historic region.
The display of artefacts and photographs demonstrate various aspects of the historical development of this once thriving gold mining district.
Changes are made to the display each year and the Museum is open
11.00am - 3.00pm Weekends & Public Holidays from November to Easter,
Other times by appointment.
Bus Tours catered for mid week
Admission charges are $2.50 adult & $1 for children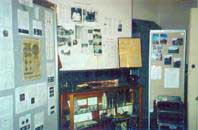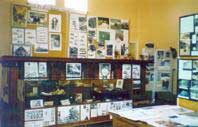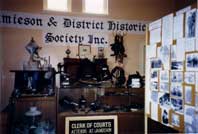 ---
MAX the wonder dog
2002 saw a new addition to out team, his name is MAX.
Max was the much loved pet of Mr Bill Giles.
When Max passed away Bill had a taxidermist preserve him and for the last few years Max continued working as a very effective watch dog in the back seat of Bill's car.
Unfortunately ill health saw Bill move into aged hostel accommodation and there was no place for Max so he has been given to us to care for.
Sadly Bill has since passed away but Max is happy in his new home, the children who visit our Museum absolutely love him.
Max is seen below with his new friend Stan.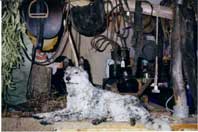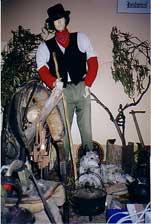 ---
OUTDOOR DISPLAY AREA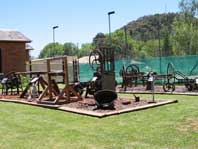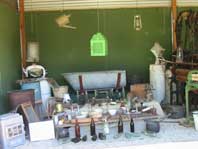 The opening of the out door display, and presentation of Certificates of Appreciation, by Councillor Russell Bate on November 8th 2003 was the culmination of over two years hard work.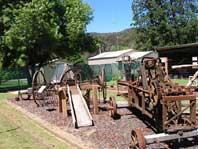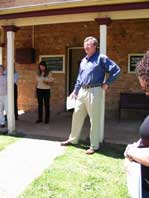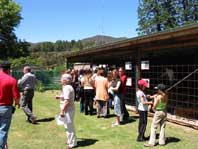 In 16 years the society has come a long way, it seems like yesterday when we worked from the Secretarys lounge room with little more than a list of names from the headstones at the cemetery.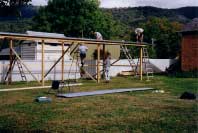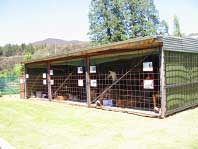 We are fortunate to be in a very community minded town, this has seen in the assistance received from local volunteers in erecting the new outdoor display shed and additional fencing.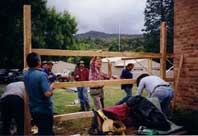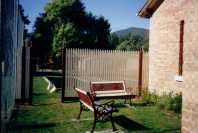 ---
Go to the top of the page