In June 2013 The Buninyong & District Historical Society, in association with the Buninyong & District Community Association, attached a series of plaques to historic buildings in Buninyong outlining their historical significance.

Some of the plaques have QR (quick response) codes which allow people with smartphones to link to more detailed descriptions housed on this website. The project was funded by the Buninyong Community Bank.
A stroll around Buninyong to visit each of the historic buildings with a blue plaque is an enjoyable way of learning about the history of the township.
Sample Plaques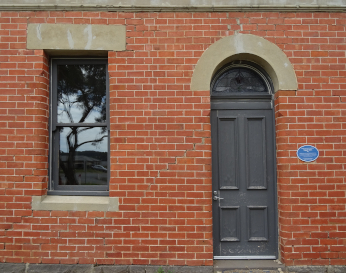 Nugget Hotel, cnr. Learmonth and Cornish Sts., 1854
A hotel has existed on this site since the very early days of Buninyong. It was originally a two storey brick building erected by William Smith in 1854 as the Nugget Hotel. The attached assembly room was capable of holding 500 people.
The hotel was delicensed in 1917, and later owned by Doug Watkins, who operated a poultry farm here in the 1940s.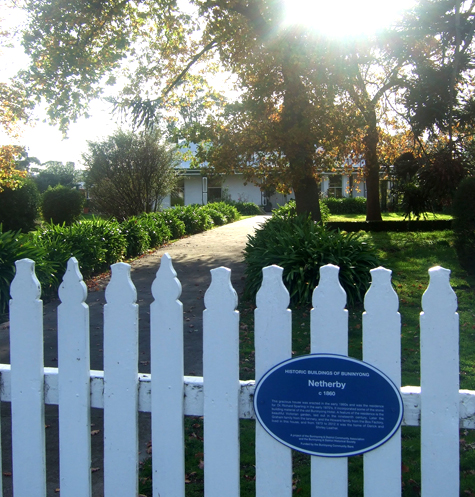 Netherby, cnr Scott and Warrenheip Sts, c1860

This gracious house is one of Buninyong's earliest, associated with Dr. Sparling, a medical doctor in Buninyong. It incorporated some of the stone building material of the old Buninyong Hotel. A feature of the residence is the beautiful Victorian garden, laid out in the nineteenth century. Later the Graham family from the tannery, and the Howard family from the Box Factory, lived in this house, and from 1973 to 2012 it was the home of Derick and Shirley Leather.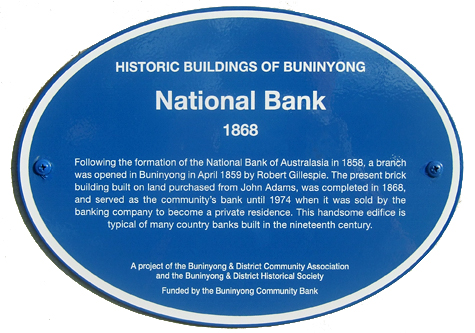 National Bank, cnr Learmonth and Warrenheip Sts. 1868

Following the formation of the National Bank of Australasia in 1858, a branch was opened at Buninyong in April 1859 by Robert Gillespie. The present brick building, built on land purchased from John Adams, was completed in 1868, and served as the community bank until 1974, when it was sold by the banking company to become a private residence. The handsome edifice is typical of many country banks built in the nineteenth century.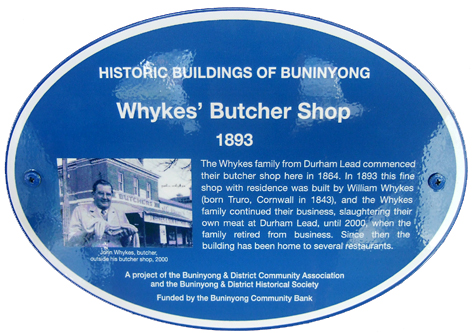 Whykes Butcher Shop, Learmonth St. 1893

The Whykes family from Durham Lead commenced their butcher shop here in 1864. In 1893 this fine shop with residence was built, and the Whykes family continued their business, slaughtering their own meat at Durham Lead, until 2000, when the family retired from business. Since then the building has been home to several restaurants.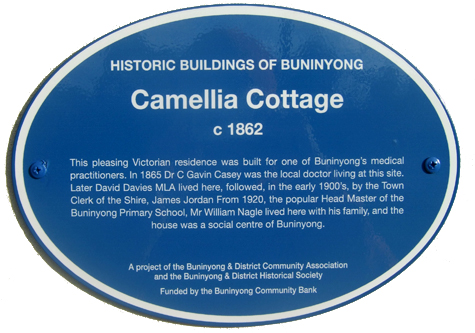 Camellia Cottage, Warrenheip St, c.1862

This pleasing Victorian residence was built for one of Buninyong's early medical practitioners around 1862. In 1865 Dr. C. Gavin Casey was medical practitioner at Buninyong, living at this site. Later David Davies MLA lived here, followed by the Town Clerk James Jordan in the early years of the twentieth century. From the 1920s, the popular head master at the Buninyong State School, Mr William Nagle, lived here with his family and the house was a social centre of Buninyong.