Buninyong & District Historical Society
Reg number: A0030085Y
About the Society...
The Society promotes the study, collection and preservation of the history, heritage and environment of Buninyong and the surrounding district.
The Society meets regularly and welcomes visitors to view the records it holds in two historic buildings, the Old Court House, Learmonth St, and the Old Library, Warrenheip St.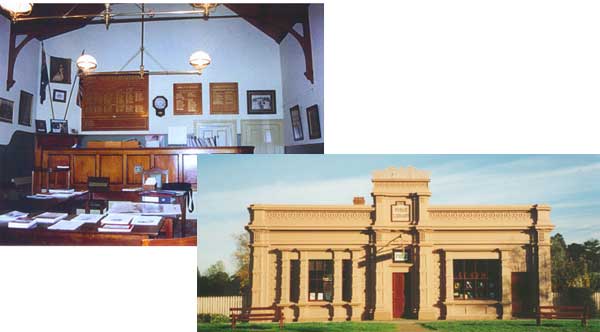 The Old Court House History Centre is open from 9.30am - 1.00pm on the third Saturday of every month and the Reading Room in the Old Library is open six days a week, 10am - 3pm, Tuesday-Sunday.
Membership
Some members engage in a variety of restoration, research and cataloguing projects, working in small groups or individually and reporting back to the Society at its bi-monthly meetings. Others enjoy coming to the meetings to hear guest speakers and keep up with the Society's activities.
At the 2021 AGM the Society elected a new President, all other positions were filled by their incumbents.
2022 Executive:
President: Ron Gilchrist
Secretary/Archivist: Anne Beggs-Sunter
Treasurer: Chris Hindhaugh
New members are welcome. You may join the Society by filling out its Membership Form and paying an annual membership subscription.
About this Site...
Please email any queries or comments about historical matters or the activities of the Historical Society directly to the Secretary at buninhistsoc@gmail.com
About Buninyong ...
For information about Buninyong visit: www.buninyong.vic.au