Buninyong and District Historical Society
Eagle Hotel, Buninyong
1855
Warrenheip St, Buninyong
The site was purchased by James Clark Wallace, solicitor of Geelong, on 14 September 1852. On 20 September 1854 the block was sold to Andrew Davies, saddler, who was responsible for building the two-storey brick building. Application for a license was made in 1856, with John Handcock as licensee. On 17 May 1856 John Handcock was charged in the Buninyong Court with having the Eagle Hotel open on a Sunday (VPRS 296/1). This is one of the oldest buildings in Buninyong, classified B by the National Trust. (Coleman/Sutherland Report, p.111. It is illustrated in Pictorial History.)

On 29 August 1857 the portion of the block containing the hotel was sold to Samuel Hemingway and David Jones for £100.

On 9 November 1861 it was sold to Henry Wyatt, gentleman, for £100. Henry operated a cab business from Simpson St, and his wife Lydia ran the hotel.

On 2 August 1892 the license was transferred to Lydia Wyatt.

Henry Wyatt died in 1893, aged 66. In 1897, Lydia married the widower William Snaith Ward, who became the licensee. At the end of February 1899 there was a devastating fire, which broke out at 2.30am in the morning of a day when a Northerly wind was blowing hard. It began in Charles Howard's bootmaker shop opposite the Crown, and quickly spread to the shop on the corner, and the Eagle Hotel, which was consumed by the fire, with only the walls standing. (Buninyong Telegraph, 3 March 1899) The hotel was insured for £500, and was quickly rebuilt, with the Ballarat architects Clegg, Kell and Millar responsible for the plans, which replicated the original building. (Buninyong Telegraph, 17 March 1899)

Lydia died in 1909. Her executor was her son Walter Ernest Wyatt, who sold the property to David Kerr, gentleman of Buninyong, for £535. William Snaith Ward was the licensee from 1903 to 1912. (Ward died 15 March 1913) On 11 December 1912 the licence was transferred to John Hannah, who had seven children. John (Jack) (1875-1916) was a keen footballer and captain of the Buninyong Football Club. He married Elizabeth Tauschke in 1903. John was initially a bootmaker near the cemetery, but took over the licence of the Eagle Hotel. He died on 16 December 1916 aged 40, leaving his wife with seven children under 10 years of age.

Elizabeth Hannah was still running the hotel on 8 January 1917 when she was fined in the Buninyong Court for selling liquor on a Sunday. (VPRS 00719/15)

The hotel was de-licensed in August 1917 by the License Reduction Board.

According to local historian Bill Thorpe, it subsequently became a bootmaker, butcher, fishmonger, private residence and second-hand store.

The old hotel was lucky to survive a fire in 1929, when the buildings to the left of the hotel were burned to the ground.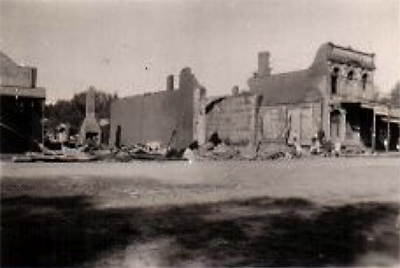 It was purchased by John Booth, butcher of Mildura, 19 December 1930.

In 1938 Thomas Jenkin occupied the building as newsagent, stationer, fancy goods, and boot repairer.

On 16 July 1943 it was sold by mortgagee's auction to Clarence Gilbert Turner, garage proprietor, for £70, and on 13 December 1966 transferred to Myrtle Turner.

In the 1960s the English migrant Mr Senior, father of David Senior, conducted an antiques business in the store. He tried to buy it from the Turners, who owned the building, but without success.

On 20 March 1975 the Turners sold the old store to Ralph Durr for £3,250. Ralph was a young geology student from the Ballarat Institute of Advanced Education. He took over from Senior. He set it up as an antiques store, with some plants out the back.

In the 1980s Ralph sold out to Elizabeth Gilfillan, who established the 'Eagle Delights' store, concentrating on quality garden produce and old world roses. Elizabeth became very involved in efforts to restore De Soza Park, and she was involved with the Rotunda and the planting of a garden. She restored the building.

She set up a bed and breakfast operation in the upstairs section of the old building.

In the late 1990s the Bairds took over the business as a garden centre, and they further developed the outdoor area, and established an outdoor eating area behind the shop in about 2002.

The business was going very well, but unexpectedly at the end of 2003 the Bairds announced they were ending the lease.

The building underwent an unsympathetic internal conversion into a Real Estate office in 2003-7, and mid 2007 it became the office for Westwind, a wind energy company.

From 2009 to January 2012 the chiropractor Kristie Lane operated her business from the building.

In 2012, O'Beirne's Legal office was set up in the building./
Anne Beggs-Sunter,
Buninyong and District Historical Society
2013