.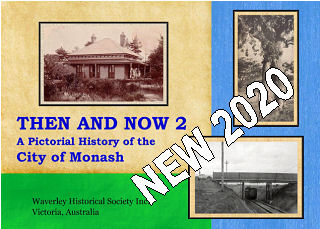 The WHS has much pleasure in announcing the publication of Then and Now 2- A Pictorial History of the City of Monash. The book, published in Aug 2020 commemorates the 50th birthday of the WHS. This A4 book comprises 60 pages of Then and Now (B&W and colour) images, maps and text of scenes within the City of Monash. This book complements Then and Now (1). Available from the WHS rooms or by post. Click here for further details and order form.
also from Stocksville Cafe, 3 Cleveland Road, Ashwood

.




Once There Was Jordanville by local historian Jeffrey Turnbull. This A4 sized book of 170 pages, describes the history of the settlement of the district by the Jordan Family through to the development of the suburb and the creation of the Housing Commission estate. This most readable text is complemented with many maps and (B&W) images of the area. During covid19 restrictions both books are only available by post. Click here for further details and order form. also available from Stocksville Cafe, 3 Cleveland Road, Ashwood.
CONTACTS
Do you have a question about Waverley History?
If so then Email
whsResearch

General Enquiries on the WHS (inc. meetings and membership):
by Email only:
waverleyhsvic@gmail.com
Use this email and we will reply.

Do you need a Speaker for your local Monash group?
See Speaker Service


Note: The WHS does not maintain any telephone service.


Meetings and Activities
WHS Speaker Service
DUE TO CURRENT COVID-19 PRECAUTIONS THE WHS ROOMS HAVE LIMITED CAPACITY. ACCESS IS BY PRIOR ARRANGEMENT
ATTENDEES MUST SHOW PROOF OF DOUBLE VACCINATION
AND MASKED WHILE WITHIN THE BUILDING
Next Event Sun afternoon 28 Aug 2022
Annual General Meeting
52nd Birthday Celebration
Plus a picture show of the changing Waverley district
2pm in our Rooms above the MW Library
Please register your planned attendance by email:
waverleyhsvic@gmail.com
Your participation will be confirmed.
References, Newsletters & Books for sale
The

Waverley Historical Society Victoria invites you to join us on our OPEN DAYS, which are held on the 3rd Wednesday of each month (except December and January) from 2-4 p.m. Come and visit us to

browse our collection including

old maps, early Waverley Gazettes, photos. Come and share your story or ask a question. Other Wednesdays 1-5 p.m. are by appointment for specific research requests.

The Society has a number of maps, early sub-division plans and aerial photographs of the district. Many of the streets in the Waverley area originate from our early pioneers, while the name "Waverley" and some particular streets relate back to Walter Scott's Waverley novels. If you are searching for the locality: Amstel, Ashwood, Black Flat, Brandon Park, Brentwood, Burwood, Chadstone, Clayton North, Glen Waverley, Jordanville, Mount Waverley, Mulgrave, Notting Hill, Pinewood, Springvale North, Syndal, Talbot Colony, Tally Ho, Waverley Park, Wellington, Whitburn or Wheelers Hill, then maybe we have the information you seek.

Please note that the City of Monash is covered by two historical societies. For queries about the Oakleigh district and surrounds please visit our sister society History Monash.


History Monash Inc is the former Oakleigh & District Historical Society Inc., established in 1961. Their volunteers are dedicated to studying, collecting, preserving, exhibiting and publishing local history within the City of Monash, especially that of Oakleigh and surrounding districts such as Hughesdale, Huntingdale and Clayton.

You can search the origin of street names in the Waverley area by accessing the on-line database accessible via the Monash Library, see link left. Select Waverley Street Index. from the Full Catalogue. (If you can add to the street information we would welcome your contributions).
We are most grateful to the City of Monash for providing the accommodation for our collection.
Disclaimer: The views expressed in this Web site are strictly those of the authors. They do not necessarily reflect the views of the WHS committee, or of any historian, book author or magazine publisher, or any other historical society.
Copyright 1998-2022 Waverley Historical Society