Welcome to Tarnagulla.org
Dedicated to the history of Tarnagulla
Tarnagulla is a small rural town situated in the heart of the Golden Triangle, central Victoria, Australia. It is a town founded on the excitement and hope of the Victorian Gold rush and quickly developed into a thriving community. Many large company gold mines employed scores of miners at their peak and many large gold nuggets were found. It was a town of enormous wealth for some. Over the years as gold became less plentiful many turned to farming and other pursuits.
With a colorful history, Tarnagulla today is a quiet town with a population of only a few hundred. The following pages provide an insight into some of the history of Tarnagulla through photos, historic records, stories, articles from local papers and more. There are always new articles and records to be included and we are working towards getting as many of these online as possible. It is our hope that anybody with articles or photos of interest would also submit them for inclusion. In this way it is our aim to make this site a living resource for those of us interested in the township of Tarnagulla and to preserve our history for future generations.
Tarnagulla Today
Tarnagulla today still has the charm and character of a town with a rich history and is well worth a visit. Many of the towns historic buildings still remain, as do remains of many of the mining sites - which will reward the visitor who takes the time to stop and have a look around. Township maps can be downloaded here and a walking tour found here.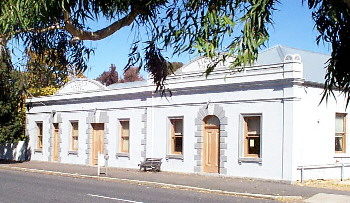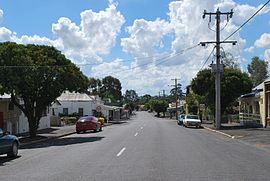 Photos of Tarnagulla today.
Upcoming Events - Out N About 2015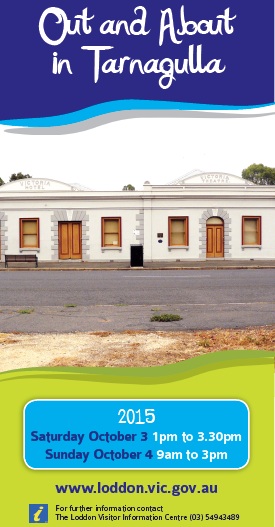 After a very successful event in 2014 we are very excited about the upcoming 'Out N About in Tarngaulla - 2015' event!
This is the fourth year that the event has been running and it promises to be one of the best yet. The event will be held over the weekend of 3rd and 4th October 2015 and we are expecting good crowds to enjoy the events and displays.
The Programme can be downloaded here and more information can be found on our 'Upcoming Events' page.
Tarnagulla's Golden History - Part 3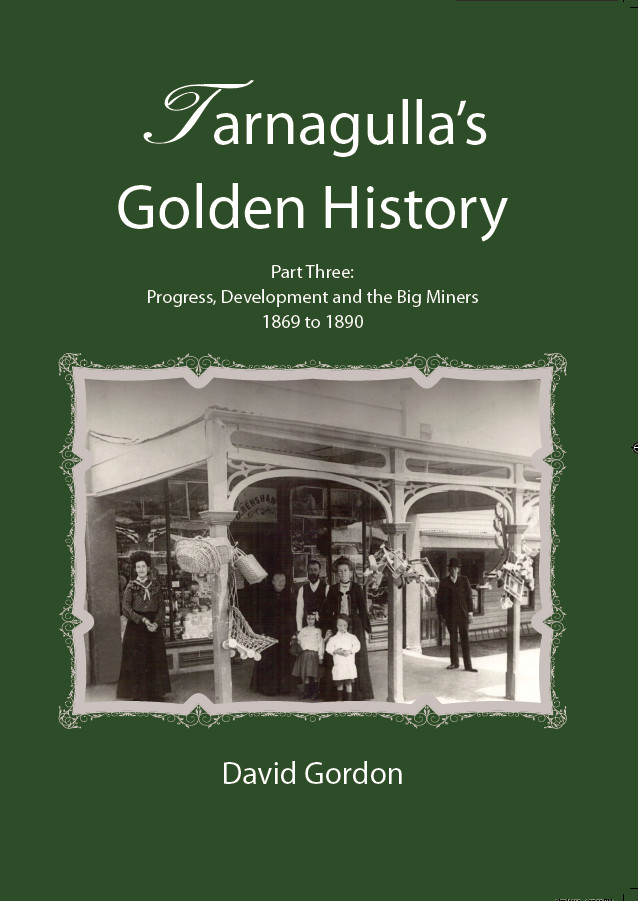 We are pleased to announce that the next book in David Gordon's Tarnagulla's Golden History series is now available. This is the third publication in the ongoing series and nicely complements the earlier Parts 1 and 2.
This third book is subtitled "Progress, Development and the Big Miners - 1869 to 1890". The 22-year time-frame encompassed by the book focuses on a period when many of Tarnagulla's early-days gold rush diggers were no longer youthful and their colonial-born sons and daughters were already picking up the reins and beginning to play an increasingly important part in Tarnagulla's public affairs and events. This new-found maturity also extended to the development of the town itself.
But it was gold fever that would always be the biggest and most alluring factor of all, and increasingly large companies were formed to sink even deeper shafts and to erect even more powerful machinery. The lure of the tonnes of gold of those early years, especially from the by-then fabled Poverty Reef, would entice investment in company mining shares from smooth-talking mining promoters down to the diggers themselves who could hardly afford to make even small investments. But buy shares they somehow managed to do.
This book is much larger than the earlier editions in the series, containing 186 pages with many photographs and other illustrations.
The cost to you is $27 postage included, and you can email David direct at davidstephen48@gmail.com if you would like to make arrangements to buy a copy.
I can't recommend this publication highly enough! (Ed.)
Tarnagulla.org site overview
Within the Tarnagulla.org web site we have a large amount of material available as outlined below. This can be accessed via the main menu at the top of each page as well as via the following links.
Photographs

Extensive historic Photo Gallery
Reunion Photo Identification lists


Articles

A tour of Tarnagulla today
Articles of historic interest
History of Tarnagulla churches
Miscellaneous articles


Research Resources

Extensive historic records available
David Gordon Index (Tarnagulla Courier)
Resources available to purchase
List of peoples local interests


Local Events

Local events with historic focus


Contact Us

View and sign the Guestbook
Join the Mailing List
Contact us