Knox Historical Society Inc.
Established 1965

Knox Historical Society on Facebook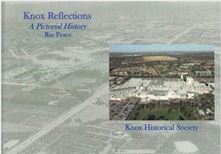 Murders & Mysteries in Ferntree Gullly Shire by Ray Peace.
Publication details
Knox Historical Society recently received a Ferntree Gully, Rowville & Scoresby Community Bank Community Grant
for a Knox Relections - A Pictorial History.
We thank the Knox Community Bank for their generous support.
New email address for KHS: khs@relics.com
Telephone number: 9758 6722 (answering machine)
On days of TOTAL FIRE BAN in the Central area, the Museum will not open
Do you have any information about the nurses on this list?