There's Holdens in Them Thar Hills
from Country News, December 27 2004
For the Holden lover there really is only one niggling worry
- where do old Holdens go when they die?
If they're lucky, they go to Kevin Smith's Holden heaven near Tatong.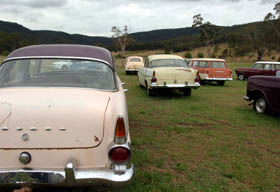 Kevin's patch nestles between two tree-cladded hills called Mt Porcupine and Mt Joy in the foothills of Victoria's High Country.
Here, his family has farmed 607 ha for four generations and for the past 30 years they have collected cars, particularly Holdens.
"My dad collected Buicks, and as a kid I was EH crazy," Kevin said.
He bought his first Holden, a 1964 EH, in the mid-1970s and now the Smith family collection amounts to 47 Holdens - ranging from the earliest, a 1950 FX sedan, to the latest, a 1978 HX.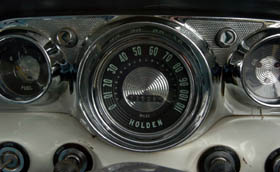 Late last year, drivers on the Tatong to Tolmie road entered a time warp as they took in a postcard picture of old Holdens parked in a paddock on the property.
"I don't own all of them, I'm really a custodian," Kevin said as he strolled around his green hectare-sized car park containing more than 30 of his family's Holden collection.
For more than 20 years, the cars stayed out of sight, locked in a shed only viewed by family members or invited guests.
In November last year, Kevin and his assistant Charlee Campbell-Arifin placed them on public view for the first time, and not surprisingly, the gesture attracted car clubs from Melbourne and Sydney.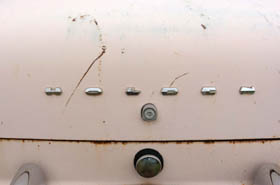 "The unique thing about these cars is that they are all completely unrestored," Kevin said.
"They are all now museum pieces, relegated to Australian motoring history. Leaded petrol is being phased out now, even radio frequencies have changed.
"The people restoring these types of cars need something to work from."
He's right - the cars have original leather trim, dashboards, engines, paintwork, badges and even indicator lights.
On most, nothing has been touched since the day they left the factory.
Highlights of the collection include a 1967 Holden HR station wagon bought for $1000 in 1979, a rare 1964 EH Premier and a 1965 HD X2.
Kevin has registered only one of his old Holdens, a 1962 EH, which he drives occasionally on a Sunday, or to a car show.
"Wherever we drive it, people stop and say `Oh my dad had one of those', or `I learned to drive in one of those' - it brings back memories for a lot of people."
Kevin has rescued Holdens from tips and wreckers' yards all over Australia and he said they have gone from being worth nothing in the 1970s and 1980s to being highly-prized restoration projects as people start to realise the value of Australian motoring history.
"A few years ago at wreckers' yards you could find 30 of these up against a fence - now they're all gone," he said.
The Smith collection is due to go back under cover to protect it from the weather, but keep an eye out for more public displays.
"We have to look after them, but they deserve to be seen and appreciated as well," Kevin said.
The Smith property includes a functioning church built in 1872 in Violet Town and moved to Rothesay where it stayed for 103 years until Kevin Smith moved it to his property near Tatong a year ago. Mass is held in the church every month and occasionally it hosts a wedding.
Through here to Riverview's own website...
Words: John Lewis
Pictures: Fiona Evans

From "Country News", McPherson Media Group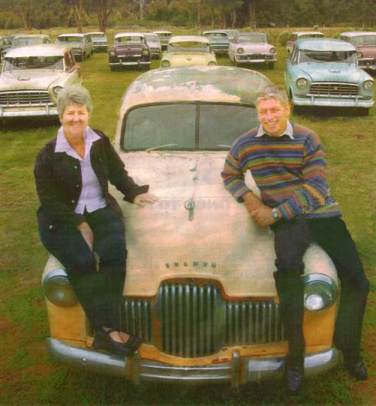 Contact us via tatongheritage at yahoo.com.au