This Community get-together, inspired by Charlee & Kevin, was held on Tuesday June 21st 2005.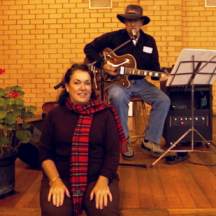 Wayne Weire, Manger of Benalla Community Health, gave some good information on the causes for, and treatments of, depression; as well as the deprivations that can be caused by rural isolation, and how they can be made good.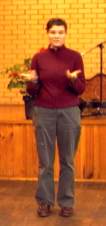 The meeting was graced by ABC Radio's Melanie Sim, with her off-sider Jake.
Music was provided by Pete Reynolds, Chief Musician of the Tatong Village Market.
The rains had just arrived but the meeting was still very apt. Climate change or not, there will be more droughts, and we will have to deal with them.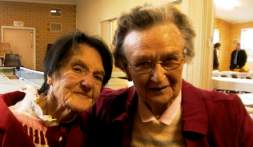 Doris and Nita have seen a lot of droughts come and go in the Tatong region.
For all the rain of the past fortnight, you didn't have to dig far to get to hard, dry subsoil.
The grass is growing very slowly, and the still-hungry stock were now cold and wet as well as hungry - it takes a long time to grow the length of grass needed to fill cow's mouth.
It was good to get together with the community to share information, friendship and of course cuppas and cake.

March 19th 2005: The Tatong Heritage Group participated the Benalla Festival Street March.
Bill, Elaine, Bev and Joe hold the banner (made by Pat); Kevin and Charlee follow behind in one of Kevin's Holdens.
Contact us via tatongheritage at yahoo.com.au


Tatong Heritage Group Home