Welcome to the Buninyong & District Historical Society website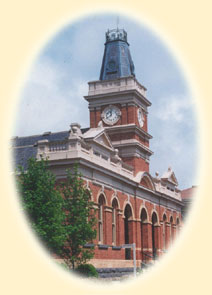 Buninyong has an important place in Australian history as the major inland community of pre-goldrush Victoria, and the base from which the rich deposits of the Ballarat goldfields were discovered.

Many significant early buildings and records have been preserved or restored and several excellent publications help to tell its story. We hope you will enjoy a glimpse into the early life of the township through these pages.
Opening Hours for Buninyong's Historical Records
The History Centre in the Old Courthouse (next to the Town Hall) is open to the public 9.30am - 1.00pm on the 3rd Saturday of the month.
The Courthouse holds the Historical Society's records with many fascinating photographs, maps and documents of Buninyong's story to the present day. It is well worth a visit and members of the Historical Society are on hand to answer your queries.
Please note that the Historical Society's annual membership fees are due on the date of the AGM in October. Membership can be renewed by emailing or posting our membership form: download pdf here
For more information about Buninyong, visit: www.buninyong.vic.au

This site was last updated in October 2019