Buninyong & District Historical Society
Reg number: A0030085Y
About the Society...
The Society promotes the study, collection and preservation of the history, heritage and environment of Buninyong and the surrounding district.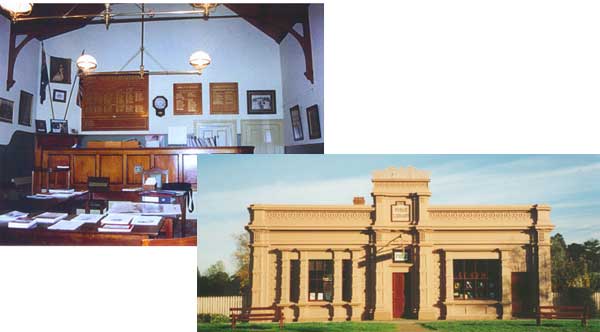 The Society meets regularly and welcomes visitors to view the records it holds in two historic buildings, the Old Court House, Learmonth St, and the Old Library, Warrenheip St.
The Reading Room in the Old Library is open 10am - 3pm, six days a weeek, Tuesday-Sunday, and the Old Court House History Centre is open from 9.30am - 1.30pm on the third Saturday of every month (Buninyong Farmers' Market Day).
At the 2013 AGM, the Society elected a new President, Beth Kicinski. Members wish her well in her term and thank Bob Skewes for his four year term as President, counting on his assistance as Immediate Past President to our new President. All other positions were filled by their incumbents.
Click here for contact details.
Coming Events 2014
| | |
| --- | --- |
| 11 April-27 July | Scottish Exhibition at Art Gallery of Ballarat |
| 19 June | BDHS Meeting, 7.30 pm |
| 21 June | Market Day Buninyong and Historical Society Open Day in Court House |
| 21 August | BDHS General Meeting, 7.30 pm |
| 3rd Saturday of every month | Court House History Centre open from 9.30 a.m. to 1.30 p.m and Buninyong Farmer's Market, from 9.00a.m. |
| Every second Monday morning at 9.00am | Cataloguing. We work for two hours, then take coffee at a local cafe. Helpers always very welcome! |
Click here to see the Society's recent newsletters.
About Buninyong ...
For information about Buninyong visit: www.buninyong.vic.au
About this Site...
Please email any queries or comments about historical matters or the activities of the Historical Society directly to the Buninyong & District Historical Society.
This web site was developed for the Buninyong & District Historical Society by Up There Web Design
A planned major redsign will convert the site soon to the Joomla! CMS format.
Feedback about the site and suggestions for its redesign are most welcome. Please email any queries or comments about the site to Liz Lumsdon.