Bell's Peak - October 31st 2004
Ten of us met at the Tatong Hall, then drove up Tiger Hill Road and parked at the start of the trig track.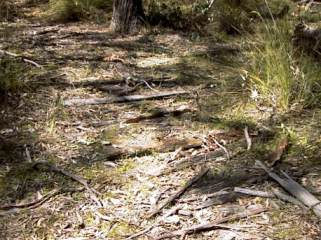 We walked up the track until it intersected the remains of the timber tramway.
A lot of the timber has rotted; some has been burnt by the DNRE; but the sleepers still mark the track.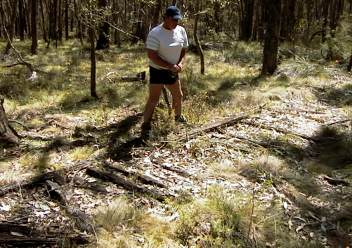 Greg shows a better-preserved section of timber tramway.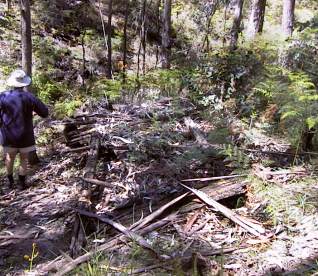 A bridge once spanned the gully here, and the horses, not constrained by reins, hauled the timber across. Now the bridge has fallen into the gully. (Luckily no horses were on the bridge at the time.)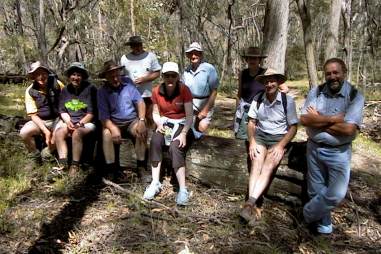 We followed the tramway until it met Tiger Hill Road.
After some sustenance we set off along the Trig Track towards Bell's Peak.
A rest for a photo; Les & Robyn, Bill on the log and Greg behind, Christine on the log and Brian behind, Pat, John and Geoff.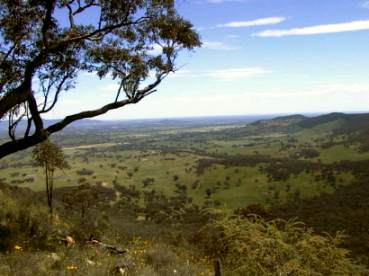 Lovely weather ensured a magnificent view of Tatong and points West.
The rise in the centre, just below the horizon, is Mt Pleasant.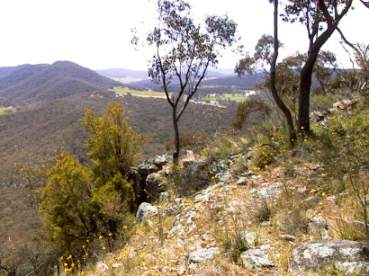 North of the hills; Molyullah valley to the right of the photo.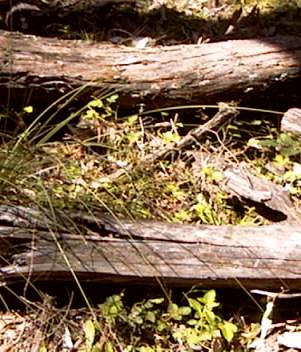 Gremlins in paradise - blackberries are growing among the remains of the timber tramline. DRI are not interested in controlling them.