SFHG Home Newsletters List Go To Page 1 , 2 , 3 , 4 , 5 , 6

---
Newsletter No 27 September 2003 Page 6
---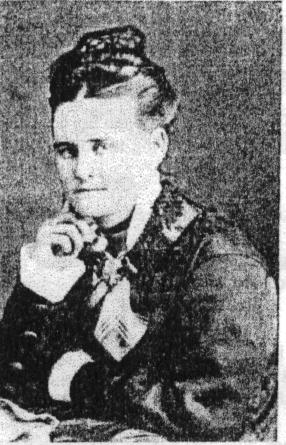 FIRST WHITE CHILD ?

Here is a photograph of mrs Charles Whitty (nee Agnes Wilson),wife of a police constable of earlier days.She was the daughter of Mrs Jim Wilson "Granny" who kept the Bush Inn hotel in welsford St behind the present Court House Hotel.She died over a quarter of a century ago and lies buried in the Shepparton Cemetery. It has been asserted,and as far as we are able to assertain,rightly so that she was the first white baby born in Shepparton,though the birth was probably recorded in Benalla.
---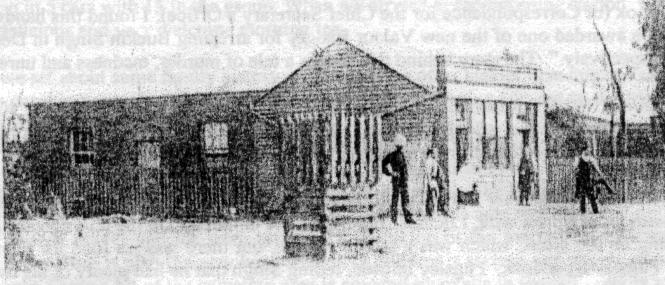 Early View of Wyndham Street

A.R.Long's bootmakers shop on the west side of Wyndham Street towards Nixon Street in the days of primitive Shepparton. The Shire Hall is in the background. Mr Long is seen in the front of the shop with the last of a Wellington boot in his hand,while his wife is in the doorway nursing her first child,now Mrs A.F.B.Long, Town Clerk of Ringwood.
Later Mr A.R.Long conducted Shepparton's first newsagency at these premises and gradually relinquished the bootmaking and hairdressing trade. Over 40 years ago a fire, usually referred to as Brook's fire,destroyed the building along with three others. The brick walls behind the shop are still standing on the site now occupied by Mr H.E.Every.

---
Dookie Pioneer
Late J Lamrock grew wheat in 1865.

Dookie and Cashel were opened up for settlement several years earlier than the Goulburn Valley country lying West and the late James Lamrock, who later moved to Cosgrove,grew the first wheat there in 1865.
Born on the Richmond River ,NSW, he overlanded with his parents from Sydney to Port MacDonnell,SA in the early 1850's. The family came to Benalla in 1854 and aquired property there. Several years later they moved to take up land at Dookie and in 1865 James Lamrock grew the first wheat in the district on land East of Mount Saddleback,below the present Catholic church. There were very few settlers in Dookie at the time.
In 1869 James Lamrock moved on again and was the first selector in Pine Lodge, where he lived until his death in 1923 at the age of 77 years. During his long residence in the district he became a leading man in public affairs. He was a foundation member and several times president of the Dookie Agriculteral Society and was a noted breeder of Shorthorn cattle.
A son,Mr Sam Lamrock, still lives on the original Pine Lodge property and can indicate traces of his fathers camp erected in 1869.
---