SFHG Home Newsletters List Go To Page 1 , 2 , 3 , 4 , 5 , 6

---
Newsletter No 27 September 2003 Page 4
---

-MARYBOROUGH TRIP-
Our group recently enjoyed a trip to the Maryborough Family History rooms at the old Maryborough railway station.
A cool sunny day greeted us as we left Shepparton in 5 cars with 15 in the group. When we arrived at the imposing station, we were welcomed by Elaine and Thelma and enjoyed a delicious and very welcome morning tea.
After some introductions to the research rooms, we set about some family history research, some of us luckier than others, but that is the way of research. We had about two hours checking records and then after a quick lunch we took a trip out to the Maryborough Cemetery (1858). We were taken on a guide tour and there were many points of interest.
We saw the very impressive Mausoleum (1908), a wonderful example of the stonemasons ability of the era. there is a cremation wall/gazebo, Chinese footstones and the ceremonial altar and funeral oven where offerings were placed for the deceased. The pauper section has recently had a tree planted and a cross erected to remember the unknowns who rest there.
There are Jewish graves and we were given an explanation of the inscriptions. As well as the very old graves there is also the new lawn section, a children's section and graves of some well known people. Quite a bit of the cemetery area is covered by oxalis in various colours and on the day of our visit, it was a carpet of flowers. The visit was very informative and drew lots of comments about he various histories.
Back at the groups rooms we enjoyed afternoon tea and chat before we started for home. One of our members was able to stop at Tarnagulla cemetery and locate some family graves so that was a bonus for her.
We had a wonderful day with a chance to meet fellow genies and a very sincere thank you to
Bernie, Elaine and the rest of the Maryborough group.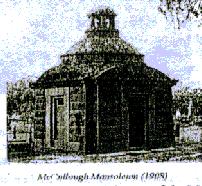 McCullough Mausoleum (1908)
---
~PRAHAN MECHANICS' INSTITUTE-
Victorian and Local History Library
The Prahran Mechanics Institute began in 1854 as a meeting place for local the community and a centre for adult education. It was the origin of the Prahran Technical School. later Prabran TAFE. Today its circulating library, one of the oldest in Victoria, survives as a specialist in Victorian and local history.
The Victorian and Local History Collection consists of 8000 volumes, mostly secondary sources, some rare and out of print. The library is constantly adding to its stock of information resources. The collection includes general histories of places in Victoria plus histories of schools, churches, businesses, hospitals, clubs, bands, transport, police, crime, wars, mining, and people.
Serv ices: Material from the collection is available for loan, of 3 weeks, but can be extended over the telephone. Items may be reserved and renewed free of charge. A small overdue fee applies for late returns. Reference assistance is provided at the library, over the telephone or via email. Interlibrary loans are available.
Membership : Annual fee of $9.00($7.00 concession) Institutional membership $22.00
Library Hours: Mon-Fri 9.30am - 4.30pm, Sat 9.30am - 1 pm.
Location: 140 High St, Prahran. Phone: (03) 9510 3393. Email: pmilnc@vicnet.net.au
Website: http://home.vicnet.net.au~pmilnc
---------- ------- --

---
-AIATSIS Family History Unit-
The Library of the Australian Institute of Aboriginal and Torres Strait Islander Studies (AIATSIS) has a Family History Unit. The Unit began as an Aboriginal Biographical Index (ABI) of names. Its aim was to provide a brief biographical entry of Aboriginal and Torres Strait Islander people referred to, or depicted in published or unpublished material held in the Institute's collections.
The Family History Unit can assist any one of Indigenous heritage with his or her family history research. This involves both
traditional genealogical records as well as records that are specific to Indigenous Australians.
Resources available at the Library and the Family History Unit include: BDM Indexes of all states and territories, the ABI
(which is searchable online through the AIATSIS Library catalogue, Mura http-llmura.aiatsis.gov.au);
Archive indexes of the Aboriginal Welfare Board/Aboriginal Protection Board and the Colonial Secretary Blanket return lists and Protector's reports; State Library of NSW online indexes to Dawn, New Dawn, Our AIM and Koori Mail, Indexes to the Tindales genealogies; a collection of rare books with references to early settlement in the colony, and a huge collection of unpublished materials lodged by grantees.
The Family History Unit has a website www.aiatsis.gov.au/lbrylfmly_hstrylfmly_hstry_hm.htm that contains valuable fact sheets and links to records guides of value to people with an Indigenous background. Address: AIATSIS, Lawson Crescent, Acton Peninsula,
ACTON, ACT. Postal Address: GPO Box 553, Canberra, ACT, 2601. Free- call-- 1800 730 129. E-rnail: family@aiatsis,gov.au
Fax.. 02 62614287,

---

SFHG Home Newsletters List Go To Page 1 , 2 , 3 , 4 , 5 , 6