Shepparton Family History Group inc and Shepparton Heritage Centre inc
Combined Newsletter
Newsletter No 27 September 2003 Page 1
---
SFHG Home Newsletters List Go To Page 1 , 2 , 3 , 4 , 5 , 6
---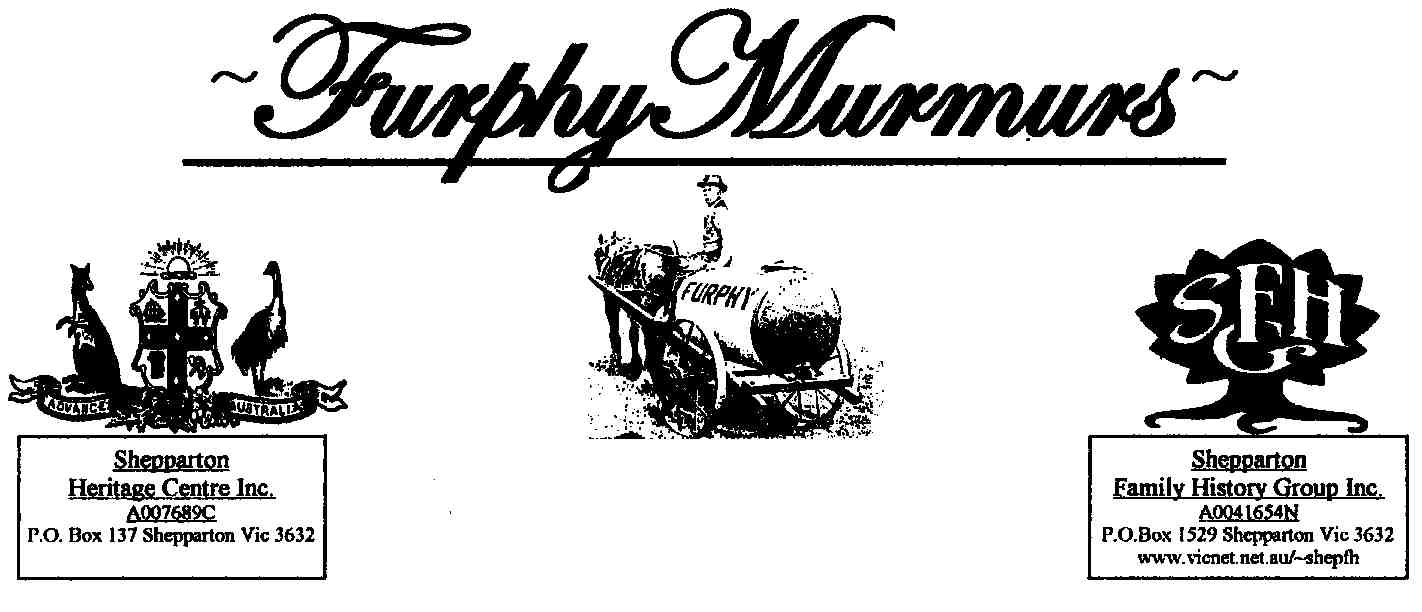 FROM THE HERITAGE CENTRE
The doings of the Shepparton Heritage Centre Inc. since the new Committee took office are outlined in the Minutes placed on the Meeting Room notice board. What is not so well documented is the way it has quickly got back to its true role of providing a community service.
We have so far hosted Museum Tours by four different groups. Shepparton Probus, the Shepparton Christian School, 1 st North Shepparton Cubs and the whole of Orrvale Primary School.
This last month alone saw some 104 visitors, and highlights the work done by our voluntary tour guides a special thank you to Ken Claney, Bev Ford, and Eileen Tourney. Also flying the flag is Peter Ford, who has been invited to speak at a Lions Club function later this month.
We are tending to the care of our Museum: as you might have noticed, there have been a couple of working bees to clean the exhibits and some alterations to the displays.
We will shortly receive a donation of the stone dedication plaque from the old Wesley Church at Tank Corner Road (circa 1880's),while work is continuing on the proposed restoration of our First War Honour Board from the original Primary School in Fryers Street. We plan to restore the lettering and restain on three of the board's panels, plus replace some missing woodwork. Through the assistance of Veterans Affairs we hope to soon apply for a Federal Government grant the cost of restoration will be between $3,000 and $4,000, due in part to the original lettering being in 23 ct. gold leaf
Some other news is that Admission to the Museum has now risen to a flat rate of $2 per entry a recognition that expenses have crept up since the last budget for Centre running costs was carried out two years ago.
One new expense is the telephone in our meeting room: neither the S.H.C., nor the S.F.H.G. intends using the line as an Internet access and in fact the phone only exists to provide any incoming calls, or to give 000 emergency dial out. Phone rental may be about $300 per year, and enquiries are in hand to check whether a phone is required for insurance purposes.
We are trying to make the Shepparton Heritage Centre more attractive to its members, and our last monthly meeting saw many suggestions. We are looking at more Social activities, and would like to invite members of the Family History Group to join in shared functions. One is the forthcoming opening of an Art Exhibition at the Shepparton Art Gallery by local pastels artist Deborah Lynch, on Fri. 10th Oct. Her theme is regional old buildings which should interest most readers.
NEEDED ARE VOLUNTEERS FOR OUR MUSEUM SUNDAY AFTERNOON ROSTER: even dated Sundays, from 1 to 4pm
Please phone Peter on 58217717 if you can assist. And, as you might have noticed, the dates of our S.H.C. monthly meetings have been altered:
During JANUARY to JUNE we meet the first Wednesday of the month, from 8 pm,
During JULY to DECEMBER we meet the second Sunday of the month, from 2 pm.
WE NEED YOUR ATTENDANCE!!!
THE NEXT MEETING OF THE SHEPPARTON HERITAGE CENTRE IS: Sun. 14 Sept. from 2 pm.

---