On the 27th of June 1895 at the age of 35, Franz was Naturalized after taking the Oath -

OATH OF ALLEGIANCE

I DO sincerely promise and swear that I will be faithful and bear true allegiance to Her Majesty Queen Victoria, as lawful Sovereign of the United Kingdom of Great Britain and Ireland and of the Colony of Victoria.

SO HELP ME GOD.

Signature Franz Ottomar Wagner

The business at 48 McDonald Street, was well supported by the local farmers. In addition to being a blacksmith and wheelwright, Franz and his men made general agricultural implements and did repairs on just about everything, as you will note from the advertisement below, placed in the Dunmunkle Standard on Friday the 21st of May 1915.

F O WAGNER

General Blacksmith, Implement Maker and Coach Builder
Tires of every description cut
Every kind of Smiths work executed on
the Shortest Notice and at Moderate Rates
Buggies Built and Repaired
First Class Woodman
Horses Carefully Shod
Good Workmanship Guaranteed
Agent for McLean Bros & Rigg Ltd
Crown Cream Separators and similar requisites
Also Watson Bros Patent Bag-Filler,
McKays Sunshine Harvester and other Machinery.

They had a nice home called Verona, next door to his blacksmith shop. The home is still standing at 50 McDonald Street Murtoa. They had a lovely garden full of fruit trees, berries, flowers, vines, vegetables and poultry. Around the garden, Tillie always wore a bonnet, but if she went up the street she wore a hat. Apart from the bonnet, Tillie would have been in fashion today (1989) as she wore a lot of black and had black earrings in her pierced ears. She was always busy making something for her family and others in need. She was a good cook and would make several trays of kuchen a week.

In her early years she served the community as a member of the Benevolent Society and also as a member of the School Committee. She also took an active part in any movement for the welfare of the town and district and for charitable appeals.

The family went to St Johns Lutheran church every week and usually had visitors for Sunday lunch. Tillie had a contralto voice and sang in the choir, she was also a Sunday School teacher. Tillie was one of the foundation members of St Johns Ladies Guild and her favourite psalm was 103. She used to sew dresses for the New Guinea Lutheran Church women and crochet scarves for the lepers in Africa.

Before Christmas she would bake hundreds of animal shaped biscuits, ice them and send them to Melbourne orphanages to brighten up the lives of the children. For 40 years, Tillie collected and gave money to the British and Foreign Bible Society. She also gave money to the Mukti and Sudan United Missions.

In 1922 Franz developed cancer of the stomach, which he described as like rats gnawing at his tummy. He finally died on the 22nd of June 1922 and was buried 2 days later at Murtoa cemetery.

Tillie continued to live at her home in McDonald Street, but as she approached 90, her health began to fail and she became more reliant on her daughter Irene. Tillie died at her home on Sunday the 12th of September 1954. Her four brothers and four sisters predeceased her, so Tillie's death severed the last link with the original pioneers of Murtoa.

A large number of mourners attended St John's Lutheran Church on Monday afternoon, before heading for Murtoa Cemetery. Pastor W Stahl conducted services at the Church and graveside. Coffin bearers were - Messrs W. Hudson, R. Hudson, F. Koschmann, E. Holtkamp, M Uhe and E Wilton.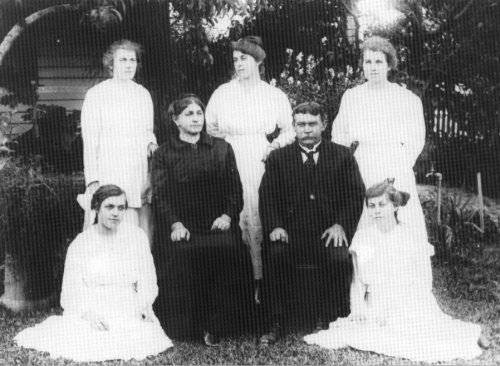 The WAGNER Family in 1912, photo shows left to right;
Standing - Annie Eugene, Olga Pauline, Louise Marie,
Sitting - Mathilda Dorothea Ottilie, Franz Ottomar,
Kneeling - Adelaide Clara, Irene Ottilie.