Robert was born at Ararat on the 10th of October 1889, the 6th child of George William HUDSON and wife Annie, nee JONES. In his early years he managed grocery & drapery stores at Rainbow, Jeparit and Murtoa. On the 8th of October 1921 at Horsham Church of England, he married Emma Louisa GERLACH, daughter of Johann Carl Ludwig GERLACH and wife Ellen Ann nee McGINN.

They had 3 sons. Roland William was born at Rainbow in 1922, where Robert played football as a rover and was captain one year. Wallace James was born at Murrumbeena in 1924, where Robert had a business in Neerim Road. Donald Robert was born at Rupanyup in 1927, where Robert ran stores in 3 different locations over 25 years. They lived in Cromie Street and all of his stores were in the main street. At one stage he was also the agent for H. V. McKay farm machinery.

In the early 1930's, Robert took his family on a holiday to visit his sister Myrtle at Newcastle, just north of Sydney. He drove there and back in his Italian Cirano car, and the families had a great time getting to know each other. Robert was secretary of the Scouts at Rupanyup and during the Second World War he conducted community singing in the public hall. Robert also loved his tennis, he was an excellent player who used his left hand to advantage. He also helped coach many younger players.

In winter he sometimes joined his wife Em (Emma) on the golf courses around the Wimmera. He was a lover of the outdoors and often took his family camping at the Grampians. Robert enjoyed fishing, he often went fishing with his friend Rupert Salter to Cohuna up along the Murray River. He also used to go rabbit shooting, sometimes with his friends Wally McDermot & Arthur Templeton. Another friend was Syd Rodda.

In the early 1950's, Robert and Emmy sold their business at Rupanyup and bought a mixed business at Mount Evelyn in the Dandenongs near Melbourne. They worked hard till retirement in 1956, and then went to live at 77 Sherwood Avenue Chelsea. They were keen bowlers by this stage and their home was just around the corner from Chelsea Bowling Club. They often had their grand children (who called them "Popsy" & "Nanny"), down for the holidays, and kindly took them to the beach and helped some of them get their Herald swimming certificate.
By 1963, Robert was failing in health and after a few trips to the Alfred Hospital in Melbourne he was found to have Hodgkin's disease.

He spent his last days at Lilydale in the care of Don & Vera, and passed away on the 4th of November 1964. He was buried at Lilydale cemetery on the 5th of November by R. Scott a Presbyterian Minister.

His wife Emma died on the 11th of January 1983 and her body was donated to Melbourne University Science Department. However an inscription was added to Robert's grave and a memorial service for her was held later at Lilydale cemetery.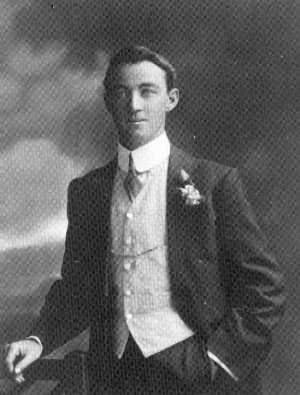 Robert Roland HUDSON