GERLACH. Johann Carl Ludwig GERLACH (GER/5/Johann C. L.) was born in August 1799 at Zielenzig in Prussia. On todays maps it is in Poland, midway between Poznan (or Posen) and Berlin. Johann was a locksmith and clockmaker. Around 1830 he married Maria Elisa MULLER. Maria was born around 1811. Around 1841, their son Johannes Emanuel GERLACH was born at Bomst. Bomst is 56 km S/E of Zielenzig and 85 km W/S/W of Poznan.

On the 5th of September 1849 the Gerlachs sailed from Hamburg aboard the SS Emmy and they arrived in Port Adelaide on the 17th of January 1850.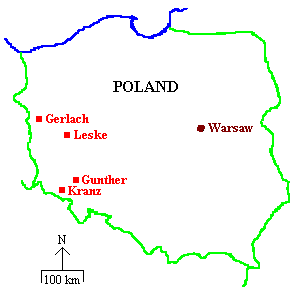 GUNTHER. Johanne Caroline GUNTHER was a daughter of Gottfried GUNTHER (GUN/5/Gottfried) and Maria Rofin LUFMALT (or Rosina BOMELT). Johanne was born on the 22nd of January 1817 at Bersdorf. Bersdorf is 24 km S/E of Legnica, and about 25 km N/E of Hausdorf, in Silesia which is now a part of Poland. At Legnica, on the 14th of October 1843, Johanne Caroline married Johann Gottlieb KRANZ, a farmer and basketmaker.

KRANZ.

Johann Gottlieb KRANZ (KRA/5/Johann G.) senior, was a carpenter who lived in the Bolkenheim (Bolkenhain) area of Silesia between the Oder & Neisse rivers which is now part of Poland. He married Maria Rosa HOFFMEISTER and they had a son Johann Gottlieb KRANZ who was born on the 23rd of June 1813 at Hausdorf. Hausdorf is 40 km South of Legnica near Walbrzych. Johanne Gottlieb KRANZ married Johanne Caroline GUNTHER and they had 4 of their 8 children in Silesia. Ernestine, Christiane, Caroline (Johanne Caroline my great grand mother was born on the 27th of February 1849) and Henrietta Christiane who wrote the chapter 'THE KRANZ STORY'.

They sailed from Hamburg aboard the Wilhelmsburg and arrived in Melbourne on the 26th of August 1853. For 5 years they lived at Warrnambool, then at South Hamilton, during which time Karl Wilhelm, Maria, Louise and Johann were born. Johanne Caroline KRANZ married Johann Heinrich SCHULZ at Hamilton on the 24th of February 1868. They went to Murtoa around 1873 to their farm The Gums. For more information, see chapter 'THE GUMS MURTOA'.

LESKE.

Johanne Beate LESKE was the daughter of Johann Gottfried LESKE (LES/5/Johann G.) a shoemaker, and his wife Rosina Dorothea maiden name unknown. Johanne B. LESKE was born at Wolzstyn on the 27th of June in 1841 or 1842. Wolzstyn or Wollstein is 64 km S/W of Poznan (or Posen) in Poland. Johanne came to Australia via Port Adelaide arriving on the 1st of January 1850. In 1884, she and her husband Johann E. GERLACH moved from Lobethal to Horsham. Johanne Beate GERLACH nee LESKE applied for naturalisation in 1916 (see chapter) and she died soon after on the 27th of October 1917.