The Donald McKay was the largest of 4 "Black Ball" line ships built for Mr. McKay by James Baines and Company at their East Boston Ship Yard.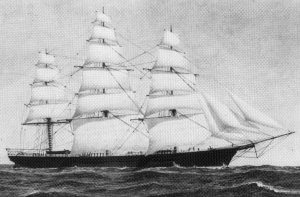 For many years, the Donald McKay was one of the largest sailing ship in the world, her dimensions were -

Gross Weight - 2646 tonne.
Net Weight - 1640 tonne.
Length between perpendiculars - 81 metres.
Length of Keel - 78.6 metres.
Breadth - 14.1 metres.
Depth - 8.99 metres,
Main yard - 30.4 metres.
Sail area - 14,214 sq metres.
Passenger capacity - 591 plus crew.
Captain Warner superintended her fitting out in Boston. The main mast, built of pitch pine, was heavily banded with iron and weighed 19 tonne. The Donald McKay had 3 decks with flat floors, 3 masts and double top sails. In the Ladies Saloon, there was even a piano. At the bow, she had a figure-head of a Highlander dressed in the tartan of the McKays. Donald McKay himself was on the ship when she left Boston on the 21st of February 1855, on her voyage to England. The ship encountered strong gales for part of the journey and recorded speeds of up to 18 knots. One day she sailed only 481 km, but on another with more favourable winds she covered 678 km in 24 hours. Mr. McKay was very pleased with the performance of his ship on it's maiden voyage.

On the 6th of June 1855, the Donald McKay left Liverpool, bound for Melbourne Australia. After 81 days she arrived at Port Phillip on the 26th of August with a load of new settlers. She left Melbourne on the 3rd of October carrying amongst other things, 104,000 ounces (2,954 kg) of gold. There was a bit of excitement on the return voyage, first they saw icebergs, then they were becalmed near the equator and later nearly wrecked on the Skellig rocks during a storm. However they arrived safely at Liverpool on the 28th of December 1855, a run of 86 days.

In February 1856, the Donald McKay sailed for Mobile to pick up a cargo of cotton. By October she was back in the passenger service and arrived in Melbourne on the 30th of December 1856. She left on her 3rd voyage to Melbourne in July 1857 and returned to England in December with a cargo including wool, copper ore & tallow. In 1858 she continued on her sailings to Melbourne, unlike the three other McKay clippers which carried troops to quell the Indian Mutiny. She arrived in Melbourne on the 3rd of August 1858 and her next visit was on the 8th of July 1859. Only once was she used as a troop ship and that was in February 1860, to carry 1000 soldiers to reinforce the garrison on the Island of Mauritius. Then she resumed her run to Melbourne arriving on the 21st of March 1861. For me, her most important voyage was when she left Liverpool under the command of Captain James Price on the 13th of September 1861 with passengers including - Mary HUDSON age 40, Jane HUDSON age 20, John HUDSON age 16, Mary Ann HUDSON age 8 & George William HUDSON age 5.

Also included with them was a Margaret EVANS age 13, but there is no mention of Michael HUDSON and his other child Hannah. On board were a total of 593 people, made up of 210 English, 107 Scottish and 275 Irish passengers and 1 person from another country. The ship arrived in Port Phillip Bay on the 7th of December 1861, but the passengers didn't leave the ship till the 10th.

The Donald McKay made 2 more journeys to Melbourne, arriving on the 9th of October 1862 and the following year on the 30th of July. Her safe sailing record was spoilt one night in March 1864 when she was bound for London and collided with the barque Albina in the English Channel. The Admiralty Court found the ship's master guilty of not maintaining a proper lookout when overtaking another ship and the company were fined the full amount of the damage to the Albina which was 15,000 English Pounds.

The Donald McKay made another trip to Melbourne, arriving on the 4th of December 1865 and in 1866 she was sold to Thomas Harrison. Her last 3 voyages to Melbourne arrived on the 22nd of December 1866, the 21st of November 1867 and the 19th of November 1868. In 1874 after her 13th trip to Melbourne, she was sold for 8750 Pounds and did a few runs across the pacific, mainly to America. In 1879 she was sold to a German company, but by now was getting old and leaking water. In 1886 she was used as a coal hulk in Madeira and in 1888 her life as one of the great sailing ships ended, when she caught on fire. However her figure head of a Highlander in the McKay tartan was saved and since 1930 it has been on display at Mystic Seaport, where it is one of the finest figure heads on display.