A report on the trip to the Furneaux, Kent and Hogan Group of Islands
17 March to 24 March 2001
By the 'Major' Harvey Sowerby



The MV Inspiration II, the name says it all !
Unloading divers from the Zodiac after diving the City of Edinburgh.
Photo Jimmy Anderson

ight MAAV members charted the motor vessel Inspiration II to examine existing wrecks in the above groups to measure, photograph new wrecks to confirm beyond a reasonable doubt the authenticity of previous data gathered by earlier Archaeological Surveys. If time permitted then crayfish and abalone and fishing pursuits would be indulged.
The members listed below boarded the boat on Friday 16th March at approximately 10pm. Malcolm Venturoni (President), Priya Cardinaletti (Secretary), Eric Langenberg (Public Officer), John Munro (Diving Officer), Jim Anderson, Harvey Sowerby, Lucy Lancelotti and John Osmond (Members).
Our captain Mr. Alan Cripps ex Shark boat owner and fisherman having over fifty years experience in the above areas and Mr. Andy Brosche the owner and 1st mate completed the complement that boarded the vessel. Needless to say the MV Inspiration II is a magnificent steel hulled vessel boasting 5 star accommodation , complete with a large forward deck, fly bridge, fully carpeted, panelled timber interiors, air conditioned, 3 showers and toilets, large dining room, kitchen and galley, recreational area complete with audio visual, TV systems, tank filling facilities, all contained within 80 feet.
Saturday 17th March
At 7.00 am we departed Pt. Franklin and motored through high seas and gale force winds for six hours to arrive at Erith Island West Cove of the Kent Group. Deal Island was visible to our Easterly bearing.
Several members had trouble in acquiring their sea legs and invariably succumbed to the pitching , rolling, yawing motion of the vessel to arrive at West Cove at 1.00 pm.
West Cove allowed all to dive on the iron steamer Bulli. At 540 tons 280 feet x 23 feet x 16 feet the vessel sank on 28 June 1877. All 26 aboard were safely taken to Melbourne. The vessel lies in 13 to 16 meters of water, is remarkably intact on a flat sandy bottom. It is possible to swim through parts of the superstructure and is a good example of a steam ship from the 1870's. It is not protected by the Commonwealth Historic Shipwrecks Act.
Sunday 18th March
Still in West Cove the members measured, photographed a wreck purported to be the General Jessup. Timber samples were gathered and with existing data hopefully will confirm this wreck as that of the General Jessup.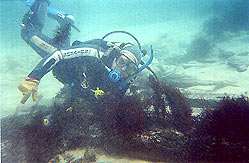 Harvey Sowerby diving on the General Jessup in West Cove, Erith Island.
Photo Jimmy Anderson
The remains of St. Nicholas are still evident on the beach of West Cove. This wreck was initially a patrol boat and was converted into a shark boat. As the story goes the battery was flattened in trying to raise the anchor, without the main engines providing charging capacity for the batteries. The auxiliary engine was manually started. The main engines started and when the gears were engaged the propeller shaft snapped. This boat was destined to end up on the beach due to the easterly wind and swells which precipitated this unfortunate accident or lack of sea knowledge.
Our Captain and 1st Mate provided and cooked all meals including eggs on toast when requested a shortage of bacon upset one member whose weekly ritual was broken. More often than not the members assisted with the washing and drying of dishes and utensils. An interesting wreck the SS Fairy Cake was discovered late one night, although the skipper had no recollection of it being discovered and consumed in the short time available. Investigation of this item is recommended to establish bona fides.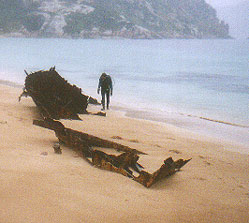 The remains of the St Nicholas on the beach in West Cove, Erith Island
Photo Jimmy Anderson

A member suffered eye squeeze, jelly fish lesions, lip thickening due to an accident, and seasickness. However not one dive on whether a wreck or gathering dive was missed. A very courageous person.

Monday 19th March

Following a restful night in the West Cove of Erith Island we motored to Marshall Bay on the east side of Flinders Island of the Furneaux Group. Arriving 11 am and anchoring at Pt.Davis Bay to be precise an immediate Abalone dive for Green Lip was undertaken with all bag limits achieved. A plentiful supply was frozen after energetic tenderising and careful slicing into bite sized pieces. Abalone was served as an entree after being cooked in either flour & or garlic, olive oil and black pepper for a short time not exceeding 2 minutes. Make your choice.

Enjoying five star accommodations the dinner sitting was eagerly awaited. Steak and vegetables, salad Roast Lamb and vegetables, curried pork casserole served with copious quantities of home made relishes, bread, jams all provided by Alan and Andy's families.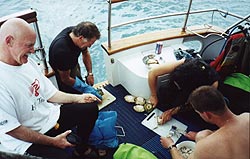 Cleaning the catch. The abs were fantastic eating. But I guess I didn't have to tell you that.
Photo Eric Langenberg

Many minutes passed before we could move our selves from these sittings. Alan, during our evening discussions, recommended cooking a 2 to 3 kg crayfish for approx. 20 to 30 minutes in seawater then draining for several hours. The crayfish was then served naturally and consumed immediately. Breakfast consisted of eggs on toast (no bacon) cereal, fresh or diced fruit vegemite, jam, honey and tea "Earl Grey" or coffee to suit one's taste.

Tuesday 20th March

The group endeavored to find the wreck Toroa a steel screw steamer of 340 Tons, built 1899 in England. The area is strongly tidal and slack water diving is recommended. Even with the zodiac and under water scooter this wreck was not found. Not to be deterred the G.W. Wolff was dived on the West Coast of Prime Seal Island. This vessel a 3 masted sailing ship built at Belfast in 1878 of iron construction 1750 Tons and over 250 feet long encountered strong North Westerly gales and was driven onto the rocky shore of the island. Pottering through wreckage scattered extensively along the rocky shore, we encountering a large iron mast, steel coal pieces and other debris. This area was endoured with copious quantities of green lip Abalone, White, Brown and Black Sea urchins. The white urchin is reputed to have the better flavour, but this is an acquired taste.
During this dive the captain was reported to have seen an 8-foot Thresher shark on the surface. This species is considered dangerous, according to reference data.

Back to Settlement Pt. We dived the City of Edinburgh using the Zodiac to conserve energy and allowing the Inspiration 11 to anchor in safe waters. This wreck was built in India in 1813. A three masted barque of 360 Tons constructed of Teak and sheathed in Muntz metal.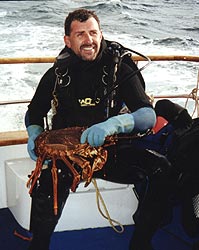 Johnny O with a thumpin big cray taken on 'Cripps' Reef
Photo Eric Langenberg

February 1840 saw the vessel found on rocks just south of Settlement Pt. The dive allowed sifting through sand and rocks to reveal small pieces of glass china and slate. The wreck is under the Commonwealth Historic Shipwrecks Act of 1985 and represents an example of Indian shipbuilding about which little information has been gathered.

Weather forecasts predicted 80 knot. Winds and 4 metre swells.

Wednesday 21st March

After anchoring on the lee side of Big Green Island an attempt to dive the Cambridgeshire and Sydney Cove was aborted due to poor weather conditions and impending forecasts.
Captain Cripps decided to try for the Litherland built at North Birkenhead in UK in 1835. The vessel of 305 Tons and 3 masted , carvel built , square stern traded out of Britain to Asia and the West Indies until 1849.
Purchased by ship owner Charles Seal of Hobart the vessel arrived in Hobart and was quickly converted to a whaling vessel. On the 23rd June 1853 the vessel neared Clarke Island under adverse conditions and struck submerged rocks, drifted clear and began to fill and sank within 10 minutes. All on board escaped but were unable to save anything from the wreck.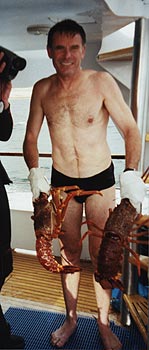 Jimmy Anderson with a couple of nice crays from 'Cripps' Reef
Photo Harvey Sowerby

We thoroughly enjoyed ourselves with the underwater scooter after finding this wreck. Lots of antiques, and 15 metre vis allowed the measurement of the Admiralty pattern anchor.
Retrieved by the Zodiac we spent the afternoon diving for big crayfish on the new found reef that we named Cripps reef.
Cripps Reef was in fact Kilt Pt. The reef is reported to be over 100 acres in area and yielded many large cray's to again fill our quota. Large dusty Morwong , Boarfish and Pike were speared to add to our evening cuisine of taste sensations. As nightfall enveloped our safe haven at Storm Refuge ( or was it Big Ben Is.) lightning , thunderstorms, torrential rain indicated how insignificant we are when nature takes over.
One can appreciate the fear on such a night if your ship was about to founder on rocks with little more than the heavy velvet dress many petticoats, small bundle of treasured possessions and a child under each arm wading through the surf to an unknown shoreline, thankful to be alive and fearing for the daybreak and inherent hardships. This must have been the thoughts of our forebears over 100 years ago. Thanks to GPS devices and modern navigation aids allow these areas to be sailed safely in any craft.

Thursday 22nd March

Ominous weather forecasts of 40 knot winds and 5 metre seas forced a hasty retreat to Deal Island after a 6 am departure. The day started with a member waking up to loud noises emanating from the galley. Examination revealed a Pacific Sea Gull banging around and relieving itself in the galley. This member after checking with the captain and ascertaining bird capturing capabilities sprang into action with nightshirt and towel at the ready. A deft action enabled the bird to be swept up and returned to the ocean. Needless to say another feather was added to the cap of this member after this meritorious exhibition of skill and intestinal fortitude. ie. Guts.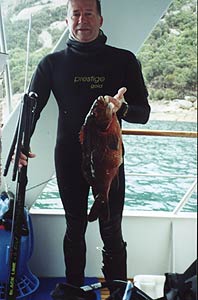 Johnny Munro kept us well fed. That's a banded morwong if your wondering (I'm talking about the fish of course).
Photo Eric Langenberg

This day for some, turned into a day of relaxation whilst other members again dived the General Jessup and ventured ashore and speared Luderick, Blue throated Wrasse, Morwongs and a large "old wife ". All fish caught were cleaned cooked and eaten with much delight that evening. Finally bursting at the seams with fish, abalone, home baked bread we retired to the lounge to feast on video's of the First Fleet re-enactment, Archival data on submarine warfare in the 1940's and our own adventures over the past days.

Friday 23rd March

Still overcast and raining heavily we motored from West Cove to Squally Cove to dive the Karitane arriving at 10.00am. This wreck was a steel screw steamer built in the U.K in 1903. At 1376 Tons and 247 feet long x 37x17 feet enveloped in dense fog the ship on 27th December 1921 struck rocks on the southern side of Deal Is. Rapidly filling with water the Captain beached in Squally Bay. All lives were saved and the consignment of copper salvaged. Easily visible are large boilers and a propeller shaft of Admiralty bronze. The stern is intact but learning over, gives an indication of the size of the vessel. At 1.00pm we were privileged to a pod of 25 plus porpoises calmly cruising beside our vessel. After hundreds of photo's of the porpoises a cray dive resulting in quota's being filled again with tales of cray's literally jumping onto catch bags. More fish filled our tummies at dinner time.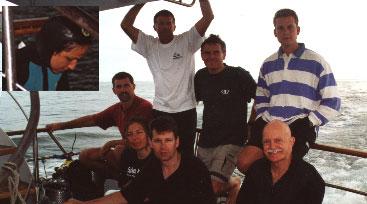 The mottley crew: (clockwise starting top left) Lucy, John O, John M, Jimmy, Malcolm, Harvey, Eric and Priya. Photo Lucy Lancelotti
To escape Easterly winds we motored to Garden Cove at 3.30pm and again dived for crayfish and abalone. Not as plentiful as Cripps reef on Flinders Is. With 15 meters Vis, huge boulders and cavernous ledges unfolded to enthral the most seasoned diver. At 6.00pm we called it quits and cleaned and tenderised our catch of the day. Lack of a suitable cage meant improvisation of dive boxes to preserve the crays caught and prevent sea lice feasting on our catch if left too close to the seabed. Copious quantities of Irish Whisky, Guiness stout, Pepsi Max and whisky additive, Hahn Beer was consumed to celebrate a most successful trip in adverse weather conditions. We were advised not to consume crayfish that had died three hours before. If eaten you can become very ill. Returning to Winter Cove we stayed overnight in our safe anchorage.
Saturday 24th March
After weighing anchor we motored to Big Bay in the Hogan Group from Winter Cove at Deal Island arriving at 8.00am. to bright sunshine, gentle North winds and enjoyed another hearty breakfast. We dived Long Island to 18 meters looking for crays but the overall haul was not impressive compared to earlier dives. The divers did enjoy 15 meters vis. great colours, and a huge octopus having over 2 metre tentacles. The octopus is the main predator of the cray. We collected White Sea urchins for later consumption by the captain, his favourite seafood.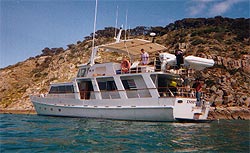 A return visit to the islands is eagerly awaited
Photo Jimmy Anderson

Weather forecast not good and a unanimous decision was made to run for Welshpool and forgo one day of our trip rather than being held up in Refuge Cove at Wilson's Promontory. We arrived at Pt Welshpool at 4.00pm.

After collecting our gear , cans, bounty, saying good bye's to the Captain and 1st Mate, fellow members we drove back to Melbourne, knowing that we were privileged in witnessing the remoteness of the area and the undersea wonders of mother nature at work. Being able to capture this in our minds eye and on film for all to appreciate in the years ahead is a humbling experience.

A return visit is eagerly awaited.


Script Author: Harvey (Major) Sowerby
Picture Editor: Eric (Not Quite Sick) Langenberg.
Do you have any comments or questions regarding any of the above mentioned Tasmanian shipwreck sites?
Do you have any information / photographs historical or otherwise which you believe may be useful to the MAAV?
Full credit will be given to any material if published.




Your comments are appreciated.