DONCASTER TEMPLESTOWE HISTORICAL SOCIETY
Home | Visit Schramm's Cottage | Membership | Research | Publications
Meetings and News | Local History Database | Links
Wheelwright's Shop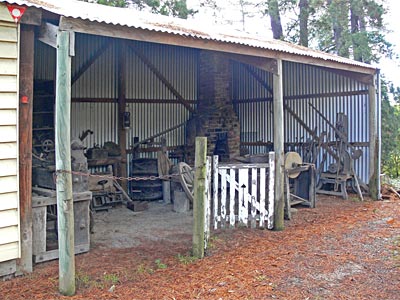 The Wheelwright's shop contains equipment used by Thomas Phillips from 1882 in his Doncaster Road business.
The chimney, covered with names, came from the Mullens' Templestowe Blacksmith Shop.
When it closed in 1972, the chimney was given to the Historical Society.
In its last years, the only horses to visit the blacksmith's were ponies belonging to teenagers.
After they had their horse shod, the girls would paint the name of their horse on the walls of the blacksmith's shop and the forge.
Back to Visit Schramm's Cottage
---
Incorporated in Victoria, Registration No. A0023204S
This page last modified 31 July 2007
© Copyright Doncaster Templestowe Historical Society Inc. 2001. All rights reserved.