DONCASTER TEMPLESTOWE HISTORICAL SOCIETY
Home | Visit Schramm's Cottage | Membership | Research | Publications
Meetings and News | Local History Database | Links
The Waldau Cemetery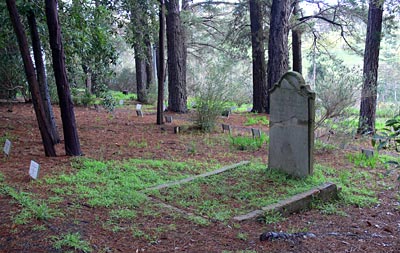 The old Waldau Cemetery is located in the grounds of Schramm's Cottage.
Approximately 150 burials took place in the cemetery between 1854 and 1888 - 45 adults and 80 children.
Many of the old tombstones were vandalised during the years of World War 2,
and these were never repaired or replaced by family descendants.
However grave markers have now been placed on all unmarked graves
by the Doncaster and Templestowe Historical Society
with funds contributed by the City of Manningham.
Back to Visit Schramm's Cottage
---
Incorporated in Victoria, Registration No. A0023204S
This page last modified 31 July 2007
© Copyright Doncaster Templestowe Historical Society Inc. 2001. All rights reserved.