DONCASTER TEMPLESTOWE HISTORICAL SOCIETY
Home | Visit Schramm's Cottage | Membership | Research | Publications
Meetings and News | Local History Database | Links
Box Hill - Doncaster Tram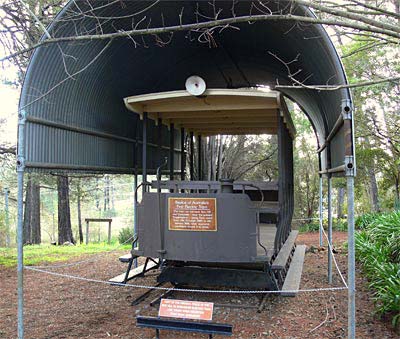 The tram you will see on your visit is a replica of the Box Hill - Doncaster Tram
that ran from 1889 to 1896 along the line of Tram Road.
People used to travel by train from Princes Bridge Station to Box Hill and then by tram
to climb the Beaconsfield tower for the magnificent views from the top.
The tower, built by Alfred Hummel, stood from 1879 to 1914 on Doncaster Hill near where Shoppingtown is today.
Back to Visit Schramm's Cottage
---
Incorporated in Victoria, Registration No. A0023204S
This page last modified 31 July 2007
© Copyright Doncaster Templestowe Historical Society Inc. 2001. All rights reserved.