DONCASTER TEMPLESTOWE HISTORICAL SOCIETY
Home | Visit Schramm's Cottage | Membership | Research | Publications
Meetings and News | Local History Database | Links
Sloyd Room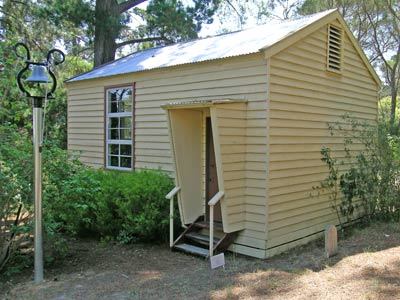 The Sloyd Room was originally located at the East Doncaster Primary School on the corner of Blackburn Road and George Street.
It was built in 1921 and was converted from a shelter shed to be used as a Sloyd Room.
Sloyd was a system of woodwork training to develop the manual skills of boys
that originated in Sweden and was introduced into Victoria in 1900.
In the 1960s Sloyd ceased to be taught and the room was converted for use as another classroom.
The Sloyd Room was brought to this site in 1993 when the East Doncaster school closed and now contains displays relating to the craft of woodworking.
Adjacent to the Sloyd Room is the original bell from East Doncaster State School.
Go on to the Box Hill - Doncaster Tram
Back to Visit Schramm's Cottage
---
Incorporated in Victoria, Registration No. A0023204S
This page last modified 31 July 2007
© Copyright Doncaster Templestowe Historical Society Inc. 2001. All rights reserved.