DONCASTER TEMPLESTOWE HISTORICAL SOCIETY
Home | Visit Schramm's Cottage | Membership | Research | Publications
Meetings and News | Local History Database | Links
Schramm's Cottage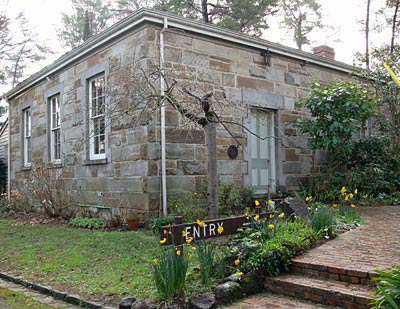 Schramm's Cottage, classified by the National Trust of Australia (Victoria),
originally stood on Doncaster Hill in front of the Municipal Offices.
It was built in 1874 as the home of Max and Kate Schramm and incorporates Max Schramm's schoolroom.

In 1971, when Doncaster Road was to be widened, the building was dismantled
and relocated to the site of the original Lutheran Church building in Victoria Street.
An old world garden grows around the cottage.
A few of the plants have been grown from cuttings
taken from plants that were brought out from England by the first settlers.

Also on the site is a perfumed garden grown as a memorial to Irvine Green,
a long-serving president and a driving force in the historical society.
He was a dedicated historian and a lover of fine gardens.
Go on to Atkin's Orchard Cottage
Back to Visit Schramm's Cottage
---
Incorporated in Victoria, Registration No. A0023204S
This page last modified 31 July 2007
© Copyright Doncaster Templestowe Historical Society Inc. 2001. All rights reserved.