DONCASTER TEMPLESTOWE HISTORICAL SOCIETY
Home | Visit Schramm's Cottage | Membership | Research | Publications
Meetings and News | Local History Database | Links
The Gazebo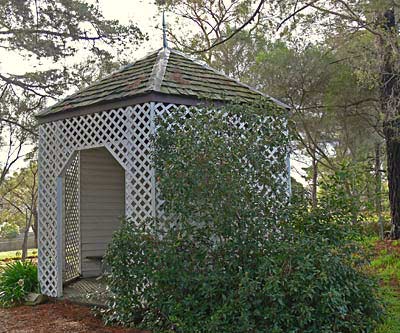 The gazebo was built at the Templestowe Cemetery in 1900
as a waiting room and shelter for people attending funerals.
In 1975 the Templestowe Cemetery Trust donated the gazebo to Schramm's Cottage
where it was rebuilt by members of the Doncaster Rotary Club.
It now provides a charming accent among the trees on the north-east corner of the lawn.
Go on to the Orchard Machinery Display
Back to Visit Schramm's Cottage
---
Incorporated in Victoria, Registration No. A0023204S
This page last modified 31 July 2007
© Copyright Doncaster Templestowe Historical Society Inc. 2001. All rights reserved.