DONCASTER TEMPLESTOWE HISTORICAL SOCIETY
Home | Visit Schramm's Cottage | Membership | Research | Publications
Meetings and News | Local History Database | Links
Finger's Barn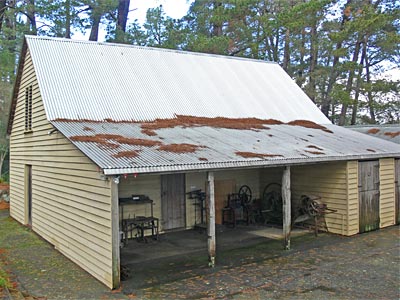 The old barn, built by Henry Finger on his orchard in 1870, was donated to Schramm's Cottage in 1975.
It houses a museum of orcharding equipment, reminders of the importance of orcharding in the early days of the district.
Items displayed in the museum include an early manual fruit grader that is still in working order,
fruit cases and the stencils used for labelling them, fruit-picking bags and ladders.
Back to Visit Schramm's Cottage
---
Incorporated in Victoria, Registration No. A0023204S
This page last modified 31 July 2007
© Copyright Doncaster Templestowe Historical Society Inc. 2001. All rights reserved.