DONCASTER TEMPLESTOWE HISTORICAL SOCIETY
Home | Visit Schramm's Cottage | Membership | Research | Publications
Meetings and News | Local History Database | Links
The Bunya Bunya Pine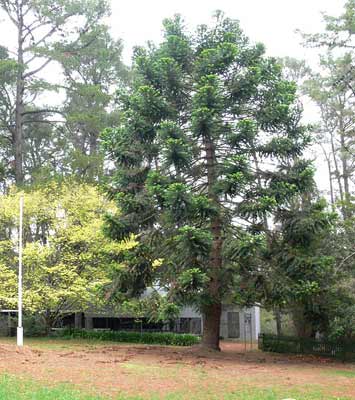 In the garden of Schramm's Cottage in Doncaster Road grew a fine Bunya Bunya Pine,
a gift to Max Schramm from Baron von Mueller.
The Bunya Bunya Pine was a significant food source for the Aboriginal inhabitants of Australia, particularly in Queensland.
Max Schramm's tree was cut down for the widening of Doncaster Road in the early 1970s
and in 1975 the Schramm family planted another tree to the west of the re-sited cottage.
This photograph of the tree was taken in 2007.
Back to Visit Schramm's Cottage
---
Incorporated in Victoria, Registration No. A0023204S
This page last modified 31 July 2007
© Copyright Doncaster Templestowe Historical Society Inc. 2001. All rights reserved.