DONCASTER TEMPLESTOWE HISTORICAL SOCIETY
Home | Visit Schramm's Cottage | Membership | Research | Publications
Meetings and News | Local History Database | Links
Atkins' Orchard Cottage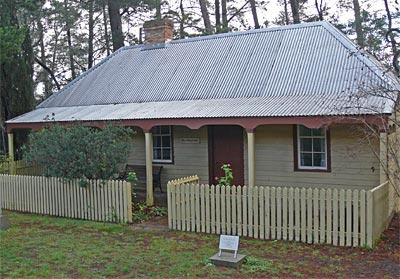 Ben Atkins built this three-roomed cottage in Newmans Road, Templestowe in 1863, using second hand materials.
The floor and weatherboards are of teak that had been used as dunnage in a ship on the India run.
The walls are lined on the inside with wide oregon boards cut for fruit cases.
They were covered with newspapers, dated 1878, and overlaid with wallpaper.
When first built the centre room was the kitchen and parlour with bedrooms at each end.
As the family increased in the 1880s another three roomed section was added at the rear
and the shingle roof was covered with galvanised iron.
When the building was moved only the original section was retained
as the remaining part was in a poor state of repair.
Atkins' Cottage was first relocated to Currawong Bush Park and then to this site in 1988.
Back to Visit Schramm's Cottage
---
Incorporated in Victoria, Registration No. A0023204S
This page last modified 31 July 2007
© Copyright Doncaster Templestowe Historical Society Inc. 2001. All rights reserved.