BUNINYONG and DISTRICT HISTORICAL SOCIETY Inc.
NEWSLETTER
| | | |
| --- | --- | --- |
| | JUNE 2001 | Reg. No. A0030085Y |
Our next meeting will take place on Thursday, 21 June , at 8.00 p.m., at the Court House History Centre. At the conclusion of the business meeting, we will adjourn to "Ballantree", the home of Peter and Yvette Hiscock, where Peter will tell us about his further discoveries about this early Buninyong residence, dating from the late 1850s. We will have supper at "Ballantree". This promises to be a very enjoyable visit. We do have some important decisions to make at our meeting - about the 150th anniversary of gold celebrations on Sunday 5 August, and about our collection policy. Should we change our policy to include collecting large objects for display in the old butter factory complex?
NEWS BRIEFS
We will soon have a Web Site! Liz Lumsdon of Buninyong, a new member, is developing the site as part of her studies at the School of Mines Ballarat. It will have lots of information, and pictures! We are very lucky to have Liz, and we thank her warmly for her work.
This fits in with a move discussed at a recent public meeting in Buninyong to develop a Web site promoting Buninyong, and a new information brochure.
The long-running saga of naming of Watercourses in the Buninyong area continues, with the City of Ballarat still not willing to accept the Buninyong plea for use of "Union Jack Creek".
It is pleasing to welcome some new members, and prospective members. Lorraine Huddle, Heritage Adviser for the City of Ballarat, is our newest member, and we are delighted to have a member with such a wealth of specialist knowledge.
Congratulations to our Treasurer Pat Hope, who was honoured recently at a regional Tourism Dinner in Bendigo for his great contribution to the Goldfields Region as a volunteer. The award recognises his work for organisations such as the Great Dividing Trail, the Ballarat Rail Promotion Group, the National Trust, Ballarat Heritage Festival, and of course, the Buninyong and District Historical Society! A very fitting award!
You may have noticed that the Old Library is alive with good books again, thanks to Michelle Coxall, who has taken a lease on the building, had it fitted with bookshelves which she has filled with quality second hand books. Michelle has a special interest in travel, but you will find lots of good literature and history books too. Michelle spends quiet moments doing editorial work, and she also keeps an eye on the tourist information section of the Old Library. The Committee of Management is delighted to have such a tenant, and we wish her every success.
The cataloguing and indexing team meets every second Monday morning. The supply of photos to catalogue has slowed, so we are finding new jobs. Judith and Lance Lewis have almost completed indexing the Buninyong and District Newsletter. Pat Hope and Beth Ritchie are indexing the Baptismal Register of the Buninyong Church of England, and Pat has promised to write a piece for the newsletter on this fascinating register.
Thanks to Diana Logan, of the Ballarat Public Record Office, who sent us the attached little gem - a prospectus for the Buninyong Grammar School, which she found in the Ballarat records.
(Newsletter photo not shown of Archaelogical Dig at Dolly's Creek Jan.1992
Ray Willis asks students from La Trobe Uni. about their work.)
Thomas Doyle, M.C.P.
Head Master, Buninyong Grammar School, 1859-1861
Thomas Doyle was appointed Head Teacher of the Bununyong Episcopalian School on 1857. This school was established following the arrival of the Rev. Garratt Russell in Buninyong. Doyle stated that he was formerly headmaster of the Aylesbury House School in England. By 1859 he established the Buninyong Grammar School, for the 'sons of gentlemen'. An unusual offering, in an era of strong racial prejudice, was ssstudy of Chinese language!
The school was on the road to Ballaaraat, just out of Buninyong on the top of the hill which is still called 'Grammar School Hill'.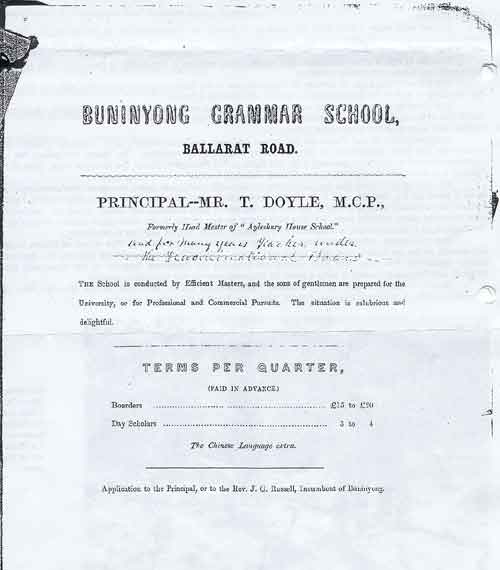 A Visit to Dolly's Creek, May 2001
by Judith Lewis
Lance and I attended a walk to Dolly's Creek on Sunday 20th May with Dr. Susan Lawrence and members of the Geelong Historical Society. We met up with a group of prospectors at the lunch spot and were shown some of the morning finds - two nice nuggets, one of 1.5 grams and a larger one of 15 grams, coins, a thimble, spoons, store tokens, buttons, nails, locks and bell clangers. They joined us for a walk around the diggings area.
Susan, an archaeologist from La Trobe University, explained that gold was discovered in 1857 but the rush occurred in 1859, peaking in the early 1860s. In 1884 the Post Office closed and by 1888 the area was mostly abandoned. Most of the mining was shallow surface work. Eventually water was brought from Lal Lal along 50 miles of water races, and holding dams were dug. Water laying near our parking spot was on the remains of one of these.
We discussed housing while we looked at two old hearths. Most miners would have lived in tents, some in huts and a few stores and houses were built. Very little remains today - some hearths, wall foundations and the odd chimney. Susan has found some Chinese coins and pottery near some of these. A section of hessian wall that had been covered with cardboard, newspaper and finally wallpaper, is now in a museum in Canberra.
We walked on to the site of a steam boiler/stamper unit. Susan has found mention of an application for this in old records of about 1880. There is no tailings dump here however so she thinks the field may have been exhausted by the time the machinery arrived! Crossing the creek we looked at an unnamed tunnel adit - numerous shafts and cross tunnels in the area showed how active the field must have been. Later the area was shallow sluiced and it is still quite bare of vegetation.
Some bottle dumps were found - alas, only broken bits remain as bottle hunters have been through the rubbish heaps of former days. We saw scraps of gin, beer and lemonade bottles.
Then we continued along the race to two much deeper sluicing areas. Susan explained that water sluice cannons arrived from California in 1870 and in 1890 more efficient systems were introduced from New Zealand. The Dolly's Creek workings used the Californian cannons - a useful clue for Susan checking datings of various fields. We scrambled down to look at the narrow drainage channels that had to be cut to drain these large deep areas, passing rough tailings areas of the largest rocks that were tossed aside as sluicing washed away the soil. Modern trail bikes are scattering these far and wide and damaging the race.
We could see how the race had been gradually eaten away uphill as more sluicing was carried out - just how many tons of soil were washed away in the search for those elusive nuggets of gold?
Note Susan Lawrence has written a History of Dolly's Creek, published by University of Melbourne Press. Susan acknowledges the help of the late Ray Willis in helping her uncover the story of Dolly's Creek. Ray had a mine in the area, which he operated with his friend Cliff Latta.
OUR GOLDEN ANNIVERSARY - Sunday, 5 August
Please keep this important day free and join in our celebrations. Members of the Hiscock family are planning a reunion, and we hope to have a really great day. We plan to begin at 11.30 a.m. at the Buninyong Cemetery. Park across the road from the Cemetery, and we will walk up to the Monument for a re-enactment and celebration, then a visit to the graves of pioneers in the Cemetery.
This will be followed by lunch at the Town Hall, and an historical exhibition, with tours of Buninyong and district in the afternoon. The Executive will need lots of help from members, so please be there!
MEMBERSHIP FEES
Some members have still not renewed their membership. If you have a subscription form included with your newsletter, then the 2000-2001 fee is required, fees are due again in October for 2001-2002. Contact Pat Hope on 53413711 if you need further information. Send cheque to The Treasurer, P.O.Box 98 Buninyong 3357.
(Each newsletter costs us about $20 to produce).
CALENDAR OF EVENTS
21 June (Thursday)
- General Meeting - Peter and Yvette Hiscock to speak about their house
5 August (Sunday)
- 150th Anniversary of Gold Discovery in Buninyong.
16 August
- Tim Sullivan from Sovereign Hill to speak about managing the relationship between museums and indigenous societies.
21 August (Tuesday)
- 150th Anniversary of Gold Discovery, Poverty Point, Ballarat
16 Sept.(Sunday)
- Reunion of Rev. Russell's family, Buninyong
Springtime
Sunday
Excursion
- To Geelong - location of Learmonth's station, junction of Moorabool and Barwon, Buckley's cave, Foster Fyans. With Peter Alsop of the Geelong Historical Society.
18 October (Thursday)
- Annual General Meeting
27-28 October (Sat-Sun)
- CHHA Local and Family History Expo, Aquinas Campus, Mair St Ballarat.
11 November(Sunday)
- Excursion. Lal Lal in Spring - Iron Mine and gold sites.
20 Dec.(Thursday)
- General Meeting