BUNINYONG AND DISTRICT HISTORICAL SOCIETY INC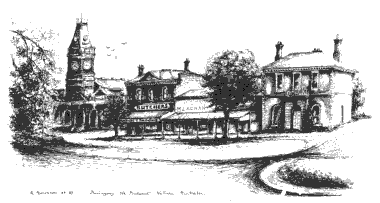 JUNE 2004
Our next meeting takes place on Thursday 17 June at 7.30 p.m. in the Court House History Centre. Our guest speaker will be Vicki Johnson, the Heritage Adviser for the City of Ballarat.
Members are invited to join us for a meal at the Crown Hotel at 6.00 p.m. before the meeting.
Visit to Narmbool
On Sunday, 2 May, at 1.30 p.m. 30 members and friends joined our hosts Mary Akers and Peter Hiscock.. This magnificent property, which takes its name from the original squatting property settled in 1839, was gifted to Sovereign Hill in 2000 by Robyn and Andrew Ferry.
Peter Hiscock reminded us that the Society's very first excursion in April 1983 had included a visit to Narmbool, hosted by Mary Scott of Mount Boninyong, who was a member of the Austin family who had owned the property in earlier times. The Ferrys had just taken over the property at that time, and Robyn had just embarked on her grand plan to create a magnificent garden at Narmbool.
Mary and Peter gave us an historical overview of the custodians of the property from 1839 until the present. We were amazed to hear from Peter about the environmental rehabilitation work of the Ferrys, who have planted 40,000 trees, as well as native grasses, and have added over 20 dams to the property, reversing the erosion that had become a problem along Williamson's Creek.
The Ferrys want to promote environmental education through their gift, and hence an environmental education centre will be built near the homestead. Peter and Mary took us to the present environmental education section of the property, called the 'bush camp', on Jessie Fisher's block. Here is pristine bushland, with a wonderful stand of remnant vegetation. Here we can imagine what the area looked like when the young Learmonths, Fiskens and Scotts arrived in the late 1830s.
All present enjoyed the afternoon immensely, and learnt some important things about our history and the landscape. Our thanks to Mary Akers and Peter Hiscock.
NEWS BRIEFS
Mt. Helen's last remnant of bushland - saved pending a VCAT appeal! The Ballarat City Council on 28 February rejected an application from Roadcom to develop an 87 lot subdivision on 16 hectares of bushland at Mount Helen. However in May Roadcom decided to appeal against Council's decision. Once again the community will have to argue the case for preservation, this time before VCAT.
Our Treasurer Pat Hope is enjoying an epic adventure, travelling to China and Siberia, then via the Trans Siberian Railway to Russia. Sounds like a great journey, and we should book Pat for a lecture when he returns.
The Buninyong Farmer's Market is really going from strength to strength, on the third Saturday of the month, from 10.00a.m. till 2.00p.m., in the Buninyong Town Hall during the winter months. The range of fresh vegetables and gourmet foods and plants is outstanding. Make sure you come for a visit. I purchased some of the sensational marinated goat's milk cheese from the Meredith Dairy.
Congratulations to the Buninyong Film Society committee, for another top festival on the second weekend of May. The quality of the sound is now excellent, thanks to an audio system purchased for the hall out of profits from the Festival. The Festival drew many visitors, who enjoyed the delights of Buninyong during the weekend.
ENQUIRIES
April- June 2004
COLEMAN George COLEMAN was one of the early residents of Buninyong, who arrived about 1840 with the Learmonth Brothers. It has been suggested that George as a Swing Rioter from Hampshire who was sentenced in 1831 to a sevenyears' term in VDL and received his pardon in 1836.On 2 August 1841 George married Harriet WILSON in the Geelong Presbyterian Church. Four daughters were born - Jane about 1841/42 (married Thomas REDFERN), Elizabeth Bertha born 25 May 1846 (married James DONALD), Mary born 14 October 1849 (was an unmarried mother) and Emma born 31 July 1854 (married George WILSON).Harriet WILSON/COLEMAN's family, date of death and burial remains a Mystery however it is assumed she was still alive in 1864 when the three youngerdaughters were baptised in Buninyong as her name appears with George as'parents'.George died on 15 January 1891 at Kingston and was buried in the Buninyong Cemetery. He shares his grave with William Allen and Frank Marriette. The informant on George's death certificate was the second daughter, Elizabeth Bertha who had married and referred to herself as Bertha DONALD, living in Ballarat.Carol Battishill from NSW would like to make contact with any descendants.
MANKEY We continue to communicate with Peter Ruddock about his Buninyong connections. They are very rich and dense. We have now established that James Mankey married Charlotte Hartley in 1861. Charlotte was one of the orphans taken in by Rev. Thomas Hastie at his Boarding School in 1854.
COOKE From Queensland, via the Internet, we received some details of the family of William Cooke. William came from England in 1838 to Sydney, and married in NSW in 1841. He and his wife Mary Ann had eleven children, the first five born in NSW, and the sixth born in Buninyong in 1853, indicating the approximate date of arrival of the family in Buninyong. Five more children were born in Buninyong between 1857 and 1868.
William Cook appeared in the 1857 Directory at the 'Sydney Restaurant' in Buninyong. He signed the 1859 petition in favour of local government for Buninyong in 1859, indicating that he was a civic-minded citizen. By 1869 he was listed at Scotchman's Lead. One of the daughters Emily married Charles Howard in 1865. (Some confusion arises because there were two Charles Howards in Buninyong in the 1860s. Charles Howard, carpenter, and his wife Margaret (nee Wilson) were in Buninyong by 1860. Any descendants, please contact the society.
WYATT This is a very prominent family, associated with the Eagle Hotel in Warrenheip St. for many years. The Wyatts were linked to a number of local families, including the Howards and the Turners.
HANSON Robert and Jane Hanson from Scotland were early arrivals in the Durham Lead area, then went to Tasmania by 1878.
HARRISON William Harrison and his wife Caroline arrived in Victoria in 1852, and were at Durham Lead where Caroline died in January 1858. William was a builder by trade, and later became clerk of works at St. Paul's Cathedral in Melbourne.
BREN The Bren family lived on the corner of Learmonth and Inglis Street, Buninyong throughout the early to mid twentieth century. Apparently the Brens ran a fish shop on the north-east corner for a number of years. The shop was close to the railway station, and the fish came from Melbourne by train. Later there was a bootmaker on this site. The old house was demolished in the 1980s.
AUBREY Thomas Aubrey was one of the early miners at Long Gully, in the Winter's Flat-Magpie area. He was a founding member of the Primitive Methodist church in the area. His wife was Mary nee Rainbow, and they had six children. They are buried at Buninyong. There is an Aubrey's Road in the Magpie area. A request for information came from a descendant in Townsville.
JACKSON James Jackson, born in Scotland in about 1823, married in Forbes, NSW in 1858, then came to Dunolly around 1860, where he raised a family. He was buried at Durham Lead in 1900. (email query)
KELLY Charlotte Kelly nee Eastwood was married by Rev. Thomas Hastie in Buninyong on 30 September 1850 to John Fitzpatrick of Langi Kal Kal. The witnesses were Charles Eastwood and James Stewart. The widowed Charlotte had arrived in Port Phillip in 1849 with her four children. Margaret Kelly, aged 13, was a boarder at the Buninyong School in 1850, and her mother was a hutkeeper at Learmonth's Station.
SMITH Daniel Purves died on 9 April 1881, a partner in the grocery business of Smith and Wilson, of Learmonth St. Buninyong. Another query from Peter Ruddock led to the following article on Eames Store.
WILLINGTON (Wellington) Thomas Willington purchased four allotments in Warrenheip St. in April 1856. His descendant in Mildura is seeking more information. It seems unlikely that he ever lived in Buninyong, for he established the undertaking firm of Thomas Wellington in Sturt St. Ballarat.
WILSON Sir Samuel Wilson purchased Narmbool Station in 1860. Twin daughters were born in 1860, and one of them died and is reputed to have been buried at Narmbool. The family were Anglican, and attended the Buninyong Church. A descendant is writing a biography of her great grandfather, Sir Samuel Wilson, who purchased Ercildoune after he sold Narmbool. He died in England in 1893.
THE JELBART ROLLER
Last year we illustrated the Jelbart Roller which had been added to our photo collection. This prompted an e-mail from Chris Heinrich of Geelong, an expert in this firm's engines: The Jelbart family business was making improvements to the two-stroke internal combustion engine in the late nineteenth century. The very first Jelbart engine was a horizontal engine with two-stroke design.This engine had an 'open crank' so to speak, with a flat-faced head. I have a friend who has a photo of a Jelbart stationary engine driving the generator for the works. If the Buninyong road roller was made after 1918 the engine would have a new vaporising head fitted.
THE STORY OF EAMES STORE
By Anne Beggs Sunter, 2004
There has always been an old world charm about Eames's Store, in Learmonth Street Buninyong, sitting between the National Bank and Whykes butcher shop. Together they make an outstanding contribution to the streetscape of Buninyong. The site is associated with some of Buninyong's earliest commercial ventures, and early storekeepers tents were pitched here.
When gold was discovered in August 1851, the Wesleyan John Adams arrived from Geelong and became a storekeeper at Golden Point. He moved with the rush to Mt. Alexander (Castlemaine), then in January 1853 was advertising his Buninyong store. Advertisements in the Geelong Advertiser in October 1853 announced that Adams had established a Bakery "and will be prepared to supply Bread at a moderate price, having erected a large oven for that purpose". This is the very same oven that still stands behind Eames's Store.
On Monday 7 November 1853 the Geelong Advertiser listed John Adams's Buninyong Store as being for auction. It noted the location of the store as Learmonth, upon Scott St. as a large store, with stables and a bakery. On 15 December 1853 the same paper noted that Torrance had purchased Adams Store, and it was now called the Post Office Store.
John Adams however continues as a storekeeper at Buninyong throughout the 1850s until 1865. He became Post Master on 1 September 1853, following John Veitch. As a devout Methodist, he made it clear in his advertisements that 'no business whatsoever would be transacted on a Sunday', and before the Wesleyan chapel was built in Warrenheip St., local Wesleyans gathered at his shop for their services.
It is likely that he sold his business to Thomas Smith, for by the 1875 Directory, Thomas Smith is listed as grocer, Learmonth Street. By 1881 the business becomes Smith and Wilson, when the young Daniel Purves Smith, partner in the firm of Smith and Wilson, died at the tender age of 21. By 1884 it is J.P. Wilson, grocer, on his own account.
In a photograph from the 1880s, it is described as the 'Melbourne, Collingwood and Fitzroy Cheap Grocery', with the name 'Smith and Co' underneath. (Photo reproduced in April newsletter)
By 1895, there is J.P. Wilson and Co, storekeeper. Wilson became Mayor of Buninyong, a leading citizen, and died in 1930. A photo in the Buninyong Historical Society collection from the 1890s shows the sign 'Buninyong Cheap Store, J.P. Wilson, Merchant, Grocer and Baker.'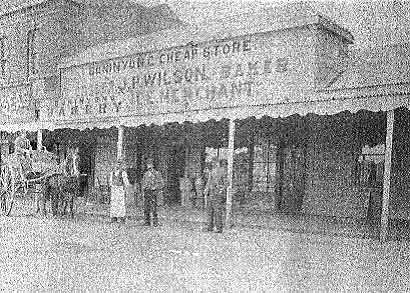 The building in the 1890s, as J.P. Wilson's Buninyong Cheap Grocery and Bakery
By World War One, the store belonged to Percy Lyne, baker.
Ivan Eames recalls the Bakery as it was in 1917 when he arrived in Buninyong with his family. Ivan was 9 years old when he came from Gippsland with his father Frank Eames, who was a drapery hawker, travelling the district with his wagonette and two horses. The store belonged to Percy Lyne, and Bobby Alexander was the baker in Lyne's bakery business which saw four carts set out every day to deliver bread around the district. Ivan remembers his school mate Tommy Hannah who used to wag school to drive a bread cart, and Frank Luke, whose presence was always known by his tuneful whistling. In the store itself you could buy everything imaginable, from a bag of chaff, to a leg of ham, to a set of teacups still in their Chinese wrapping.
In the 1920's the bakery was bought out by Davies of Ballarat, who was expanding his business and took over many country bakeries in this period.
In the early 1930's Frank Eames bought the run down store and its associated outbuildings. He was glad to have a shop for his drapery business, and his wife looked after the habadashery section. When Frank died his wife continued to run the shop on her own, now as a grocery, until around 1970, when it was taken over by Ivan and his wife Queenie. According to Anne Gooding, Queenie was remembered fondly for the excellent marbles she sold to local children.
In 1987 members of the Buninyong Historical Society had a walk around the old shop and bakery with Ivan Eames. The old bakery is one of Buninyong's most interesting historic sites, and should be preserved at all costs. Mary Akers said that when Sovereign Hill was building its Hope Bakery, it measured up this old oven as its model.
Ivan and Queenie decided it was time to retire and sell the shop. In March 1988, .Hans Peuker, who owned the Old Bank in Buninyong, and was the caterer at Sovereign Hill, purchased the site. The National Trust succeeded in having the buildings "recorded", which means that their historic significance has been publicly recognized.
A year later, "For Auction" signs appeared on the building, together with the National Bank next door. Queenie Eames died in 1989, and there were fears for the future of the old buildings, which were in a very run-down state. In December 1989 the building was purchased by the Brown family, electrical contractors, who restored and painted the building and it came to new life as the hub of a busy electrical business.
In February 1990, the Buninyong Cake Shop opened in part of the the building, reviving the old link with the baking trade. Since then, the shop has become a popular rendevous for morning tea and scones, or the place to buy delicious pies and cakes.
The township of Buninyong began on this corner back in the 1840s, and today it is still the commercial heart of the town, the old shops under a wide verandah forming a vital part of our heritage.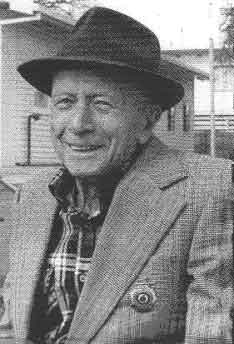 Ivan Eames, photo taken by Max Harris in 2000 for Buninyong Calendar.
Ivan currently lives at the Queen Elizabeth Home in Ballarat.
BUNINYONG - CALENDAR OF EVENTS 2004
| | |
| --- | --- |
| 17 June | Bi-monthly meeting, 7.30p.m. Guest speaker Vicki Johnson, Heritage Adviser. |
| 16 July, Friday | Buninyong Film Society presents a showing of the highly acclaimed 1949 film Eureka Stockade, starring Chips Rafferty. 7.00p.m. at the Buninyong Town Hall. This is an event to celebrate the 150th anniversary of the Eureka Stockade. See Buninyong Film Festival web site for details. |
| 19 August, Thursday | Bi-Monthly Meeting 7.30 p.m. Anne Doggett, a Ph D history student at the University of Ballarat, on the musical history of early Ballarat and Buninyong |
| 1-3 October | CHHA History Expo, Aquinas Campus, Ballarat. Theme 'Eureka, 1854 and All That' |