BUNINYONG AND DISTRICT HISTORICAL SOCIETY INC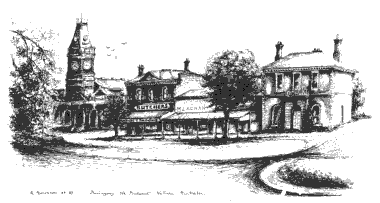 FEBRUARY 2004
Welcome to 2004. There are a number of big issues on the horizon for us:
The adoption of the Ballarat Heritage Study, with its heritage overlay covering much of Buninyong
The Adoption of the revised Ballarat Municipal Strategic Statement, with its implications for green belts and the distinctiveness of the Buninyong township
The threat to our remnant bushland from the voracious pace of residential development in the Buninyong-Mount Helen area.
The celebration of the 150th Anniversary of the Eureka Stockade in November-December 2004.
Our first meeting of the year takes place on Thursday 19 February, at 7.30 p.m. in the Court House History Centre. Our guest speaker will be Vicki Johnson, Heritage Adviser for the City of Ballarat, who will address the Buninyong Heritage Overlay and outline how our Society can help her work, and vice-versa.
NEWS BRIEFS
Have you tried the new restaurant-café called Anise which opened in the former Whykes Butcher shop in Learmonth St late 2003? It is an excellent spot for lunch or dinner, and the operators. David and Tina Rees have already become valued members of our community.
Ballarat Municipal Strategic Statement and Heritage Study
The draft has finally been adopted by the Ballarat City Council, and forwarded to a panel for comment. We were happy with the statement for Buninyong, but concerned about Mount Helen and how natural heritage will be conserved – for example the green belt between Buninyong and Mount Helen. The Buninyong Ward Residents Group have done a great job under the leadership of Neville Lowe in putting forward the key concerns of Buninyong residents. It is at least reassuring that Council has set aside funds in the next budget for an Outline Development Plan of the Mount Clear-Mount Helen area.

Saving Mt. Helen's last remnant of bushland
The Buninyong Ward Progress Association continues its fight to save the last portion of the former Hayden's residential development in Mount Helen. This comprises a 16 hectare parcel of bushland with rich biodiversity, home to many bird species, koalas and native plant species. Our Society has joined many others in making a formal objection to Roadcom's proposal to develop an 87-lot housing development on the land.
ENQUIRIES
Nov. 2003-January 2004
We continue to get a steady stream of email enquiries from various parts of Australia, and overseas.
BRADSHAW, Edward Buller
A descendant sent us some excellent photocopies of documents relating to this nineteenth century Buninyong pioneer.
KILDAHL
John and Catherine and their 7 children came to Buninyong in 1855. One of the children ended up in New Zealand. Thanks to Vicki Houlbrooke from NZ, who has provided us with some wonderful information about the family, and also a photograph of Lawrence (see below).
JONES
George Thomas Jones was a surveyor in Buninyong in 1853, working with district surveyor Dawson. He ended his career as Secretary and Engineer of the Shire of Ballarat and died in 1916 at Learmonth. (Query from Rob. De Souza-Daw, of Churchill. He also enquired about John McMillan, who was working in the Buninyong district in 1850, probably for one of the local squatters).
MALLUT
Thomas Britten was buried at Buninyong in 1864 in the Presbyterian section. Three children had been born between 1856 and the time of his death, and he was described as a timber merchant and manager of the Trial Taco Saw Mill. He had been a merchant on the Isle of Jersey.
His descendant Bev Bisley in Queensland wrote wanting information about the mill.
KILDAHL FAMILY
John and Catherine Kildahl arrived in Geelong with their seven children in 1855. They make their first official appearance in Buninyong by 1856, when John Kildahl, sollicitor, appears in the Buninyong Electoral Roll, issued on 30 June 1856. In the 1857 Directory he is listed as a sollicitor, and in the same year his 16 year old son Lawrence was given the job of Head Teacher at the new Black Lead Church of England and Ireland school which opened on 2 February 1857.
The Kildahls came from the same Anglo-Irish background as the Reverend Garrett Russell, a Trinity College man with a family of six sons and one daughter, all within the same age range as the Kildahl children. Russell was appointed to the new parish of Buninyong in 1856, and he began establishing schools in the district in 1857. It is interesting that there were no marriages between the families.
John Kildahl was born in Dublin in 1796, son of Nicholas Kildahl who came from Norway. He became a sollicitor in Dublin (perhaps attended Trinity College) and married Catherine Anne Parke (1814-1901) daughter of Sir Charles Parke of Castle Carr, County Lentrim. Her family had drowned in 1839 when returning from a trip to America. Catherine and her brother John had stayed in Dublin.
John and Catherine married in Dublin in 1835, when John was 39 and Catherine was 21. Their living children were:
Theresa Mary, born 7 December 1838 Dublin, married Henry Beresford Sadleir in 1859 at Winter's Flat, Buninyong. Died 1929, Clifton Hill, Vic.
Lawrence Hercules, born 1841 Roeburke, Ireland; married Edith Charlton Sandford 1888 Vic. Died 30 January 1925 Surry Hills
Margaret Anne, born 1844 Ireland; died 1927 East Malvern
Elizabeth Jane, born 1847 Ireland: married Edward Stackpot Astbury;
Catherine Anne born 1851 Ireland; married William Trench Clifford Kelly, died 1930?
Evangeline Maria, born 1853 Ireland, died 1926 East Melbourne
Helen Victoria born 31 August 1855, married Ernest William Minchin 1879 Geelong, died 1930?
Ida Octavia, born 2 November 1857 Buninyong. Married William Donald Mackay 12 February 1881 Ross NZ; died 1943 Hokitika, NZ. She was baptised at Buninyong on 23 August 1858.
Teaching was the family profession, with mother and children involved in teaching. Lawrence had begun his teaching career in 1857 as a 16 year old, and around the same year a Ladies' Boarding School was advertised in Learmonth St, run by Mrs Kildahl and her daughters. (article in Ballarat Courier, 28 July 1973, p. 21) In 1862 there was a Mrs Kildhal advertising a ladies' school in Clarendon Street, Ballarat (1862 Ballarat Directory)
John Kildhal died on 28 March 1863 at Winter's Flat, aged 68, leaving his wife and daughters to provide for themselves. The youngest child was only 5 years old.
Catherine, who was 18 years younger, died in Gippsland in 1901, and they are both buried at Buninyong.
Lawrence Kildhal pursued his teaching career:

ENFIELD/ WHIM HOLES Church of England established school No. 662 in 1858-9, called Little Hard Hills School. Whim Holes School No. 662 opened with Laurence Kildhal as first HT. Closed August 1862. (Napoleons and District p. 60)
DOLLY'S CREEK In December 1859 the Rev. G.J. Russell applied to the Denominational Board for aid for a proposed Church of England School at Dolly's Creek. First officially approved HT was Laurence H. Kildahl (1st Jan 1861 - 31 Dec. 1861). Officially called Dolly's Creek No. 194. (Vision and Realisation, V.2, p. 634.)
1873 he was Head Teacher of the Ballarat Orphanage School on a salary of 221 pounds.
Anne Begs Sumter, 2004
A Mystery Partially Solved.
I have always wondered why the famous painting Ajax and Cassandra was displayed in the Buninyong Town Hall early in the twentieth century. ( See photo in our Illustrated History of Buninyong). Now an answer is at hand, thanks to Derick Leather and his indexing of the Buninyong Telegraph. The Telegraph of 22 April 1904 thanks Mr. G. Thomas, of the Ballarat City Flour Mills, for his gift of a 'splendidly executed full sided copy in oils of Solomon's grand painting hanging in the Ballarat Art Gallery' to the people of Buninyong.
The question now is – what happened to this splendid copy???

BUNGAL
Aboriginal word of Wathaurung Tribe. Bunjil was the great spirit of the Kulin people, whose resting place was the Lal Lal Falls. (See Ian Clark's Database of Aboriginal Placenames of Victoria)
First white men in the area were Dibble and Egerton who took up their Bungal squatting run on the Moorabool River in 1838. Bungal subsequently became name of the area.
Bungal School No. 1155, established by Mrs Dugald McPherson of Bungeeltap in 1875, following her effort to hold a Sabbath School at the Bungeeltap homestead. A four-roomed cottage was moved onto land for a school, which was taken over by the Education Department. School closed 1945, but re-opened 1946. In 1949 school was destroyed by fire and all records were lost. A disused room was taken from Yendon school to Bungal, but the school closed in 1967 due to lack of pupils. (Vision and Realisation, V. 2, p.742)

Bungal Dam
Following the drought of 1967-8, both Ballarat and Geelong Water Boards began planning to use the waters of the Moorabool. So the state government established the West Moorabool Water Board in 1968 to plan a new reservoir that would serve both cities.
An area of 300 acres of Crown Land was augmented by 1160 acres of freehold grazing land to give an area of 1160 acres. By creating a 49 metre high and 235 metre long wall across the West Moorabool River near the Blast Furnace, a huge reservoir was created, backing up to the junction of the Lal Lal Creek below the Falls, and the West Moorabool River.
Gutteridge, Haskins and Davey P.L. of Melbourne was appointed as consulting engineers, with Alan Strom as the chief engineer, who devised the use of basalt quarried locally to make the wall. The contractor was Roche Bros.
The project was officially launched on 5 February 1970 by Premier Bolte.
It was speculated at the time of opening the project that it would increase tourist traffic to the area, and there was talk by the Shire of Buninyong of building an observation tower at the Lal Lal Falls Reserve so that visitors could gaze over the reservoir, half a mile distant. (See Courier article, January 1970).
Opened 24 November 1972.
Capacity: 59,550 megalitres.
Depth at Dam wall: 41.46 metres.
Surface Area: 356 hectares
Length of shoreline: 21 kilometres.
Area: 260 square kilometres.
The West Moorabool Water Board wound up 24 March 1995. The Reservoir is now the responsibility of the Central Highlands Water and Barwon Water.
Anne Beggs Sunter, Buninyong and District Historical Society
BUNINYONG - CALENDAR OF EVENTS 2003
| | |
| --- | --- |
| 14-15 February 2004 | Buninyong Gold King Festival |
| 19 February 2004 | Our February meeting, 7 pm , Courthouse |
| 6 March 2004 | Central Highlands Historical Society quarterly meeting at Skipton |
| 15 April 2004 | Bi Monthly Meeting. Guest Speaker Fred Cahir on the Aboriginal Presence on the Goldfields. |
REMINDER
Membership fees were due last October. If you have overlooked your payment, please send your cheque to our Treasurer.
What would you like to do for the Society?
Join the cataloguing/indexing team that meets every fortnight on Monday mornings?
Become a volunteer at the Monthly opening of the Court House History Centre?
Become a volunteer at the Old Library?
Join the Buninyong Cemetery regular working bee?
Write an article for the newsletter, please!