BUNINYONG AND DISTRICT HISTORICAL SOCIETY INC.
Reg. No. A0030085Y
Web Site http://home.vicnet.net.au/~buninhis
PO Box 98, Buninyong, Vic. 3353.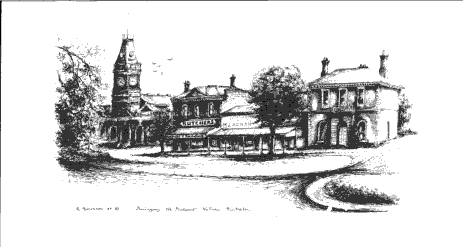 NEWSLETTER DECEMBER 2002
DECEMBER MEETING: Thursday, 19th December, at 8.00 p.m., Court House History Centre.
Christmases Past - Bring along a Christmas story, poem, recipe, or decoration to share. And bring a little plate of Christmas goodies to share over our Festive Supper.
NEWS BRIEFS
At our AGM, Beth Ritchie was thanked for completing her term as President, and Neil McCracken was elected as our new President. Ian Clark was elected Vice-President, and Virginia Dyson as Secretary. Frank Golding was elected Newsletter Editor, Pat Hope Treasurer, and Anne Beggs Sunter Archivist. CHHA representatives are Anne and Ian.
Our new President led a workshop on planning our future directions, and the results of the workshop are included in the newsletter. These findings will guide our activities.
We were unsuccessful in our application for a City of Ballarat Community Grant, because Councillor David James thought we could get assistance from e.Ballarat. to help us set up a computer system to manage our catalogue and biographical information. However their assistance is only for the Old Library, and we want to develop a system to complement that in the Library. So we will keep trying.
We have had our Illustrated History of Buninyong, by Mary Akers and Bill Thorpe, reprinted. This has been a steady seller since first published in 1982, and makes a lovely gift for anyone with an interest in Buninyong.
Excursion to Mount Doran and Dolly's Creek
Our excursion to Mount Doran, Dolly's Creek and Morrisons was a very informative and enjoyable afternoon, led by our new members, Ian and Dorothy McGillivray, who went to school at Mount Doran. Ian and Dorothy McGillivray and lived in the area for many years. Their knowledge of the landscape helped us find some interesting traces of early mining activity, most notably the remains of the Lal Lal water race, that took water from Fisken's Dam at Lal Lal, all the way to Dolly's Creek.
From the excursion, we have prepared a detailed set of notes, which are on sale for $3.
| | |
| --- | --- |
| | |
| Ian and Dorothy McGillivray looking back at their old Mt Doran school | Members of the Society admiring the stonework of the old Blue Bridge on the road to Mt Doran |
Ballarat Municipal Strategic Statement and Heritage Study
The draft has now been completed, and the public has the opportunity to comment on the proposed Heritage Overlay for Buninyong. Beth Ritchie, Pat Hope and Anne Beggs Sunter worked with the local residents group in preparing our submission to the Ballarat City Council. Our deepest concern remains the green belt between Mount Clear and Buninyong, which local government is eying as a prospect for residential development. We think a proper Outline Development Plan should be developed for the area, paying strict attention to the conservation of the Canadian Creek, and maintaining green corridors along the edges of Geelong Road.
There has been some fairly ill-informed opposition to the Heritage Overlay from some residents, echoing reactions to the Coleman-Sutherland Study of 1982. Heritage Adviser Vicki Johnson met with affected residents to explain the implications of the overlay, which ensure the protection of our most important heritage areas.
New Photocopier
We have our own photocopier/fax/scanner at last! This will be a great boon when visitors want copies from our files. Copies will cost 20 cents each.
Cataloguing
Lance and Judith have finished cataloguing all the names off the old Buninyong Town Plan, helping us pinpoint where, and when, people lived in the town.
Pat and Beth have been busy indexing the Holy Trinity Baptismal register. This is proving a fascinating exercise, tracking the movements of the Rev. Garrett Russell in his peregrinations over the district, from Buninyong to Linton, Chepstowe, Warrenheip, Meredith, Rokewood, and some very strange places too, which we have not yet identified.
I was intrigued by the baptism of Elizabeth and Mary Coleman, on 2 September 1864. Elizabeth was born in 1846, and Mary in 1849, so the parents were rather slow in getting around to the baptisms. We reproduce a page from the register, so that you can see the movements of the minister, and the occupations of parents, who in 1862 were mainly miners.
Members Roundup
Our Treasurer reports that ONLY TEN members have paid their renewals, which were due from the AGM. Your financial support is vital to the operation of our society, so please send your renewals in today!
Peter Hiscock retired from his position as Executive Director of Sovereign Hill, a position he held for 22 distinguished years, giving great service to museums, history, nature conservation and tourism in our area. As the founding president of our Society, we congratulate Peter on his professional accomplishments, and on his advocacy of the heritage of Buninyong. We wish him and Yvette a very stimulating retirement. Peter will become the part-time administrator of Sovereign Hill's property at 'Narmbool'. This fine grazing property was donated to Sovereign Hill by the Ferry family, and is being used an environmental education centre, as well as a venue for wedding receptions.
Mary Akers, another past president and secretary, has completed her two-year term as President of the Board that manages Sovereign Hill. Mary was the first female to be elected President, a very demanding voluntary post.
Welcome to Barbara Sterck of Glen Waverley, a new member.
FAMILY HISTORY ENQUIRIES
It is great to find that people are reading our newsletter on the Internet. Several contacts have been made to earlier queries, and we hope to put members of the Bulwer family in contact, as well as the Copperthwaites.
DICKINSON, Curwin - working at Pioneer Mine, Durham Lead, 1860s. From J and C. Avis, 8 Garland Close, Kanimbla, Qld, 4870
SATELLE, Constantin from Furtwangen in Southern Germany emigrated to Australia as an immigrant (paying his full fare) on the 'Lightning' in April 1857, with his brother Jos Sattell (sic.), arriving in Melbourne. He married Matilda Draffin in 1865 and they had four daughters born at Durham Lead between 1867 and 1872. Constantin was paying rates at Durham Lead from 1866, when he was probably a miner, to 1873, by which time he was listed as a draper, with a Net Annual Valuation of 40 pounds, paying rates of 2 pounds, which was quite substantial for the times. Constantin purchased land at Durham Lead on 21 January 1873 and his name appears on the Parish Plan. Tragically, the next piece of information is that he was buried at the Buninyong cemetery on 18 June 1873, aged 41. He is in the Episcopalian Section, and there is no headstone, and there are no other members of his family buried there. An enquiry about him came via email from England from Mike Holmes, mike.holmes1@virgin.net
ISSAC, Charles and Bella, who owned the general store in Buninyong and are buried at the Buninyong cemetery. (Email query from Joy Mildren tjm@origin.net.au)
CAWTHRAY, Edward. A miner and tailor at New Chum Gully (Mount Clear) in the 1860s and early 1870s, when four children were born to him and wife Catherine. One birth certificate mentions Scotchmans Lead, Buninyong.. Family had moved to Foster by 1875, and thence to Sydney.. (Query from Ruth Cawthray of Sydney, by email, rwalter@intercoast.com.au)
LAWRENCE, Richard, at Hardies Hill in the late nineteenth century. Related to the DUNSTAN CHRISTOPHER and BARKER families. Involved with the Methodist Church. (Barbara Sterck, Melbourne bmsterck@bigpond.com)
POYNTON/PORTER
Following the story about Emma Watkins in our last issue, we have some confusion between Emma Porter Watkins (born 1882) and Emma Poynton (born 1878) It appears that both these women, active members of the Methodist Church, were taking photographs of Buninyong in the early 1900s. Can anyone add to the story?
ACQUISITIONS
More interesting photos arrived out of the blue. We feature a portrait of the Howard family, from the early 1920s. This photo came from Greg Howard, of Albury, who was in Buninyong looking up his ancestors, the Howards of the Box Factory. Luckily Derick Leather was on hand to help, and show the grateful Mr Howard around his home 'Netherby', which was owned by the Howards at one time. He sent us some copies of photographs. The Howards were very involved in the Methodist Church, with football and bowls, and with the Fire Brigade. This photo shows James Howard on the left, owner of the Box Factory, with two of his sons, Arthur and Charles. We think the photo was taken at the Bowling Green - notice the gentlemen's white shoes.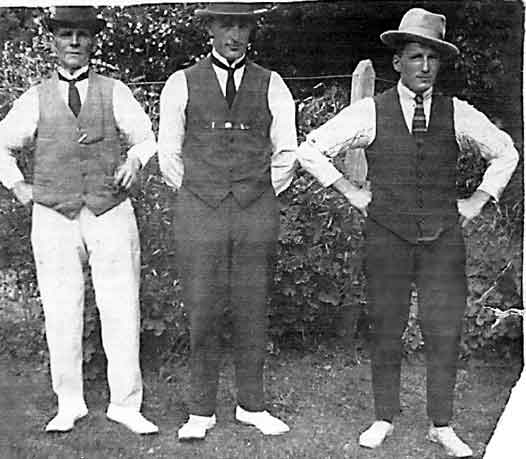 James Howard with his sons Arthur and Charles, Buninyong, c. 1920
---
Buninyong and District Historical Society
Results of Survey of Members at AGM October 2002, compiled by Neil McCracken
Computerization
Acquire Scanner and photocopier for Court House (2)(2)
Make progress with computerization with records in an electronic searchable format and make information available on the Web. (12)
Keep putting Newsletters on the Web Site. (7)
Signage
Signage to mark Historical Sites around Buninyong and District to instil pride in Buninyong and its history. Renew existing signage. (15)

Action

Need to identify the historical sites in order of priority, determine what type of signage is required, determine the text on the various signs and seek funds to carry this out.
Guest Speakers
Chinese and Gold Buninyong and Ballarat (4)
Pre-gold pastoral occupation.

a/ &nbspChildren in Buninyong
b/ &nbspSports in Buninyong
c/ &nbspKooris in Buninyong
d/ Houses in Buninyong (4)

Revisit topics already dealt with; beginner's night.
Photographs
Develop a program for the acquisition of Historical Photographs for Buninyong within the community.(10)
Streetscape photographs. (4)
Development of Resources, New Information & Assistance for Members
Record talks by Guest Speakers and Publish articles based on these talks. (4)
Develop a comprehensive Index for the resources held by the Historical Society and the Library.
Develop a step by step guide to help members answer queries. (3)
Explore topics for further publications. (1)
Build up family history and community history profiles by encouraging more people to contribute their information. (1)
Set up a process to record old houses being moved to Buninyong.(1)
Encourage more people to use the information available in the Court House.
Explore the further development of souvenirs for sale.
Geographical Locations
Develop further a place names register.
Access Aboriginal names and place names, (2)
Excursions
Visit parts of Old Buninyong Shire and places of notable historic interest. (7)
Visit Boninyong Homestead. (2)
---
CALENDAR OF EVENTS 2003
15-16 February Buninyong Gold King Festival
20 February Our first meeting of the year.
1 March 2003 CHHA Meeting at Trentham Railway Station. 9.30 a.m., with a 10.00 a.m. start.
Anglican Baptisms at Buninyong, 1863
---
Membership Renewal
Please print this form and send your subscription to:
The Buninyong and District Historical Society,
PO Box 98, Buninyong, Victoria, 3357
or renew your membership online.
Subscriptions
| | |
| --- | --- |
| $20 | ordinary members |
| $25 | families |
| $15 | students and pensioners |
NAME.............................................................................................
ADDRESS ...................................................................................
........................................................................................................
POST CODE .....................................
TELEPHONE ....................................
EMAIL ...............................................
DATE ................................................
SIGNATURE .....................................
---