BUNINYONG AND DISTRICT HISTORICAL SOCIETY INC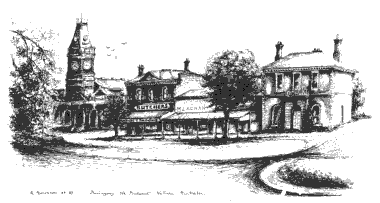 AUGUST 2003
AUGUST MEETING
Our GUEST SPEAKER was Frank Golding, a member of our Society, who spoke about the Ballarat Orphanage, based on his personal experience during the 1940s and early 1950s. Frank and his two brothers had been 'incarcerated' in the Orphanage when their parents were unable to look after them. It was very moving to hear of Frank's experience as a very small child entering the huge, imposing front doors of the Orphanage in Victoria St., Ballarat East. He explained that very few of the children were in fact orphans, and that all suffered from separation from their parents and a lack of love. Frank outlined his difficulties in obtaining access to official files from the Orphanage. He has written the story of his time in the Orphanage, which he hopes to have published.Members were fascinated and moved by Frank's presentation, and he was warmly thanked by Pat Hope on behalf of those present who felt that they had been priviledged to hear Frank speak.
NEWS BRIEFS
Neil McCracken, Ian Clark and Anne Beggs Sunter represented Buninyong at the AGM of the Central Highlands Historical Association on 3 August at Learmonth. At this meeting Ian was elected Vice-President. Ian has been in demand as a guest speaker for local Historical Societies on Aboriginal Place Names. A guest speaker at the meeting was Liz Rushden from the RHSV, who told the meeting about exciting plans to extend Internet services to all member societies. We also heard from Shauna Hicks about Public Record Office of Victoria plans to improve services to regional areas.
We have reprinted the little booklet on the Buninyong Cemetery in conjunction with the Cemetery Committee. Incidentally Lance and Judith Lewis have taken on the task of being Secretaries for the Cemetery Trust. Anne Beggs Sunter has been appointed a Trustee, all with the aspiration of closer co-operation between the Buninyong Historical Society and the Buninyong Cemetery Trust, a dream Derick has been nurturing.
Ballarat Municipal Strategic Statement and Heritage Study
The draft has finally been adopted by the Ballarat City Council, and forwarded to a panel for comment. We were happy with the statement for Buninyong, but concerned about Mount Helen and how natural heritage will be conserved - for example the green belt between Buninyong and Mount Helen. The Buninyong Ward Residents Group have done a great job under the leadership of Neville Lowe in putting forward the key concerns of Buninyong residents. It is at least reassuring that Council has set aside funds in the next budget for an Outline Development Plan of the Mount Clear-Mount Helen area.
The New Photocopier is proving itself a very useful acquisition. Copies will cost 20 cents each.
A Scottish-Irish connection was nurtured recently with the visit of Dr. Lindsay Proudfoot, of Queens University Belfast, to the Buninyong Historical Society and to the Scott property at Scotsburn. Lindsay was delighted with his visit, and learning about our distinguished clergy of the 19th century - Rev. Thomas Hastie and Rev. Garrett Russell, as well as the Scott family and their re-creation of a little piece of Scotland at their property. Buninyong and Scotsburn should feature in the book Lindsay hopes to produce next year!
We salute our member David Knowles for his advocacy on behalf of Community Arts in Ballarat. David, a member of BRRR, took a leading role in arguing that the Ballarat City Council should not cut funding to arts groups in Ballarat. David wrote an excellent letter to the editor of the Ballarat Courier, and was heard on local radio defending community arts. Well done, David! We support your cause and admire your eloquence on the issue.
The Old Buninyong Brewery has been in the arts news, with its series of concerts A Millenium of Music promoted by Merle Hathaway and Hartley Newnham. The concerts have allowed visitors to see the wonderful restoration work carried out by Merle and Hartley to this most important early Buninyong building, constructed by Thomas Sheppard in the 1850s. It is good to know that Merle and Hartley have been putting Buninyong on the musical map!
The Moorabool Heritage Committee has been investigating heritage sites to be affected by the Melbourne-Ballarat fast railway project. One site unearthed is the Portland Flat Railway Bridge near Gordon. This was originally known as Llandeilo, and has been recommended for listing by Heritage Victoria. The residents of Bungaree have fought hard to protect the heritage of their farming land which will be devastated by the straightening of the Bungaree loop. The major earthworks will impact on creeks and springs in the area, but these pleas have been ignored by a government intent on carving two minutes off the train journey from Melbourne to Ballarat. So much for one of the most important agricultural regions in our area!
Moorabool Shire has also received a report on the management of the Lal Lal Falls Reserve. The area has been neglected in recent years, but hopefully better times are around the corner, and we can hope that the walking track to the base of the falls will be re-opened, and interpretative signage improved.
---
Australian National Place Names Survey
The aim of this Survey is to prepare a National Register of geographical names. It will record all Australian names, documenting pronouncement, origin, history, cultural significance (of both names and sites), map reference (GPS) and location. When the project is completed, a series of Place Name Dictionaries will be published.
Dr Ian Clark, a member of the B & DHS is chair of the Victorian Place names Committee.
I have started producing a list of place names within the Buninyong Roads Board District (proclaimed in 1858) and adjacent areas. The original Roads Board District covered an area South of Gordon Cemetery to Boundary Rd just North of Meredith, West along Boundary Rd to Mt Mercer almost to Beringa, then North to Sebastapol and then East along the Ballarat City Boundary to the old Melbourne Road and then back to Gordon.
Copies of this Place Names so far listed are available by e-mail; at jenneil@netconnect.com.au I have gathered names from Baptismal & Rate Records, Geological Maps and other historical sources.
There are a number of place names, such as 'Cherry Tree Flat' and 'Sudgeon's Flat' (Mt Helen area?) where the exact location is not known. If anyone has this information, could they let me know? Further, if there are any names they are aware of that are not on the list please let me know. Each Place Name recorded requires the collection of an A4 Sheet of additional information. If anyone is interested in becoming involved in collecting information on place names, they can contact me. Anyone with a Global Positioning device is more than welcome.
There is a place near Mt Misery called Monkey Gully. The naming has nothing to do with Monkeys. The early settlers called koalas monkeys so one assumes the Gully was one where there were koalas.
Neil McCracken
---
Thanks for the memory, Whykes Brothers
On 27 May 2000 Whykes' butcher shop in Buninyong closed its doors for the last time. The business has been synonymous with Buninyong since 1864. It was carried on by four generations of the family and made its mark on the tables and stomachs of every family in the wider Buninyong district.
As a child, I recall the visits of Jack Whykes to my grandmother at Clarendon, bringing the weekly order of meat in his Holden van, wearing his butcher's uniform of blue coat and striped apron. Jack would stop for a cup of tea and a chat, bringing a welcome interruption to household routine. I wonder now how many cups of tea Jack had to drink on his country delivery round?
Buninyong locals went to the landmark shop in the centre of town, built in 1893, with its characteristic covering of sawdust on the floor. Local gossip was exchanged in the shop and on the country visits, but the Whykes brothers were always discreet about the information they heard.
The founder of the dynasty in Australia was William Whykes, who arrived in Victoria as a boy with his two brothers and sister before the discovery of gold in 1851 A number of family businesses were created, extending into Ballarat. William became a butcher at Durham Lead. He purchased land and set up a slaughtering business, and Whykes brothers slaughtered their meat at the original site until 1996.
William had a large family, several of his sons following his trade. He was also a leading community figure, involved in municipal affairs and every sporting club in Buninyong. He was Mayor in 1889 when the railway was extended from Ballarat and would have seen the benefits of the new transport system.
William died at the age of 85 in 1929, the business passing to his grandson Jack, who also lived to the age of 85, active in the business until his death in 1992. His sons John and Peter ran the business until it closed in 2000.
Citizens of the district were sad to learn of the death of John Hall Whykes on 18 July 2003. A very large gathering of local people paid their last respects to John at St. Peter and Paul's Catholic Church in Buninyong before his internment at the Buninyong Cemetery. The funeral was a wonderful community occasion, and an opportunity for ecumenical solidarity, given that John's father had been Anglican and his mother Catholic. It was inspiring to have both ministers from the Catholic and Anglican communions involved in this service.
By a strange quirk of fate, Tiggies Restaurant vacated the old butcher shop which the restaurant and plum-pudding business had occupied since John Whykes sold it in 2000.
As members of the Buninyong and District Historical Society, we express our sincere sympathy to our esteemed member Dawn on the loss of her husband.
But we take this opportunity to celebrate John's life in Buninyong, as this photo taken for the Lions calendar in 2000 does most magnificently.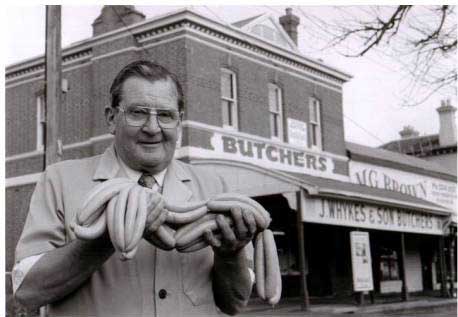 John Whykes outside his Buninyong Butcher Shop, October 1999.
Photo taken by Max Harris for Buninyong Lions Calendar, 2000. Copy in possession of Buninyong and District Historical Society.
Vale Jim Bowers of Clarendon
Another old resident of our district who passed on recently was Jim Bowers of Clarendon, aged 97 years. The Bowers family first came to Victoria in 1854, and settled at Burnt Bridge. Their sons were part of the famous Narmbool Cricket Club that contested matches in the Buninyong competition in the nineteenth century.
Jim attended the Clarendon State School, and was later a President of the School Committee, living across the road from the school. He lived at Clarendon all his life, and his son Robert continues to farm the family property at Clarendon. Jim was an active member of the Buninyong Masonic Lodge. He is buried at Clarendon.
FAMILY HISTORY ENQUIRIES
A steady stream of queries flows in from our Internet site. Here is a selection of queries:
Clan McKenzie will hold their Gathering at Albury, NSW, at the end of May 2004. Details from loremck@jc.com.au
James and Margaret Bower from Yorkshire emigrated to Victoria in 1857. Their son Arthur was born at 'Gillispie's Station' in 1861. James was probably a fellmonger, and his daughter Margaret married Donald William Jackson, also a fellmonger, at Buninyong in 1862.
John and Caroline Kerr were living in the Durham Lead-Sebastopol-Hiscocks area in the 1860s and 1870s.
Ralph Gibson was living at Durham Lead in the 1860s and 1870s, where Ralph took up a selection. Ralph had been a coal miner in County Durham, England, and became a charcoal burner in the Durham Lead district, supplying charcoal to blacksmiths. His descendants would like to know more of his life in the district, before he moved to Gippsland in the early 1880s.
Frederick Vincent Browne was a farmer and lay preacher at Yendon until his death in 1898.
Anyone who may have further information on any of these queries please contact Anne Beggs Sunter on a.beggs-sunter@ballarat.edu.au
CALENDAR OF EVENTS 2003
21 August 2003
Our Meeting
Speaker Frank Golding on 'Orphans and Orphanages of Ballarat'
4-5 October 2003
CHHA Family and Local History Expo
Batons, Bayonets and Bushrangers, ACU Aquinas Campus, Mair St, Ballarat
16 October, 2003
Our Annual General Meeting
1 November 2003
CHHA Quarterly Meeting
to be held at Moorabool Reservoir
November
Our Annual Excursion will take place in November - watch this space!
18 December 2003
Our Christmas meeting