BUNINYONG and DISTRICT HISTORICAL SOCIETY Inc.
NEWSLETTER
| | | |
| --- | --- | --- |
| | AUGUST 2001 | Reg. No. A0030085Y |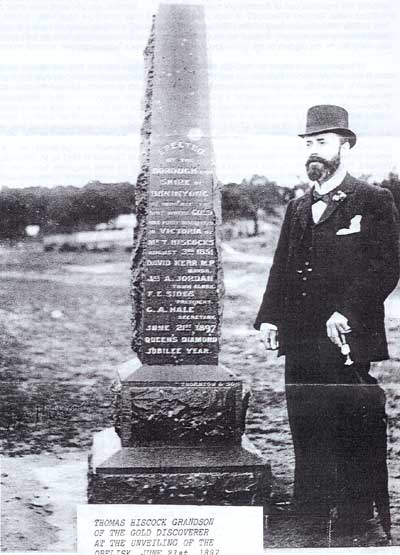 Our next meeting will take place on Thursday, 16 August , at 8.00 p.m., at the Court House History Centre. At the conclusion of the business meeting, our guest speaker will be Tim Sullivan, Director of Historical Services at Sovereign Hill, who will speak about Museums and Indigenous Societies. Tim comes to Ballarat from Sydney, where he worked at the Australian Museum.
Thanks to Peter and Yvette Hiscock for showing us their beautiful home "Ballantree" after our June meeting. The warm fires, and tasty supper, were much appreciated. What a marvellous job Peter and Yvette have done in restoring this important part of Buninyong's history.
The 150th Anniversary of Gold Discovery in Buninyong was celebrated on Sunday 5 August. The cold South-Westerly wind, bringing showers across the Western plains, reminded those who did the Hiscock Walk what life was really like for the diggers on the goldfields, living under canvas in our winter.
The celebrations began on Saturday evening, when 80 descendants of Thomas Hiscock visited our Court House for a welcome by President Beth Ritchie and Past-President Derick Leather. The family then dined at the Crown Hotel, where short addresses were given by Anne Beggs Sunter, Professor Steve Johnson and Professor Mary Hiscock. The new owners of the Crown Hotel prepared a splendid meal, and guests enjoyed the Irish music after dinner. In the course of conversation it became obvious that many Hiscocks had married Irish partners; hence their readiness to join in singing Irish songs.
Sunday began with a Hiscock breakfast in the RSL Hall, thanks to Derick and the RSL members. Our members provided tea, coffee and cinnamon buns, whilst family members examined their huge family tree, met each other and viewed some precious family heirlooms, like the small bible given to Thomas in 1842 by M. Simonds, Esquire, at Trawalla, Pyrenees. In the fly leaf Thomas has recorded the birth of his three daughters, born in the Port Phillip District.
The Rev. Austin Brehaut from Sebastopol, a Hiscock descendant, took the 9.00a.m. service at Holy Trinity, and the occasion was recognised at the Uniting Church and Catholic morning services.
At 10.30a.m. about 100 hardy souls gathered at Hiscock's cottage to retrace his walk on the day he discovered gold. Graham Gooding was our guide, enriching the walk with his geological knowledge. It was good to have a number of children from the Buninyong Primary School on the walk, re-enacting the school's involvement in the unveiling of the 1897 gold monument.
At 11.45a.m. the walkers arrived at the site on Hiscock Gully Rd., on the ridge above the highway, where those who did not fancy the walk joined in the unveiling ceremony. Here we met John Scott from Scotsburn, representing his pioneering family, Topsy Nevett representing the Fisken family, Alan Bath representing the Innes family, as well as Elinor George, whose ancestors settled at Hiscocks in 1857. Thanks to Derick Leather, with timely assistance from Graheme Pike from the City of Ballarat, our Soceity placed a new plaque at Hiscocks, correcting some of the mistakes on the 1897 monument. It was unveiled by Professor John Le Marshall from Melbourne, a descendant of Thomas Hiscock, who arranged the family reunion. John originally visited the Society in April, speculating that he would like to organise a dinner for his mother Patricia Hiscock. The little family dinner grew into a grand production!
Many people took the opportunity to visit the Cemetery, guided by Derick Leather and Alan Bath. Then it was into Buninyong, for a warming bowl of soup and a glass of wine at one of our wonderful restaurants and cafes. After lunch, we opened our historic buildings for visitors - the Court House, the Old Library and the old Court House, where Hugh and Robyn Morris had put together an excellent display which featured their beautifully restored gig.
Anne Beggs Sunter led a large group on a walking tour around town, avoiding heavy showers by ducking into historic buildings!
We all gathered at 3.30p.m. at the Supper Room for a delicious afternoon tea, provided by our members. We had a celebration cake, which was cut by a young Hiscock descendant called Bianca who was celebrating her 11th birthday. Then it was time to farewell the visitors who had come from many parts of Victoria and interstate for the celebrations.
The workers then collapsed, tired but very happy with the proceedings. Thanks to Judith and Lance Lewis, Jean and David Knowles, Pauline Holloway, Neil McCracken (our newest member), Virginia Dyson, Mary Akers, Adrienne Schreuder, and Frank Ritchie, who all helped with catering, moving and marshalling.
Most of all the day was a tribute to our President, Beth Ritchie. All of her preparations paid handsome dividends.
(Newsletter photo of unveiling of new plaque at Hiscocks not shown)
Thomas Hiscock, Discoverer of Gold at Buninyong
by Anne Beggs Sunter
Thomas Hiscock was born in 1812 in Berkshire, England. In 1833 he married Phoebe Blanchard at Reading.They had two sons in England - Thomas born in 1834 and John in 1836 - before their arrival at Geelong on the Caroline on 1 July 1841. Thomas worked for the squatter Mr Goldsmith at Trawalla, where his daughter Emma was born in 1842. He settled at Buninyong as the village blacksmith in 1844, when his daughter Elizabeth was born. Jessie was born in 1846. He was one of the supporters of the Buninyong Free Presbyterian School which it was established in 1847 and in 1850, there were three Hiscock children attending Hastie's School - John aged 14, Emma aged 8, and Elizabeth, aged 6. Elizabeth's daughter Jessie recalled in 1934 that her mother had been at school on Black Thursday (6 February 1851) when bushfires consumed Victoria and surrounded the school. She recalled that her uncle had saved the horses on the Learmonth estate on that momentous day. (Letter from Jessie Gourlay, Maryborough, 6 October 1934)
When Thomas discovered gold near the cemetery in early August 1851, he sent a letter on 10 August to Geelong to publicise the find, which was announced in the Geelong Advertiser 12 August, 1851. For starting the Ballarat goldrush, he was awarded 1000 pounds reward as discoverer of the Ballarat goldfield. (see J.Flett History of Gold Discovery in Victoria, p. 346)
He claims that he made his find on Saturday 8 August, but kept it quite in order to keep holy the Sabbath day. On Sunday 10th he sent down specimens with the mailman to Geelong, and on 12 August the Geelong Advertiser reported the discovery of gold at Buninyong. The reporter from the Advertiser, Alfred Clarke, set out for Buninyong and Clunes, and was on hand to report on the discovery of gold at Poverty Point by Dunlop and Regan "on or about" 21 August 1851.
19-year old John Stoker Thomas was with Thomas Hiscock when he discovered gold in August 1851. Because of his training as a lapidarist, he had worked with gold and knew better than Hiscock what they were looking for. Thus he may have been very helpful in alerting Hiscock to the ore when it was discovered. Interestingly most accounts of the gold discovery make no mention of John Stoker Thomas. An account by J.S. Thomas in 1909 given to the director of the Geological Survey said the he and his brother Edward were with Thomas Hiscock senior and his son Thomas looking for a stray cow opposite the Buninyong cemetery on 2 August 1851, when Hiscock cried out that he had got gold at last. (Records of the Geological Survey of Victoria, V.3, Part 3, 1914, p. 286). After some days of further work, Hiscock and his son took some gold to Mr. Patterson, jeweller, at Geelong.
Hiscock's evidence was that he had been looking for gold for some time, and sending useless specimens to Mr. Fulton at Geelong - so many that the mailman protested that he was being laughed at when he delivered them. Alfred Clarke, journalist with the Geelong Advertiser, confirmed that he had seen Hiscock in Fulton's shop. Hiscock gave the date of discovery as 8 August. (Stackpoole, p. 14)
The discovery was published in the Geelong Advertiser of 12 August 1851
"We yesterday received from Buninyong a packet containing some of the finest
specimens of gold, in quartz matrix, that we have hitherto met with. They were
found within a mile or two of the township by Mr Hiscock, a respectable
resident there."
Alfred Clarke was sent to Buninyong, and his first report was filed on 15 August. He reported the exodus of Geelong people to the gipsy-looking encampment at Hiscock's Diggings near Buninyong (20 August, Geelong Advertiser). So many came that the reef was soon exhausted, and men spread out to prospect the ranges. On 27 August Clarke published a report of gold discovered "across the ranges on Yuille's Creek." This was the report of the discovery at Poverty Point. (Stackpoole, p. 17)
Seeing a marketing opportunity, the two Thomas brothers opened a butcher shop on Golden Point near John Adams's post-office, and in his 1904 letter to the Ballarat Courier John gives an account of unpleasant dealings he had with Captain Dana and his black troopers. Dana refused to pay an account for meat provided to the police by the brothers, and this experience stayed with him, placing his sympathies firmly with the miners in their problems with the arrogant and insensitive goldfields administration. In his 1909 account to the Geological Survey he recounts that "about 1852 or 1853 my brother and myself kept stores in Buninyong, Smythesdale and other places, with the chief store at Buninyong."
In 1891 he purchased the Buninyong Telegraph which his sons edited and printed. He attended Ballarat's Gold Jubilee in 1901, when he was living at Sebastopol. (Spielvogel, V.2, p. 96) His son Edward continued the newspaper until its closure.
Family memory is that Thomas Hiscock was given 1000 pounds and a gold cup by the citizens of Geelong, hosted by Mayor Councillor Hitchcock. (Letter from Hiscock's grand-daughter, Jessie Gourlay, Maryborough, 6 October 1934.) In fact the merchants of Melbourne had offered a reward of 200 guineas for payable gold within 200 miles of Melbourne, but never came good on their promise. The merchants of Geelong raised 400 pounds for Esmond and Hiscock, (Stackpoole, p. 8) which was presented to them with a gold cup for each man at a banquet on 14 May 1855. (Griffiths, p. 19)
From October 1853 to February 1854 a Select Committee of the Legislative Council on the Claims for the Discovery of Gold in Victoria sat. It examined Hiscock, as well as the other claimants to the Ballarat field, and Alfred Clarke, who felt that Hiscock should get the reward for the Ballarat field because the discovery of Ballarat "was but a natural consequence of the discovery at Buninyong." The Committee recommended on 10 March 1854 1000 pounds each for Hiscock and Esmond, as well as 5000 pounds for Hargreaves (discoverer of gold at Bathurst, NSW)! Thus Hiscock was given the financial reward for the discovery of not only the Buninyong goldfield, but also Ballarat!
He did not live to enjoy his reward. Thomas Hiscock, soon after the banquet given to him by the grateful citizens of Geelong where they wished him long life, died of a chill on 25 July, 1855, aged 46, a week before the birth of his grandson Thomas. He had contracted a cold at the Mount Alexander diggings. It was not four years since his discovery, and he had not even been paid the government reward. This was paid in two instalments to his family - 476 pounds on 17 January 1856, and 523 pounds on 15 January 1862. (Esmond was paid in a similar fashion.) (R. Borough Smyth Goldfields and Mineral Districts of Victoria 1869, Appendix E)
Residents of Geelong again showed their affection for Thomas Hiscock when they subscribed to a memorial of York stone to be placed over his grave.
After the death of Thomas Hiscock Senior in 1855, the family moved to Burrumbeet, but his son Thomas returned to Buninyong in 1871.He died at Buninyong in 1893. Phoebe died at Staffordshire Reef in 1894, aged 84. His grandsons continued in the blacksmithing tradition.
The gold cup has long since disappeared. It was used as a christening cup when the Hiscock family moved to Burrumbeet. W.B. Withers mentions it in his 1870 History of Ballarat, and the fact that it had recently been exhibited in Ballarat. Apparently the one-handled gold cup was sold to the Ballarat jeweller J.H. Sleep, who then sold it to a Mr J. P. Findley, M.P. for Glasgow. In 1935 the Hiscock family tried to trace the gold cup, and advertisements were placed in the Glasgow press, but to no avail.
It was 'a handsome gold cup', according to the Argus of 15 May 1855, which was inscribed "Presented by the people of Geelong to Thomas Hiscock, first discoverer of gold at the Buninyong gold field."
CALENDAR OF EVENTS
| | |
| --- | --- |
| 16 August | - Tim Sullivan from Sovereign Hill to speak about managing the relationship between museums and indigenous societies. |
| 21 August (Tuesday) | - 150th Anniversary of Gold Discovery, Poverty Point, Ballarat |
| 16 Sept.(Sunday) | - Reunion of Rev. Russell's family, Buninyong |
| 18 October (Thursday) | - Annual General Meeting |
| 27-28 October (Sat-Sun) | - CHHA Local and Family History Expo, Aquinas Campus, Mair St Ballarat; includes free PRO Seminar on Conserving Photographs. |
| 9 Dec.(Sunday) | - Excursion to Geelong and Christmas meeting (location of Learmonth's station, junction of Moorabool and Barwon, Buckley's cave, Foster Fyans. With Peter Alsop of the Geelong Historical Society.) |
Gold Exhibitions: Don't forget to visit at the School of Mines, above the cafeteria in Lydiard St, an exhibition which includes W. Baragwanath of Durham Lead.
At the Gold Museum, a lovely exhibition relating to Gold in Ballarat and District.
At the Melbourne Museum, a spectacular exhibition of gold in its international context. Costs money, but if you like beautiful things, a must see! Look out especially for the miners' brooches - some wonderful examples of the craft of our goldfields jewellers. Have you got a goldfields' brooch in your family archives? If so, share it with us at our next meeting.