NEWS AND NOTES
Narmbool On 2 April 2005 Janice and Weston Bate celebrated their 50th Wedding anniversary with friends from Ballarat. It was a lovely night, where Weston presided with his slide show of the family history. He spoke glowingly about what has been provided in terms of environmental education at Narmbool. The new building has been carefully blended into the landscape, and will enable school groups and others to spend time at the property and learn about the environment and our Aboriginal heritage.
Weston and Janice spoke of the joy of spending a night at Narmbool, and being able to observe the stars with their children and grandchildren. Their joy reminds me of Judith and John Bailey of Clarendon, who have been working for years on building their stone Observatory, which is almost complete. The moral of the story is - get out on a clear night and glory in the Southern Skies. If you want some assistance, visit the Ballarat Astronomical Society, open every Friday evening, in Magpie St. Ballarat.
Farewell to the Akers. On 6 March Peter and Yvette Hiscock tendered a farewell party to Mary and Alan Akers, who have moved into Ballarat. Mary spoke about her involvement in the Buninyong Festival Art Show, the Leisure Centre and the Historical Society, whilst others paid tribute to her work for Sovereign Hill and the University of Ballarat Council. Mary will continue as a member of our Society.
Farewell to the Goldings. We say goodbye to the Golding family, who are returning to Melbourne after spending a number of years in Buninyong. They surprised us all back in 1998 when they moved a house from Webster St. to Eyre St. and proceeded to restore the house and create a lovely garden around it. Daniel Golding was one of the members of the Buninyong Blues, a jazz group comprising talented young studentrs from Mount Clear Secoondary College, and Frank became President of the Mount Clear Secondary College Council. Liz Golding directed her artistic talents to a series of sketches of Buninyong's buildings, and Frank has been an active member of our Society, contributing a memorable address on his childhood experiences in the Ballarat Orphanage in the 1950s. Frank's book based on these experiences is published this month. We wish the Goldings the best of luck and thank them for their great contribution to Buninyong.
The Buninyong Film Festival takes place again on the first weekend of May at the Buninyong Town Hall. The Festival Committee has been responsible for providing the Town Hall with an excellent sound system and screen. It opens on Friday 6 May at 7.30p.m. with two films from the 1920s, including live piano accompaniment, followed by the famous supper and a late night zombie movie. Check the web site at www.vicnet.net.au/~filmfest or telephone 5341 2266.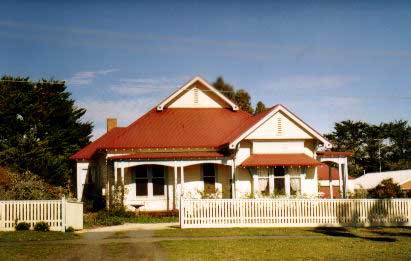 'Garfellen', Eyre St, a contribution to Buninyong from the Goldings
ENQUIRIES
DAVI(E)S, James Kensington
Born Tasmania 1834, came to the Ballarat area and married Mary Randall at Christ Church, Ballarat in 1859. By the 1880s, James was a mine manager at Hiscocks. He died in 1893, and is buried with his family at Buninyong.
EGERTON, George
From Queensland, a descendant of George Egerton, one of the first white settlers in the district, who took up the Bungal(l) run on the Lal Lal Creek. George was tragically killed in 1854 and his only child, Francis, was left an orphan soon after when his mother died. However there are many Egerton descendants in Queensland, where Francis headed when he grew up.
HOOKER, James and Mary Anne nee Collins
Living in the Scotchman's Lead area between 1859 and about 1880.
McNEIL, Thomas
Born in Scotland 1802, he arrived at Geelong in 1857, and came to Buninyong, accompanied by a little girl, Sarah Hislop. Sarah married in Ballarat in 1867 and lived at Creswick, whilst Thomas died at Buninyong in 1879, afed 77, listed as a labourer from Mount Side. (Query from Lyn at West Wyalong)
MIDDLETON, Laurence
Laurence Middleton had a hardware shop and petrol bowser in Warrenheip St. in the mid-twentieth century, in the shop that is currently a florist. Query from Lake Macquarie, NSW
ROBERTSON, Alexander
Came to Buninyong from Newcastle-upon-Tyne in about 1853. Family landed at Geelong in 1852. Alexander was a carpenter, and arrived with his wife Dorothy Stoker and three children. Six more children were born in Buninyong between 1854 and 1865. Dorothy died in 1877, and Alexander in 1898, and they were buried at Buninyong.
WOODBURY, Walter
photographer, who visited Buninyong during 1853, working as a surveyor's assistant. Became a famous photographer. Query from his great, great grenddaughter in Chilliwack, British Columbia, via email
TUCKER, Mark Thomas
Posted to the Salvation Army in Buninyong in 1894.. The first reference to the Salvation Army in Buninyong comes in the Buninyong Telegraph of 14 August 1885

'Garfellan', a recent addition to Buninyong's heritage.
A conundrum facing the consultants conducting Ballarat's Heritage Study was the problem of how to deal with houses that are moved from one locality to another.
Throughout the history of the Victorian goldfields, weatherboard houses have moved according to shifts in population. As gold mining declined in the early twentieth century, many houses were moved to Melbourne and Geelong, where the population was steadily growing.
Churches, too, joined in this relocation, as small country towns declined and congregations dwindled. We are all familiar with the movement of portable classrooms around the state, reflecting declining and growing enrolments.
Some of these fine nineteenth century villas have found their way into local country towns, presenting a challenge when it comes to describing the heritage values of a locality.
A case in point is the lovely house 'Garfellan' in Buninyong. It appeared suddenly in 1998, when it was moved from its original location at 119 Webster Street, Ballarat. The house had been built in 1911 for Robert Baird, solicitor. The house was designed by the local architect Percy Richards, who was responsible for many fine Federation-style houses in the district.
By the 1950s, the house had been acquired by Queen's College (then located in Mair Street on the site of what is now Aquinas College). It was used as accommodation for teaching staff at Queen's College, one of whom was Buninyong identity Derick Leather, who lived there with his family in the early 1970s. In 1972 Queen's merged with Ballarat Grammar and moved to Wendouree, and the old school complex became Aquinas College.
The villa residence was used for a time by St. John of God Hospital, and it was sold in the 1990s. So in 1998 the large house was moved in three pieces to Eyre Street in Buninyong, and was rapidly transformed into a showpiece by its owners Frank and Liz Golding, who have lavished much care in the restoration of the house, and have created a lovely garden to enhance it. Now it gives the appearance of having always been an integral part of historic Buninyong. Webster Street's loss is Buninyong's gain, and 'Garfellan' now makes a major contribution to the streetscape and to the sense of Buninyong as a township with a rich architectural heritage.
BUNINYONG BUTTER FACTORY
Anne Beggs Sunter
In November 1892, the Buninyong Butter Factory was registered as a co-operative, and commenced operations in the old court house complex on the edge of the Botanic Gardens. (Courier, circa 21 Nov 1892) The Wallace and Millbrook Butter Factory commenced as a co-operative in February 1893. Joseph Vernon of Mt. Mercer was the founding chairman, with Henry Noack Manager from 1893 till 1916.(Ballarat Star, 14 April 1916, p. 6) The Factory advertised for a Secretary at 26 pounds a year in the Buninyong Telegraph of 30 December 1892. John Porter got the job, after his retirement as a school teacher. He lived at "Fernbank', very close to the factory.