Our AGM takes place on Thursday 19 October, at 7.30p.m. at the Court House History Centre, Buninyong Town Hall. Our Guest Speaker is Andrew Miller, an engineer with the City of Ballarat, who will speak about The Dry Stone Walls of Western Victoria.
Andrew, who came to Ballarat from Camperdown, has a great passion for preserving these walls which contain so much history of our early European settlement.
Biographical Queries
BARKER, Robert
at Mount Doran-Dolly's Creek late nineteenth century. Neighbour to MacGillivray family
BLACKHAM, Robert
at Buninyong early-mid twentieth century
CONNELL Jeremiah
was a bounty immigrant who arrived in Port Phillip aboard the Sea Queen with his brother/relative (James) in 1844. Jeremiah was convicted for the murder of Edward Martin at the Buninyong Inn in November 1846 and was hanged on 27 January 1847 aged 27 years
HART, John and Caroline
at Warrenheip 1860s
HOLDING, Edwin
- in Buninyong area 1857 when his daughter Ada was born
LORIMER, George Glencairn
- Leading member of the Buninyong Highland Society, especially in 1860 when he won the medal for the best Highland costume. Architect of Crown Hotel in 1885. Member of leading Ballarat contracting firm of Irving and Glover
RAVA, Michael
Michael Rava came from northern Italy to Australia and married Suzanne Lockyer. They lived in the Garibaldi-Durham Lead area, and their time in the area is marked by 'Rava Lane' at Garibaldi. The baptismal records of Holy Trinity Buninyong were helpful for this query, revealing that Michael Rava, son of Michael, was baptised at Holy Trinity on 7 May 1876, and the father's occupation is given as charcoal burner, Durham. Altogether Michael and Suzanne had 11 children
Changing Buninyong in 2006
The new Garage built by the Delaland family is emerging in Warrenheip St.
At the end of Warrenheip St., near Russell St., a house has been demolished and something will emarge?
In Forest St., the Lions Club shed is emerging right beside the Tennis Pavilion (an ex-WW2 Army Hut from Puckapunyal erected in 1976) on the old railway station. Members have expressed concern about the impact of this shed on a heritage precinct.
Higher up Forrest St., the new Recreation Centre was officially opened by Premier Steve Bracks on 17 October. This is the final fruition of the Leisure Centre concept, which began way back in the 1970s when Buninyong Shire Council and prominent citizens were looking at future recreation needs such as swimming and tennis, and the former railway land around Forest St.provided an opportunity. On 23 November 1983 a public meeting decided to bring clubs together to develop a recreation and sporting complex that all residents could use. Mary and Alan Akers and Derick Leather were on the original committee. Derick produced a very good history of recreation in Buninyong for the September 2006 Buninyong Newsletter.
Royal Park in Warrenheip St. saw its last football match by the Buninyong Football Club this year. A citizens' committee is working on the future passive recreation uses of this important public space.
The Corner Shop (currently video shop) on the prominent corner of Warrenheip and Learmonth Sts. Is up for sale.
A new residential development beside the Golf Course is taking shape. As Derick points out, this was originally part of the original Buninyong Recreation Reserve.
All this is happening in the year that the City of Ballarat lost its Heritage Advisor Vicki Johnson in March, disbanded its Heritage Advisory Committee from the beginning of the year, and on 12 July Council finally adopted Amendment C58 to 18 incorporate the heritage precincts, including Buninyong, into the Ballarat Planning Scheme. Council also adopted Heritage Victoria's Guidelines for the Assessment of Heritage Planning Applications, guidelines to be followed in approving new developments, The guidelines aim to ensure that new development is respectful of surrounding heritage buildings.
Disastrous Fire at Brim Brim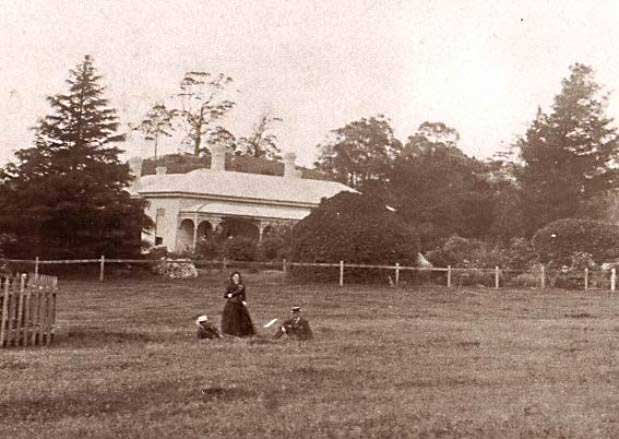 On Sunday morning 6 October 1878, when most of the population was attending divine service at one of Buninyong's four churches, a fire broke out at the house in Lal Lal Street now known as Brim Brim, the substantial villa built for Judge Warrington Rogers at the end of the 1850s. In 1878 the property was being leased by Charles Marriott Watson, a solicitor, and his family. The Watsons were at church when Mr Conolly from the nearby Court House Hotel saw smoke and gave the alarm. The Buninyong Fire Brigade was summoned, and when the fire bell would not work, the church bells of the Catholic and Wesleyan churches rang to call attention to the fire. The congregations rushed to help, but the building was well alight, and the whole of the building, built of stone and brick, was gutted, leaving only the bare walls. Mr Watson said neither the building - which he rented - nor the furniture were insured. The loss was estimated at £1,000, a very large sum for the period. (Ballarat Star, 7 October 1878; Argus, 8 October 1878; Buninyong Telegraph, 9 October 1878)
The house must have been rebuilt by Mr Watson following the fire, and in 1879, Charles Watson purchased the property for £540. The 1884 Directory lists Marriott Watson, solicitor, at Durham Lodge.
The Career of Judge Warrington Rogers
John Warrington ROGERS (1822-1906), barrister and judge, was the son of John Warrington Rogers of London, and his wife Rebecca. His father and grandfather were solicitors. Rogers entered Magdalen Hall, Oxford University, in 1844, and was called to the Bar in 1846 Described as having 'a character without reproach and [of] perfect competency' Rogers was offered in November 1854 the post of solicitor-general of Van Diemen's Land at a salary of £600. Despite good prospects in England he accepted.
Rogers was admitted to the Bar in Victoria and on 7 January 1858 and was appointed a County Court judge and judge of the Court of Mines for the Ballarat district at a salary of £1500.
The Judge purchased land at 'Brim Brim' on Lal Lal Street on 1 March 1859 for £125, and he erected his solid bluestone house on the land.
On 30 July 1870 he sold his property 'Brim Brim' to the Hon. William Carter for £350. (Note his wife was a Carter) He also accepted appointment as Vice-President of the new School of Mines Ballarat and he drafted its constitution.
His young son Stanley, aged 4 years, was buried at the Buninyong Cemetery on 17 February 1871, in Episcopalian section 2, number 820.
Rogers was implicated in pressures leading to the death of Rev. Garrett Russell, the Episcopalian Minister at Holy Trinity in Buninyong. The Rev. Russell's involvement in education brought him into conflict with the Bishop of Ballarat, who stated in December 1875 that Russell should devote himself entirely to pastoral matters. Bishop Thornton had been alerted to Russell by Judge Warrington Rogers, who lived at 'Brim Brim' in Buninyong. The Bishop insisted that the Rev. Russell must give up his pupils, or give up his stipend. Russell replied by pointing out that his stipend was £80 per annum, of which he gave back £100 in the Church's time of need. The fees from private pupils merely allowed him to supplement his meagre income so that he could support his large family which included seven sons and one daughter. Russell was so upset by the accusation that he went into a rapid physical decline and died in February 1877. (John Spooner, The Golden See, Ballarat, 1989, p. 56; Courier, 7 December 1875)
In January 1878 Rogers was a victim of Berry's 'Black Wednesday' retrenchments but in early February he was reappointed, only to resign at the end of June when the ministry refused to make the tenure of office for the County Court the same as for the Supreme Court. As a judge he was remembered as 'dignified and refined'. On 2 July he became a Q.C. and practised at the Victorian Bar. It would seem that at this moment he left Buninyong to live in Melbourne, leasing his Buninyong property to Charles Marriott Watson, solicitor. In 1881 he was appointed to the royal commission on education, serving as chairman from December 1881 until February 1884 when he went to Hobart to act as puisne judge of the Supreme Court. His draft report, submitted before he left Melbourne, was so amended by some of the commissioners that Rogers dissociated himself from it and made a separate report with special recommendations for Roman Catholic schools. Neither report was acted on.
After a year in Tasmania Rogers returned to the Victorian Bar. His public lecture at the Wilson Hall in October 1888 on imperial federation was published in pamphlet form. In September 1893 he retired to England, where he died at Ealing on 10 February 1906. He was survived by his wife Eliza, nee Carter, whom he had married on 10 July 1856 at New Town, Tasmania, five sons (all then living in Australia) and four daughters.
Reference:
H. A. Finlay, 'Rogers, John Warrington (1822 - 1906)', Australian Dictionary of Biography, Volume 6, Melbourne University Press, 1976, pp 53-54.
THIS IS A GREAT OPPORTUNITY TO DRAW TO YOUR ATTENTION THE Australian Dictionary of Biography ON-LINE WEB SITE, just GOOGLE it and open up a wonderful mine of excellent Australian History!
Ballarat Heritage Festival and World League of Historical Cities Conference in Ballarat,
28-31 October 2006.
The Ballarat Heritage Festival will take place on Saturday and Sunday 28-29 October, with Buninyong taking part through the Old Library. Mount Boninyong Homestead at Scotsburn will also be open for inspection, as will Lal Lal, the property of the Fisken family, on Saturday 28 October. The Central Highlands Historical Association Family History Fair will occur as part of the Festival, again taking place at the Aquinas Campus of the Australian Catholic University in Mair St. Ballarat. Many public and private buildings will be open, and the City of Ballarat has prepared a special program of events, which also draws attention to our Buninyong Gardens.
At the Conference on Monday 30 October, both Peter Hiscock and Anne Beggs Sunter will be involved - Peter as a chair, and Anne is presenting on 'The Role of Citizen Action Groups in Preserving Heritage'. Details on the City of Ballarat's website.
Connecting the Walking Track from the Gardens to Hastie's Hill and Mount Buninyong
Thanks to the work of Neil McCracken and Pat Hope, we can now walk easily from the Buninyong Botanic Gardens, to the unmade section of Yuille Street and then climb Hastie's Hill to take in the panorama of the town from the top of the hill. This then connects up with the walking track to Mount Buninyong. Neil secured the help of City of Ballarat officers in making the track.
Neil and Pat, through their work on the Great Dividing Trail Association, have also linked Mount Buninyong into the Great Dividing Trail. Steve Monagetti will open the new section of the track on Saturday 11 November.
Membership fees will become due at the Annual General Meeting.
See you at the AGM, next Thursday 19 October.
December Meeting will occur on 21 December 2006.