On 22 December 1858 the Society applied to the Buninyong Court for permission to fence a piece of common land between Hastie's Spring and Coleman's for Highland Games. The members were Donald Stewart, Peter Hedrick, Mr McDonald and Donald Gunn. (VPRS 296/2)

A Ballarat Caledonian Society was formed in November 1858 and its first sports were held on 1 January 1859 at the Eastern Oval. Donald Gunn was a judge (Withers, 1887, p. 307) This created immediate competition for the day, and from then on the Buninyong Games moved to Boxing Day. The second Buninyong Highland Gathering, reported in The Miner and Weekly Star, 7 January 1859, p. 6, was held in a paddock adjoining the Geelong Road about a mile from the township. D. Gunn was recorded as Secretary, and 800-1,000 people attended.

An advertisement in the Ballarat Star 5 December 1859 called for tenders for erecting a Grand Stand and arena on the Society's ground. Plans could be inspected at R.M, Harvey's office, and the Secretary was recorded as J. Goode. Meanwhile the Ballarat Caledonian Society was calling for tenders for a brass band of 10 members to play at the next grand gathering of the society on 2-3 January 1860.

In 1860 George Lorimer won the gold medal for best highland costume. (Photo in Buninyong Historical Society collection)

On 12 December 1867 Prince Alfred, the 23 year old second son of Queen Victoria, the Duke of Edinburgh, visited Buninyong, and was entertained at the Highland Ground. The President was Mr T. Purves. The Prince agreed to become a Patron. Five arches of welcome were constructed. The prince proceeded to the Highland ground, where the permanent grandstand was adorned "with a singularly handsome ducal crown, made of crimson velvet, which so struck the fancy of His Royal Highness that he asked for it as a memorial, whereupon it was eagerly presented."

After lunch, the prince watched Mr Coutts dance a highland fling, the 'Gillie Callum', and presented him with a gold medal. (Argus, 13 Dec 1867).

It was following this visit that the park became known as 'Royal Park'.

The games were held on Boxing Day 1870, and commenced with a procession from the Crown Hotel to the grounds, led by pipers and supported by the Sebastopol Brass Band who had been engaged for the day. (Star, 27 December 1870, p. 2) The reporter said many Ballarat faces were present, as well as 'Highlanders from throughout the colony'. A new event introduced was 'tilting at the ring' Mr A. McLean was secretary and treasurer, and Mr R.M. Harvey was President.

In 1873 the Games were held on Boxing Day. (Buninyong Telegraph, 22 December 1873, tender notice)

1882 Ballarat and Buninyong United Caledonian Society Annual Gathering took place at Buninyong on 2 January. (poster for games reproduced in Illustrated History of Buninyong. The President was Ben Hepburn, and vice-presidents were H.L. Bell and P. Hedrick. The program included the usual sports, best highland costume, pipe reels and dancing reels and jigs.(see Illustrated History of Buninyong, p. 55, for program.)

1889 Almost 5 acres of land gazetted for Caledonian Sports Reserve. (on Map of period)

1893 Buninyong Telegraph, 10 March - report on Royal Park, mentions Highland Society now defunct. Gazetted as "Public Park" (93/1782)

An item in the Ballarat Courier circa 13 July 1896, announced the first annual meeting of the Ballarat Caledonian Society, presided over by J.P. Murray. This was obviously an attempt to resurrect the defunct society.

1897 Buninyong Telegraph, 11 June mentions Foundation Sport Committee to raise funds to improve reserve at the time of Queen Victoria's Jubilee. Henceforth the ANA took over organization of the sports, and they had lost their Scottish flavour.

Residents recalled the Royal Visit and the Highland Games fondly. For example, a poem written by F.J. Giese in 1927:

Then our Caledonian Sport's ground. Sports days and early Dog Trap Creek races.
Our pipers and the pipes they played sounded both lovely and shrill
As we kiddies we primped there with our sweet smiling faces
With our mothers and fathers across old Bowen Hill

(Poem Early Days in Sixties and Seventies, in collection of Buninyong and District Historical Society)

Anne Beggs Sunter January 2006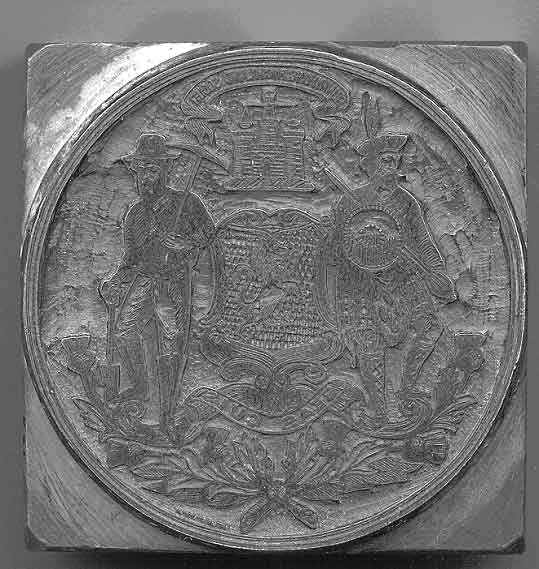 The seal was found by Laurie Moore in a second-hand shop in NSW. It has a gold miner and a highlander, surmounted by a pair of gold scales.
---