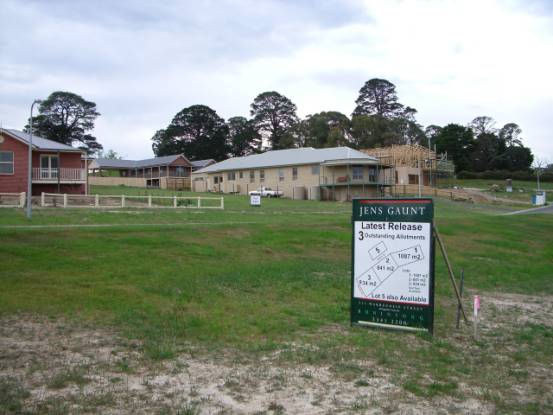 December 2007
Our Christmas meeting takes place on Thursday 20 December at 7.30 p.m. in the Old Library . Bring a plate of something festive to share, and we will serve the bubbly and orange juice.

President, David Kimpton will preside. He has decreed that the theme for the evening will be 'Great Swindles' from history. Bring along an example of a swindle, either local or international, to share. David will lead off with an amazing story! All will be mulled over in a traditional Christmas way!
NEWS AND NOTES
Canadian Valley Outline Development Plan
A panel hearing occurred in November in Ballarat. Linda Zibell represented the Buninyong Progress Association at the hearing. We hope that the very sensible and environmentally responsible recommendations of the consultants will be adopted by the Panel. (But then just look at the 'Sanctuary' development of Roadcon in Mount Helen - God help us!)
Grant for Buninyong Heritage Walking Tour Booklet
Congratulations to Neil McCracken, who has worked hard to gain a grant for us to produce a new walking tour booklet for Buninyong and District. After we received a knock back from the Heritage Grants program, Neil put in a new application to the Ballarat Foundation, and this time we were successful. Cr. Peter Innes also promised to support the project from his Ward Allowance. We hope to publish the booklet, in association with the Old Library Committee, early next year, and we feel it will be a valuable item for tourists and new residents wanting to explore 'Ye Ancient Village', and surrounds.
A Seriously Weird Author in our midst!
Our member Doug Bradby is a retired teacher, who with his wife has restored the old Wesleyan Church and school at Scotchman's Lead, and turned the property into a delightful bed & breakfast. Since retirement, Doug devotes much time to being a guide in the Old Library, and a guide at the Gold Museum. He has recently published a book on Australian history called The Seriously Weird History of Australia. It offers a quirky curriculum for teaching Australian history in schools, with lots of great ideas based on Doug's many years of teaching experience. Available locally in Buninyong for $14.95. Incidentally Doug scored a coup when he was able to promote his book on Macca's Sunday All Over program a couple of weeks ago, when Macca was visiting Ballarat.
A Paint Job for the Town Hall
In November the City of Ballarat arranged for painters to smarten up the exterior of our beloved Town Hall. They had a tricky task painting the tower, and there was an unfortunate accident with the crane, that knocked into one of the decorative balls on the parapet and smashed it. But all was well. Another ball was made locally, placed in position and painted, and our heritage building now looks spic and span.
New owners of the old Council offices have also been busy, converting the old open space area that extended from the Town Hall into office space. This will mean that this area will no longer be available for the Festival Committee to use for art displays.
An Epidemic of Curb and Channeling
With so much development around Buninyong, it is hard to keep up with Council projects to lay curb and channel along streets that were formerly rural in character. This is an issue that has come to the Buninyong Progress Association, and represents a conflict between old residents (who want to retain the rural character of Buninyong) and new residents who want metropolitan-style roads. It is one of those issues Heritage Advisor Mandy Jean flagged to us in her talk at our AGM in October.
150th Anniversary for St. Peter and Paul's Catholic Church.
Buninyong's Catholic community will celebrate its 150th Anniversary in April 2008, which is the 150th anniversary of the building of the current church. The community would like to arrange an historical display in conjunction with the Historical Society, and we are putting out a call for copies of old photographs that show the church - either exterior or interior. Old wedding photos might reveal untold gems. Please contact Anne if you can help
FAMILY HISTORY ENQUIRIES
October - December 2007
As usual, a string of inquiries, mainly through our Web site, which is very popular.
GOODE, Samuel
Printer and publisher of Buninyong Telegraph until 1891. Seven sons and one daughter. Query from a Goode in WA
HARVEY, Robert
Miner at Durham Lead, 1870s. With his wife Annie Cuttance Freeman moved to Sydney in 1880s. Query from a descendant in Lakes Entrance
KELLAWAY
A query from Queensland about an Edward William Kellaway, who was supposed to be living at Buninyong in the early 20th century. However no entries for that name in directories, although the name is represented at the Buninyong Cemetery.
JOHNSTONE/SHARPE
The infant son of James Johnstone and Mary Sharpe drowned at the Green Hills near Buninyong in May 1857. Query from Queensland.
MOYLE, William
From Cornwall, miner at Hiscocks. Served as a councillor for Borough of Buninyong, and was mayor 1893-4. From a descendant in Canberra.
PHELAN, Daniel
Interested in links to Bishop Shannahan, and Brother Adelin Walsh who taught at the Holy Ghost School in Ballarat in 1892 (predecessor of St. Patrick's College) Query from family member in Queensland.
RAINBOW
Henry and Matilda Rainbow lived at the base of Mount Buninyong from the late 1850s. When Henry died in 1864, his widow Matilda continued as a farmer, raising five children. She moved to Gippsland in 1890. Her granddaughter Annie Matilda served as a nurse in World War One, and her name appears on the Clarendon Honor Roll.
SPARLING
Rev. J. and his young sister Margaret came to Buninyong in 1885 to assist Rev. Hastie in the Presbyterian Church. (See diary extract below.)
STEWART, Douglas and Agnes
From Appin, Argyll in Scotland. Query from descendant in Queensland
WILLIAMS- James and Mary Williams
From Somerset arrived at Geelong in 1857, and soon moved to Buninyong. Later James purchased land at the base of Mount Buninyong. They raised 12 children. The family recently held a reunion in Geelong, and kindly sent us a copy of the family tree. And a family portrait
If you would like to contribute information, please contact the Secretary
A Young Woman's view of Buninyong in 1885-6
An excerpt from Margaret Spalding's Diary.
The Buninyong and District Historical Society recently gained a wonderful donation in a copy of the diary of Margaret Spalding, the sister of Rev John (Jack) Spalding of the Presbyterian Church. Margaret acted as housekeeper and companion to her brother when he was called to the Buninyong Presbyterian Church.
In 1885 the congregation decided to call a second minister to Buninyong, to assist Rev.Thomas Hastie, who was by then in his seventies. The young John James Spalding, aged 28, newly licenced as a minister, was called to the parish on the promise of a house and a horse to serve the parish, based on Buninyong, and six neighbouring townships (Scotsburn, Clarendon, Lal Lal, Durham Lead, Grenville and Yendon). In covering the parish, the two ministers preached twice every Sunday, often three times.
The foundation stone for the new manse in Scott St. was laid on 7 April 1885, and the house was built by Irving Glover and Company, with Richard Rennie responsible for the brickwork and stonework. The Coleman-Sutherland Heritage Study of Buninyong in 1983 highlighted the 'fine polychromatic brickwork, cast iron verandah decoration and roof finials'. (p. 107)
Margaret records in her diary that she and her brother moved into the new manse on Christmas Day 1885:
The output from these sewing meetings was later sold and the proceeds put to repaying the debt on the manse.
Margaret describes the church across the road, with its tower and 'rather gorgeously coloured large window', and large grounds beautified by trees.
Margaret then goes on to describe Rev Hastie's manse:
The party farewelled the young couple with a shower of rice, and admired the numerous and costly wedding presents. Margaret continues, capturing the youthful zest that invigorated the church at this time:
In October 1886 the Rev Spalding received a call to Warracknabeal, and he was showered with gifts from his affectionate congregation. At coffee suppers he received a watch from the Clarendon Blue Ribbon Mission, a silver egg-stand and toast-rack from the Buninyong Blue Ribbon Mission, and from the Buninyong congregation a handsome clock, silver cake basket and butter-cooler.
So the popular young minister and his sister left Buninyong, to be replaced in the manse by the young Rev Davies and his wife, the former Barbara Annie Hastie.
PS Thanks to Neil McCracken, who was responsible for obtaining this fascinating addition to our collection. If you would like to read the extract in full, please visit our Court House on the first Sunday of the month, and ask to look at the Hastie Folder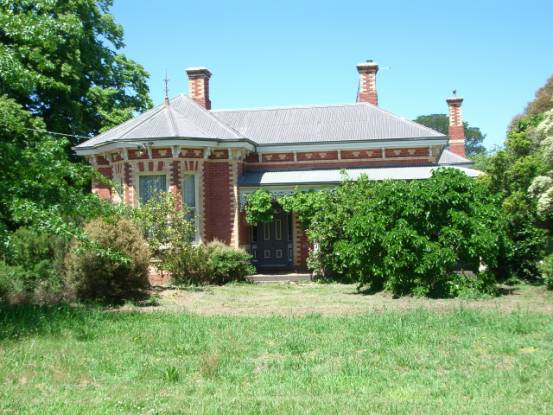 Anne Beggs Sunter,
Secretary
REMINDERS
The Organs of the Ballarat Goldfields Festival takes place from 11 -20 January.
On Monday 14 January the Festival spends the day at Cressy and Rokewood, and on Tuesday 15 in Buninyong. Tickets will be available for individual performances.
Buninyong Gold King Festival takes place on third weekend in February. We will be celebrating the 150th anniversary of our Botanical Gardens.
Memberships are due for renewal from the AGM.