Our December meeting takes place on Thursday 15 December, at 7.30 p.m., at the Court House History Centre.
Following our business meeting, our President Ian Clark has invited us to bring along a musical Memory to share, in the shape of a piece of music that particularly appeals. It may or may not have a reference to Buninyong! During the evening, we will share a Festive supper, so please bring a small plate of goodies to share.
Our Annual General Meeting took place on Thursday 20 October at 7.30 p.m. at the Court House History Centre, at the Buninyong Town Hall.
At the AGM, all positions were declared vacant and an election was held for office bearers. Here are the results for the coming year:
President - Ian Clark
Vice President - Neil Kimpton
Secretary - Anne Beggs Sunter
Treasurer - Pat Hope
Roster co-ordinator - Adrienne Schreuder
Website Manager - Liz Lumsdon
Our guest speaker was Frank Golding, who spoke about his recently published book An Orphan Escapes, and the reaction to his book. Frank and his two brothers were inmates in the Ballarat Orphanage in the 1940s and 1950s. Since the publication of Frank's book in May this year, more information has been forthcoming, especially through the Senate inquiry into children in government care.
NEWS AND NOTES
150TH ANNIVERSARY OF LOCAL GOVERNMENT IN BALLARAT AREA
On Sunday 18 December the Ballarat Fine Art Gallery invites all to a free afternoon at the Gallery to celebrate the 150th anniversary of the institution of local government. We have loaned material for the exhibition, featuring the five generation of the Fisken family of Lal Lal who have served the old Shire of Buninyong.
RESTORATION OF THE OLD LIBRARY
The restoration work has been proceeding during the last two months, with scaffolding around the fašade of the building. It is good to note that Heritage Victoria has made a substantial contribution to the restoration work. Congratulation to Frances Winnell for her tireless work as secretary of the restoration committee.
On Thursday 25 August, the Ballarat Reform League Inc. unveiled a n impressive plaque near Buninyong to mark the site of the first protest against the gold license on the Victorian goldfields. .A handsome plaque was unveiled close to the plaque our Society unveiled in 2001 to mark the 150th anniversary of the discovery of gold. Professor Weston Bate was in fine form, as he exhorted the audience on a fine sunny afternoon to fight for justice and human rights - the message is the same in our generation! Afterwards we enjoyed hospitality at our traditional watering hole, the Crown Hotel. The Ballarat Reform League Inc. is to be congratulated on its effort, which includes getting a sign erected on the Midland Highway to alert the general public to the historic markers in Hiscock Gully Road. This contemporary organisation, like their namesake, seems to pack some political clout!
See the Ballarat Reform League website for more information.
The Water Tower at Lal Lal
At our October meeting we received a letter from the Moorabool Shire asking about the Water Tower at Lal Lal, which someone wanted to purchase or lease. Our advice was that this was in important heritge site, part of the Lal Lal Railway historic precinct, and that it should remain as Crown Land. If it were leased, it should be a requirement of the leasee to maintain the historic water tower. We have received further correspondence from the Department of Sustainability and Environment, who suggest that the Moorabool Shire Council should become a Committee of Management for the historic precinct.
---
FAMILY HISTORY ENQUIRIES
As usual, many enquiries by email, and people continue to enjoy our web site. It was good to have email from England and New Zealand in recent weeks.
August-December 2005
BALLANTINE
Richard Ballantine from Cumberland in the UK married Ellen Eliza Thompson at Ballarat in January 1868. They had 12 children in the Buninyong area between 1968 and 1877. Richard purchased land in Palmerston St. Buninyong, and both he and his wife are buried at the Buninyong cemetery. (Query from WA, where a number of descendants moved)
KIRKER
William Kirker was born in Buninyong, son of William, at a very early date in Buninyong's history. Information very hazy.
LYONS
James Lyons of Navigators was a grazier at Pound Creek in 1890. An enquiry from Canberra seeks more information.
McGREGOR
Alexander and Grace McGregor were living at Magpie in June 1858 when their son William was born. Eight days later, the mother died from Puerperal Fever. However there is not record of Grace's burial at Buninyong.
McLEOD
Effie Campbell McLeod was born at Hiscocks Gully on 27 May 1857, father James Donald McLeod and mother Mary Anne nee Anderson. Both parents were dead by 1860, and Effie was adopted by Mary and Hohn Wilson. The older children were put into orphanages
MEMBREY
John and Mary Ann Membrey migrated from England in 1855 and came to the Buninyong area, where they raised seven children. John's brother William Frederick also came to the area.
PEDEN
The Peden family appear to have been at Scotchman's Lead in the 1860s and 1870s, although the Rate Books provide no support for this. It appears that six children by this name were born in the locality between 1866 and 1879.
RAVA
Michael Rava came from northern Italy to Australia and married Suzanne Lockyer. They lived in the Garibaldi-Durham Lead area, and their time in the area is marked by 'Rava Lane' at Garibaldi. The baptismal records of Holy Trinity Buninyong were helpful for this query, revealing that Michael Rava, son of Michael, was baptised at Holy Trinity on 7 May 1876, and the father's occupation is given as charcoal burner, Durham. Altogether Michael and Suzanne had 11 children.
If any readers have any information to contribute on these names, please contact the Secretary a.beggs-sunter@ballarat.edu.au
ACQUISITIONS
From Mrs Jacki Mitchell, of Cheltenham, Victoria, a journal that contains the Autobiography of Marianne Stocks (nee Dutton), who died at Buninyong in 1864, aged 62. The manuscript is written in a beautiful hand, and the writer is obviously very well educated, sensitive and highly religious. It is an inspiring story, an insight into the mind of a nineteenth century daughter and mother, who writes so intelligently and with such devotion to her Wesleyan religion. The autobiography is a treasure for the insight it gives into the life of working class people in Manchester in the early nineteenth century, and it makes me wonder what happened to her husband and children. Certainly we know a little of her youngest son Ernest, who became a school teacher at Durham Lead, and a watercolour artist of some distinction.
Bill Sutherland visited us in October on one of our cataloguing mornings, and showed us a plastic bag full of photographs of Buninyong from his family collection. We had a good talk, then he left for a holiday in China. It was very sad to learn that Bill died suddenly on the first day of his holiday. We are enriched by the gift of his photos, many of which relate to his wife Margaret (nee McKenzie) who came from a Buninyog family with many local connections. Thankfully the photos are now safely copied and catalogued and added to our growing photographic collection, which is our most important historical resource.
Thanks to Mr Bill Liversidge from Queensland, who sent us a copy of his beautifully produced family history, From Yorkshire They Came; A Liversidge Family History 1665-2002. It includee information about the Liversidge and Shillito families of the Mount Buninyong area.
---
PLACE NAMES
(a contribution from our Past President, Neil McCracken)
Ian Clark, our President, is also chairman of the Victorian Place Names Committee. That Committee has the task of identifying and recording all place names in Victoria, including place name changes and variations. The Committee invites individuals to register with the Committee and provide documentation on place names.
I, perhaps foolishly, have undertaken the task of documenting all the place names of the old Buninyong Roads Board and adjacent areas. The Roads Board went from Gordon to Elaine, Enfield and Ross Creek.
Over the last two years I have identified 765 place names and I expect to find more than 1,000. Of the 765 names I have documented 243. Documentation sources range from old maps, newspapers, family histories, books and rate records.
Name changes can get confusing. Winter's Creek at various times has been called Tea Tree Creek, Saltwater Creek, Dry Creek, The Bonshaw and Winter Creek.
Lake Wendouree has been called Black Swamp, Yuille's Swamp, Great Swamp, Ballarat Swamp and The Swamp!
Just a few questions to test your knowledge:
Where are Mackenzie's Creek, Waldie's Bald Hill and Lal Lal Rivulet?
Does anyone know the location of Fern Gully in Buninyong?
Also the location of The Viaduct/Viaduct?
If anyone is interested in copies of my research they can contact me on jenneil@netconnect.com.au
On the subject of place names, the latest edition of the Victorian Historical Journal is devoted to this subject, and contains articles by Ian Clark, Fred Cahir and Laura Kostanski. All fascinating articles, and congratulations to Ian for his leadership of important postgraduate research at the University of Ballarat.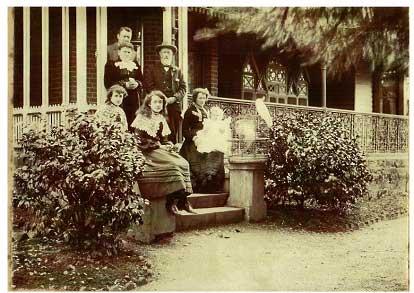 Clifton Villa, Buninyong.
Our featured photograph in this issue comes from the late Bill Sutherland, who had this beautiful photograph of the Whykes family at Clifton Villa in the early 1900s.
Clifton Villa is one of our most notable houses, admired most of all for its delightful brick twist chimneys - spiral -grooved which were carved in position from bricks made locally. It was built in 1859 for Mr Edward Newman, Buninyong's first chemist. Newman's design was based on the home of his wife, Clifton Manor, in Bristol. A Mr House from Durham Lead built the house according to the specifications of Mrs Newman.
Apparently, it was built without a kitchen - the Newmans ordered their meals from the nearly Crown Hotel! Later a detached kitchen was added. The house included a dispensary, and in the early period Newman worked from home. In about 1870 Newman sold the house to George Whykes, the grocer, who had a large family. George added a ballroom onto the house, to cater for the many social events surrounding his children. The last event was a function for returning servicemen after World War One. The ballroom was dismantled and removed to Mount Clear, where it was used by the Church of England.
Edwin Charles Whykes was the son of George who took over the grocery business (now a gift shop near the post office in Warrenheip Street). Charles did not marry, and died in 1952.
In 1968 Ian Smith purchased the house. He was an architect, who has taken great care to restore the house. According to Ian Smith, the property had a concrete gate made by C.P. Wilson (Shire Engineer in the early part of the twentieth century) and the gates came from Ballarat Grammar (later Aquinas College0 in Mair Street.
Clifton Villa during the Whykes days had an ornate bird aviary, built to mirror the house itself, complete even with stain glass inserts. The photograph shows one of the beloved occupants of the aviary, a sulphur crested cockatoo.